A's honor Eckersley by renaming gate after him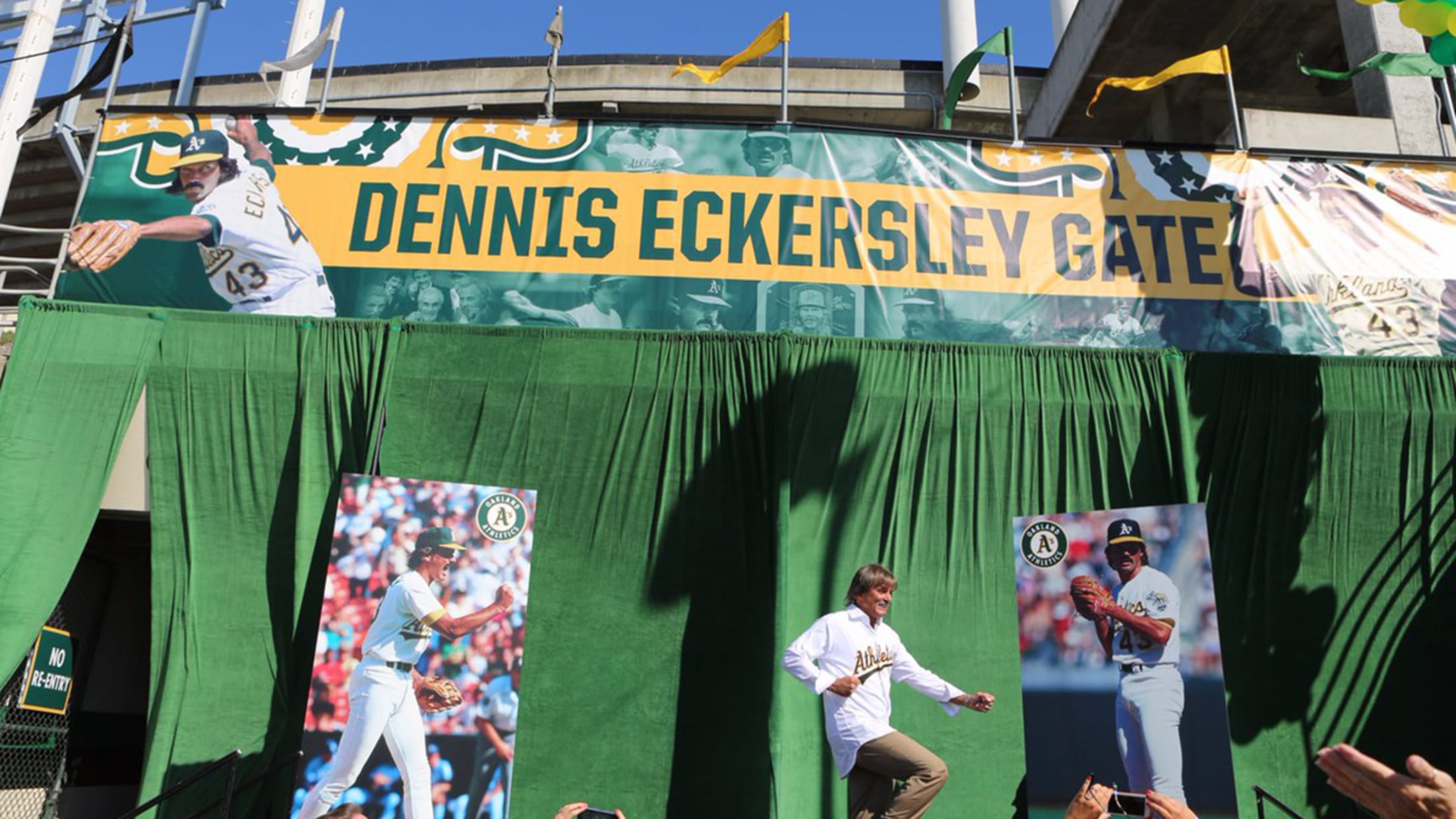 Hall of Fame pitcher (and longtime Athletic) Dennis Eckersley was celebrated on his bobblehead day. (A's)
OAKLAND -- The A's renamed the D Gate at the Coliseum after Dennis Eckersley in a ceremony for the Hall of Fame pitcher Friday afternoon.The unveiling of the Dennis Eckersley Gate comes as the opening to a weekend honoring the former A's closer, who will throw out the first pitch
OAKLAND -- The A's renamed the D Gate at the Coliseum after Dennis Eckersley in a ceremony for the Hall of Fame pitcher Friday afternoon.
The unveiling of the Dennis Eckersley Gate comes as the opening to a weekend honoring the former A's closer, who will throw out the first pitch Saturday when his bobblehead is given to the first 15,000 fans.
"It's neat. It really is," Eckersley said. "The older you get, you reflect a lot more and understand it means so much more the longer you've been away from it."
In his nine seasons in Oakland, Eckersley saved 320 games and was an All-Star four times. He won both the American League Cy Young Award and Most Valuable Player Award in 1992, when he saved 51 games and went 7-1 with a 1.91 ERA.
We are proud to announce that D-Gate has a new name. #RootedInOakland pic.twitter.com/0kGXjv08ag

— Oakland Athletics 🌳🐘⚾️ (@Athletics) August 25, 2017
He was the back end of the bullpen for the Oakland teams that won three straight AL pennants from 1988-90 and won the World Series in 1989. Four of Eckersley's teammates from the 1989 team -- Terry Steinbach, Carney Lansford, Mike Moore and Hall of Famer Rickey Henderson -- were in attendance, as well as Walter J. Haas, son of then-A's owner Walter A. Haas Jr.
Haas, A's president Dave Kaval and Oakland broadcaster Ray Fosse, who caught Eckersley's no-hitter in 1977 when both were with the Indians, all spoke during the event for the 24-year Major Leaguer. It's the second time the A's have named a gate after a Hall of Famer this season, having previously dedicated Gate C to Catfish Hunter in June.
Eckersley got the final out of the 1989 World Series, as the A's swept the Giants in the Bay Bridge Series. The 62-year-old admitted to growing up as a Giants fan, but said he'd never forget that moment.
A look inside the tunnel once you enter Dennis Eckersley Gate. #RootedInOakland pic.twitter.com/VYBWxA8Sxp

— Oakland Athletics 🌳🐘⚾️ (@Athletics) August 25, 2017
"I'm a Bay Area kid at heart," Eckersley said. "To be at Candlestick Park and beat the Giants and get the ball in my hand for the last out was the most awesome feeling I've ever had in my entire life."
Eckersley noted he was proud to have gotten that final out in front of his parents, who were able to come up the highway from Fremont to watch him play in nearly every home game throughout his time with the A's.
"To have your parents at the game every day and we were successful like that? They were loving it," Eckersley said. "My dad was so proud. I had to calm him down, man. What a place to see your son every day, and it was great. I was lucky to have that."