Big bats on Tigers do damage vs. Graveman
A's righty allows two homers to Miggy, one to V-Mart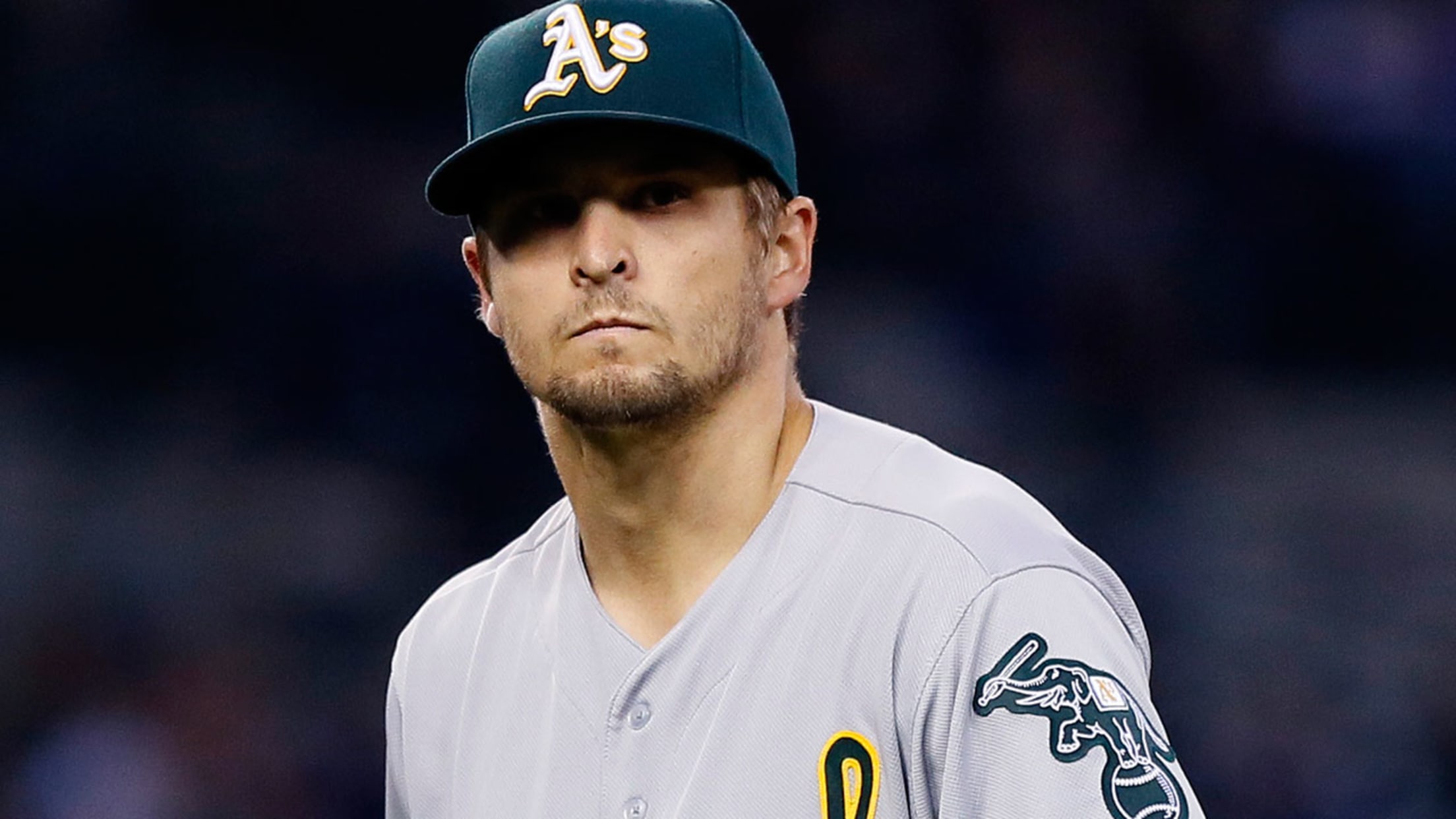 "They did a good job hitting the ball, even some balls off the plate," Kendall Graveman said. (Getty)
DETROIT -- Kendall Graveman didn't think he pitched very poorly, but Miguel Cabrera will take advantage of the tiniest mistake, and he did multiple times in Monday's 7-3 Tigers win over the A's.Cabrera homered in the first and fifth innings, driving in four runs. Both homers were on low sinkers."Ball
DETROIT -- Kendall Graveman didn't think he pitched very poorly, but Miguel Cabrera will take advantage of the tiniest mistake, and he did multiple times in Monday's 7-3 Tigers win over the A's.
Cabrera homered in the first and fifth innings, driving in four runs. Both homers were on low sinkers.
"Ball was down, just over the middle of the plate. Both pitches, we're trying to go backdoor sinkers, and it runs over a little bit," Graveman said. "Had the sink we wanted, but not the pitch, the one he's looking for. You've just got to execute and not fall behind, and also make more meaningful pitches early in the count."
Graveman entered Monday with a 0.91 WHIP and had allowed four hits or fewer in each of his first three starts this season, but the Tigers banged him around for 10 hits and six earned runs. He allowed two runs through four innings, but things unraveled in the fifth.
The fifth-inning Cabrera homer came after back-to-back singles, and Victor Martinez followed Cabrera with a home run of his own on a changeup.
"Martinez hit a good changeup away right after," Graveman said. "I didn't feel like I was scuffling too bad. I thought I made some pretty good pitches. They did a good job hitting the ball, even some balls off the plate."
Following a groundout, a single and a walk, Graveman's day was done after 4 2/3 innings.
He threw 22 of 34 sinkers for strikes (64.7 percent) and nine of 12 sliders (75 percent), according to BrooksBaseball.net.
"Kendall had good stuff for a while," manager Bob Melvin said. "Then they scored in a hurry and got a lead on us."
Cabrera had been in an 0-for-13 slump and the Tigers had lost six of seven, but every player on the A's knew the Tigers' sluggers could wake up at any time. It happened Monday.
"The guys over there have a good track record," Graveman said. "You know what they're capable of. You've just got to throw your best game, push forward and help your team win."
Chris Vannini is a contributor to MLB.com based in Detroit.