Hahn optioned to Triple-A as A's set rotation
Doubront slots in at No. 5 spot, while Dull lands job in bullpen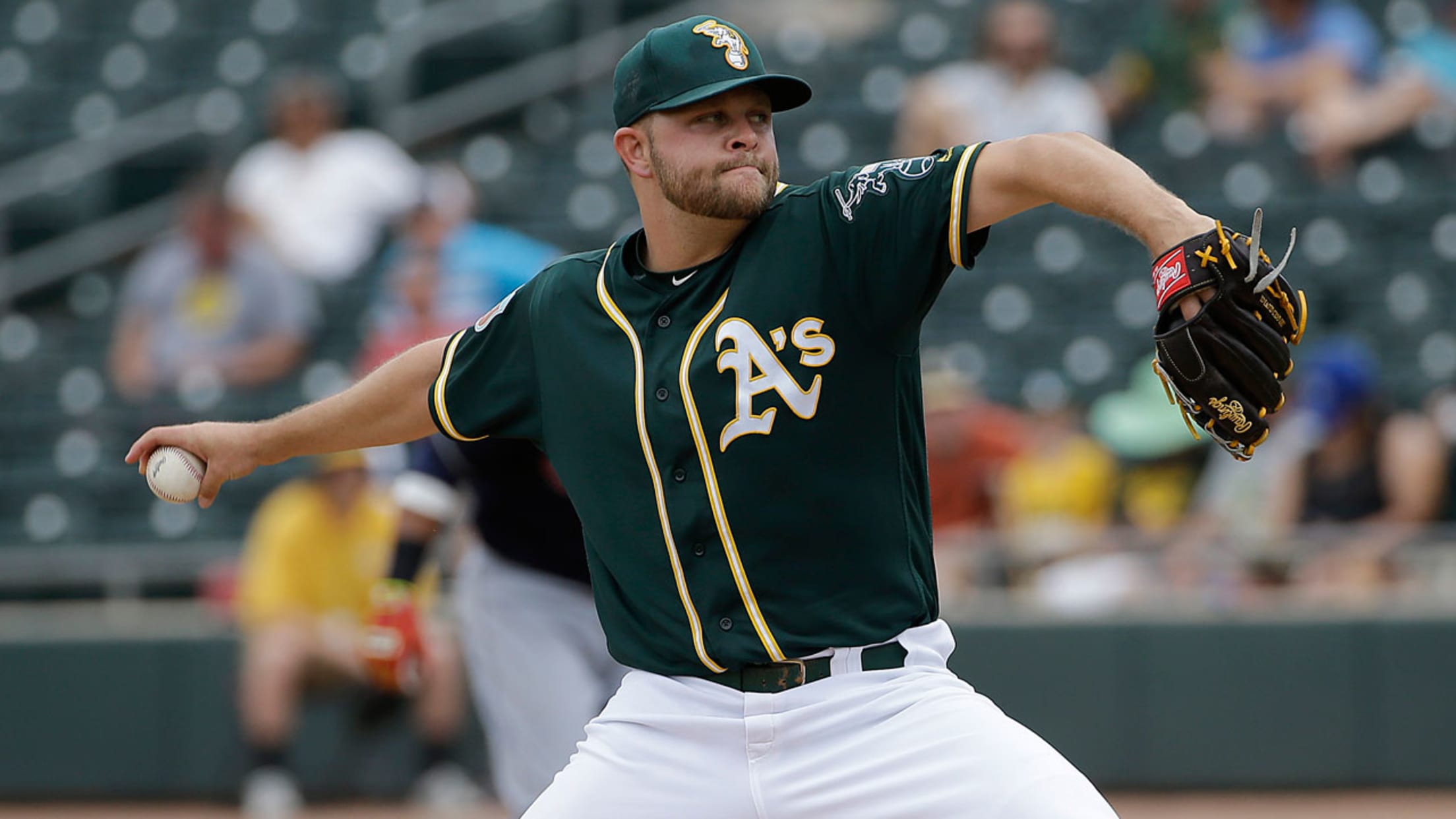 Jesse Hahn was 0-1 with an 11.15 ERA in 15 1/3 innings this spring. (AP)
MESA, Ariz. -- The A's optioned Jesse Hahn to Triple-A on Tuesday, precluding the right-hander from an Opening Day rotation that will line up like this: Sonny Gray, Rich Hill, Chris Bassitt, Kendall Graveman and Felix Doubront.Hahn allowed 13 earned runs in 15 1/3 innings this spring for an ERA
MESA, Ariz. -- The A's optioned Jesse Hahn to Triple-A on Tuesday, precluding the right-hander from an Opening Day rotation that will line up like this: Sonny Gray, Rich Hill, Chris Bassitt, Kendall Graveman and Felix Doubront.
Hahn allowed 13 earned runs in 15 1/3 innings this spring for an ERA of 11.15, showcasing good velocity but little command, and time was running out for him to find it.
The A's hope Hahn's Minor League stint is short-lived.
"It's a tough one, and I'd be shocked if he wasn't back, and in our estimation hopefully really soon too," manager Bob Melvin said. "At this point in time, he knows he just needs to get the ball down.
"He was great about it, knows he needs to pitch a little better, and we know he has the ability to do that, as does he. If we're going to have the type of year that we envision having, he's going to need to be a part of it, but right now, he just needs to iron some things out."
Hahn's demotion wasn't surprising if only looking at the numbers, but his role in the rotation was expected to carry great weight for the A's.
Oakland still believes this to be true, even if Hahn isn't along for the ride from the start.
"I talked to Jesse a little bit this morning, and he was in good spirits, and it seemed like he was going to go down really looking to work hard," Gray said. "I truly think that for us this year to get to where we want to go, he's going have to be a big part of it. Maybe for him to have that attitude and go down and want to work hard, and get himself right, is going to benefit us as a whole in the long run."
Doubront's inclusion in the rotation makes room for right-hander Ryan Dull in the bullpen, which is primed to be an area of strength for this club. Along with Dull, who has been terrific for the A's with a 0.00 ERA this spring, closer Sean Doolittle will be flanked by Ryan Madson, John Axford, Liam Hendriks, Marc Rzepczynski and Fernando Rodriguez.
Hahn came to Oakland by trade last offseason as one of the game's most promising young starters, and he responded with a 3.35 ERA in 16 starts before suffering a season-ending forearm strain. It was around that same time the A's brought in Doubront, who gave them 52 2/3 innings in the second half, compiling a 5.81 ERA in 11 games, eight of them starts.
"He's helped us in any number of roles," Melvin said. "He started for us and pitched well in relief, saved the bullpen many times and even closed a game for us. He can do just about anything asked of him, but guys like him want to be able to start, and he's excited about it, and we have confidence in him."
"We've got some guys that have had some success in this league, and it's going to be important for some guys to step up, myself included," Gray said. "We're going to need to get off to a quality start."
Jane Lee is a reporter for MLB.com.