Boone not giving much thought to potential deals
Yankees manager focused on current roster as Deadline looms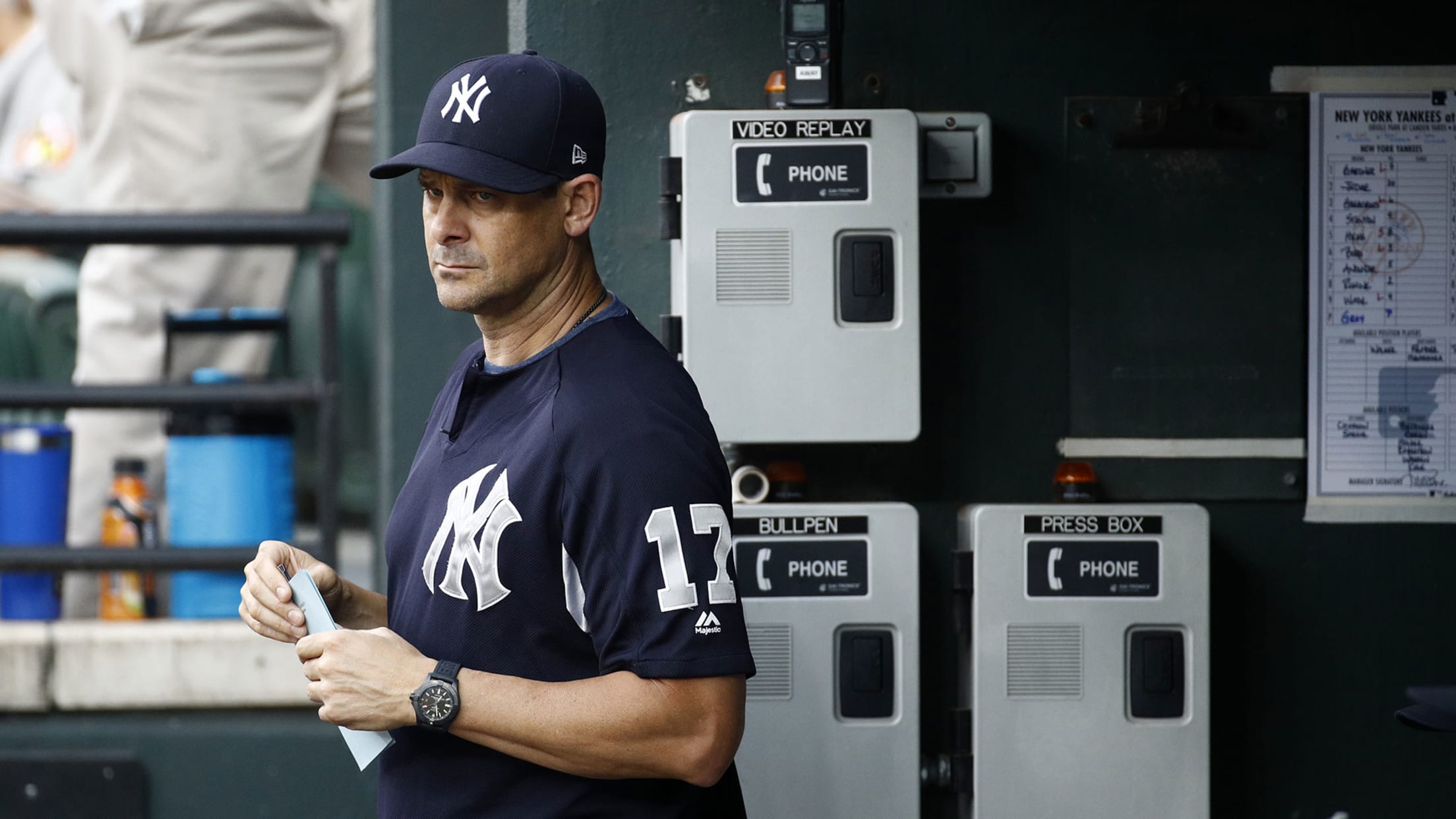 NEW YORK -- As the non-waiver Trade Deadline quickly approaches, the Yankees are on the clock to decide whether they will make a move to add another arm to their roster.With names like Jacob deGrom, Chris Archer or even Zach Britton still on the table, there is much speculation as
NEW YORK -- As the non-waiver Trade Deadline quickly approaches, the Yankees are on the clock to decide whether they will make a move to add another arm to their roster.
With names like Jacob deGrom, Chris Archer or even Zach Britton still on the table, there is much speculation as to what the Yankees could do to acquire anyone left on the market, but Yankees manager Aaron Boone said he's approaching the Deadline with no expectations.
"I know [the front office is] working overtime on it," Boone said. "I know they're looking at every possible situation, but I also know we're not going to put ourselves in a bad spot short-term or long-term, for that matter. … But if we're here in 10 days, 11 days, and it's our team only, we're good with that. A lot can happen and a lot of situations change. A lot of different offers change. I know [general manager Brian Cashman] and them are working hard at it."
Boone said that he is hardly involved in the trading process and is focussing on his current roster, but he also said that it's hard not to picture what his team could look like in just over a week from today.
"I know who we're talking with, and I'm in constant conversations with them, so I understand the possibilities that start to exist and I have opinions on those," Boone said. "I guess you do envision a little bit what it would mean, how it would affect your lineup and rotation and all that, so I guess you do think about it on some level. But, for the most part, I also really try and keep my focus on what we're doing and who we have and the reality of this situation."
Although Boone has said that he thinks his current roster is enough to make a deep postseason run, it's clear the Yankees still need starting-pitching help after the demotion of Domingo German on Friday. Luis Cessa will get his chance to earn a spot in the rotation on Wednesday, but the club still has an option of testing out Justus Sheffield, ranked by MLB Pipeline as the club's No. 2 prospect.
Sheffield, 22, has gone 3-3 with a 2.44 ERA and 60 strikeouts over 62 2/3 innings with Triple-A Scranton/Wilkes-Barre this season. The 6-foot left-hander was acquired from the Indians in 2016 as part of a four-prospect package for Andrew Miller. Sheffield has a 92-97-mph fastball that features some run and sink alongside a mid-80s slider and a decent changeup.
"I would say Sheff is very much [a possibility]," Boone said. "He's had another really good year, is putting himself in position probably in the short term to be in consideration for a spot. Whether we have a rotation need or we have a bullpen need, he's certainly probably knocking on that door and getting a lot closer to being that option, absolutely."
Roster move
The Yankees recalled right-hander Giovanny Gallegos from Scranton/Wilkes-Barre prior to Sunday's series finale against the Mets. Gallegos took the roster spot of Domingo Acevedo, who got the call for Saturday's game but did not make an appearance.
"Based on the situation we were in yesterday, with German going short [on Friday] and us being a little bit up against it, I think we felt like we needed to protect ourselves against a situation where we needed some serious length," Boone said. "Acevedo was stretched out on his normal turn, on the roster, had been pitching well, so it made the most sense. Gallegos had pitched 2 [2/3 innings] a couple days ago, so he was only on one-day rest, so he wouldn't have been a real option yesterday where he is today."
Gallegos has posted a 4.50 ERA for the Yankees in 10 innings this season. In 16 Triple-A appearances, the right-hander has a 3.55 ERA with 37 strikeouts over 25 1/3 innings.
This date in Yankees history
July 22, 2010: In the third inning of a 10-4 win against Kansas City, Derek Jeter hit a drive to Royals center fielder David DeJesus, who tracked it down but crashed into the wall and lost the ball. Jeter motored around for his second career inside-the-park home run. His first came in 1996.
Mandy Bell is a reporter for MLB.com based in New York.