Jones: Playing with Vlad a 'tremendous honor'
Outfielder reflects on sharing O's field with the Hall of Famer in 2011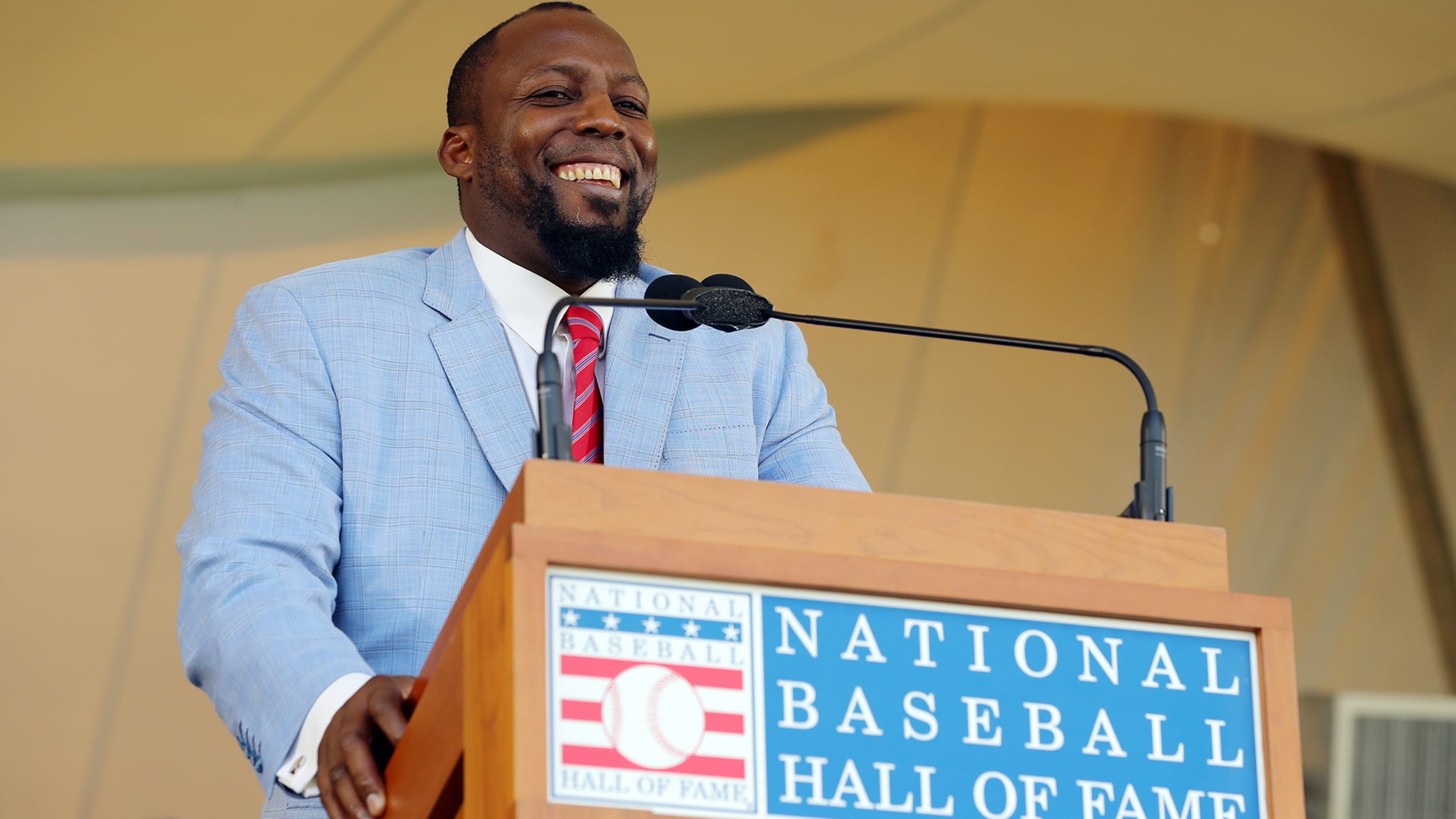 ARLINGTON -- Orioles outfielder Adam Jones recognizes that Vladimir Guerrero is going into the National Baseball Hall of Fame as an Angel, but he still has fond memories of playing with him in Baltimore during Guerrero's last season in 2011."It was good playing with him in 2011," Jones said. "I
ARLINGTON -- Orioles outfielder Adam Jones recognizes that Vladimir Guerrero is going into the National Baseball Hall of Fame as an Angel, but he still has fond memories of playing with him in Baltimore during Guerrero's last season in 2011.
"It was good playing with him in 2011," Jones said. "I miss his mom's cooking. He brought in big bags of food every day. Played the game hard. Ultimate veteran, commanded respect and got respect. Just a prime example of what to do, between the lines. Came to work every day."
Guerrero was honored by the Rangers during a pregame ceremony at Globe Life Park on Saturday. In his final season, Guerrero hit .290 with 13 home runs and 63 RBIs in 145 games for the Orioles.
"He just brought consistency," Jones said. "That's what he brought. Each day, he was consistent."
Although he played just one season with Guerrero, Jones said it was a meaningful experience to have been able to play with a Hall of Famer.
"Yeah, for sure," Jones said. "It was his last year, of course I knew he was a Hall of Famer. … It was just a tremendous honor to have been able to play with somebody of that stature."
Gentry, Wilkerson progressing
O's manager Buck Showalter said outfielder Craig Gentry and third baseman Steve Wilkerson are continuing to progress and should be ready to go on a rehab assignment soon.
Showalter said Gentry could begin a rehab assignment at Triple-A Norfolk as soon as Monday. Gentry has been on the disabled list since June 27 with a left rib fracture.
Wilkerson, who's been on the disabled list since July 3 with a left oblique strain, was expected to begin a rehab assignment this week, but the Orioles have yet to determine when he will be ready.
"If I had to handicap it, I'd say Craig's probably a little ahead [of Wilkerson]," Showalter said. "But they're both real close."
Wesley Dotson is a reporter for MLB.com based in Arlington.