Jones visits with students learning to code
Program aims to give underserved young men of color access to STEM fields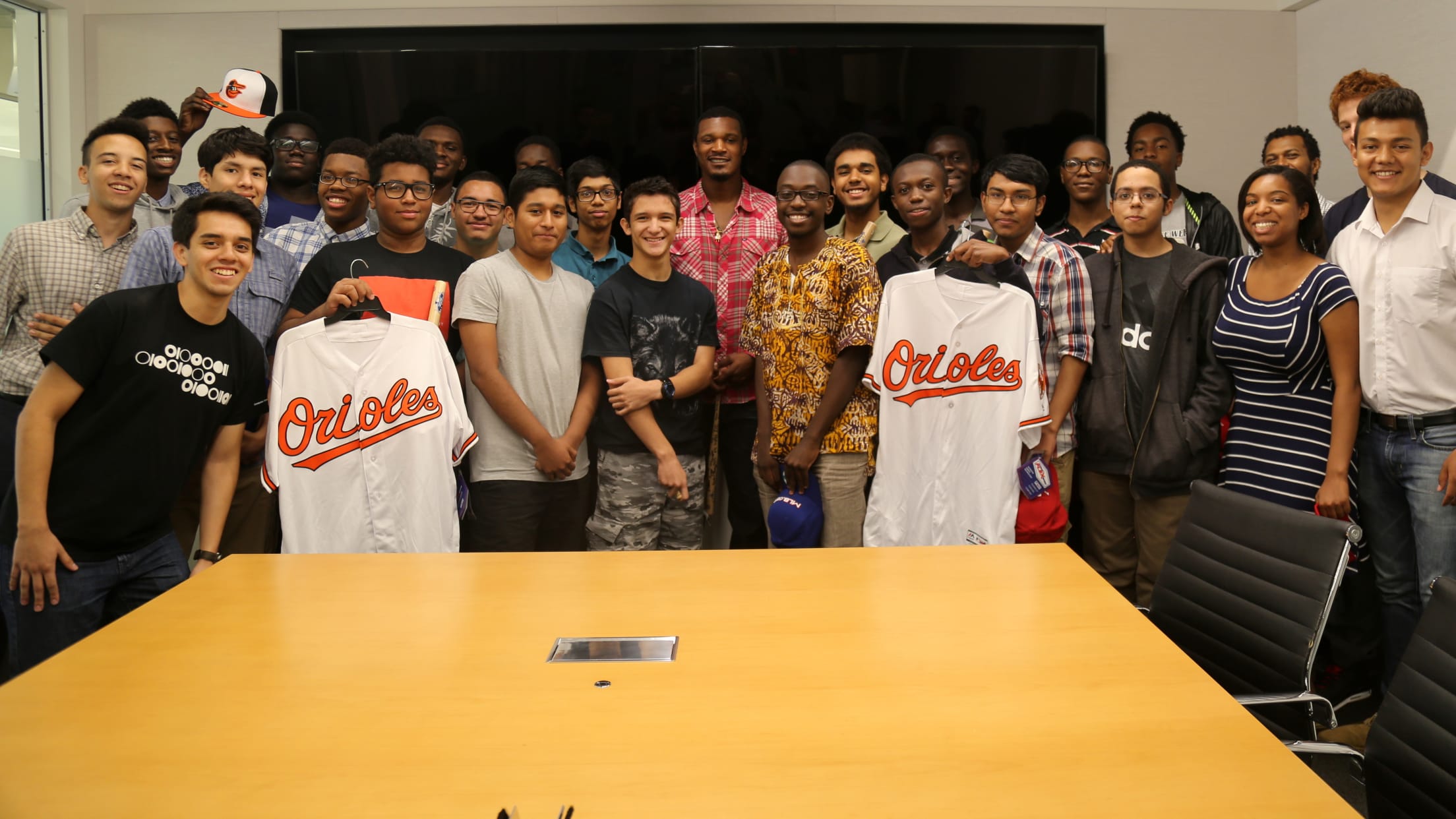 "This has been a complete blessing, what I've been through. When it comes to failure, the only failure is not wanting to learn," Adam Jones told the All Star Code students. (Picasa)
NEW YORK -- Before heading back to Yankee Stadium for the 88th game of his season and the 1,330th game of his Major League career, Orioles center fielder Adam Jones was reminded once again how he reached his dream of playing in the Major Leagues.Jones stood at the front of
NEW YORK -- Before heading back to Yankee Stadium for the 88th game of his season and the 1,330th game of his Major League career, Orioles center fielder Adam Jones was reminded once again how he reached his dream of playing in the Major Leagues.
Jones stood at the front of a long conference room table inside the MLB.com offices in Manhattan, answering questions from 20 teenage boys who were treated to his visit as part of their six-week intensive course with All Star Code, a nonprofit that gives underserved young men of color access to to the STEM fields: science, technology, engineering and math.
"What was your biggest failure, and how were you able to gain the confidence to try again?" asked one of the students, Brian Antoine, 15, a junior at Eastern Christian High School in Bloomfield, N.J.
Jones replied by explaining how, when he was their age, he would sell candy door-to-door in affluent neighborhoods around his hometown of San Diego. He told them how he tried to "leave my mark" in a place where few scouts passed by, and about how he started his pro career homesick in chilly Appleton, Wis., staying with a sponsor family while feeling out of place, yet determined to do whatever it took to make something positive happen.
"It's the perseverance," Jones told them. "I just grind it, man. I've seen so many people's debuts. I've seen them up and down. I've seen 27-, 28-year-old men cry. I've seen their wives cry that they got sent back down to the Minor Leagues. ..."
"This has been a complete blessing, what I've been through. When it comes to failure, the only failure is not wanting to learn. Not wanting to get better. I think that is failure. And that's not what I'm about."
Our boys eager for today's first speaker @SimplyAJ10 to step the plate #SummerofCode #SI16 #SpeakerSeries #ASCxMLBAM pic.twitter.com/ePKas1m0UZ

— All Star Code (@AllStarCode) July 19, 2016
Christina Lewis Halpern, the founder and executive director of All Star Code, said Jones' response to that question was especially important to her protégés. Jones is married to Halpern's cousin, so Halpern already knew how helpful the five-time All Star would be.
"Hearing him talk about the grind and the dedication that he has to his sport, it is so valuable to these students," she said. "The life of a baseball player seems so glamorous, and it's easy to think that it's all fun and games. After all, they are 'playing.' When you can hear from someone like Adam, who is not just one of the most successful people around, but also one of the coolest, to hear about that kind of a dedication, how hard work gets him there, that sends the message home like few other things can. It was really inspiring."
"You're seeing inner-city kids doing something that's just not in the inner city," Jones said. "Coding is something that is not taught in the inner cities, and it doesn't matter what race you are -- Hispanic, Black, Native American, Asian. It's good that these kids are doing something that's just completely out of their realm, and tackling their brain. Now, these kids are a lot smarter than they ever would be."

MLB.com is offering a workroom setting for much of the six-week course, which started on July 11. The students range in age from 15-17 and will be juniors and seniors in high school this fall, all of them headed for college. Halpern said most are public school students, 70 percent of them come from low-income homes and 80 percent are Black and/or Latino.
"Confident, insightful and qualified programmers who are young men of color are just critical to our nation's and our economy's future," Halpern said. "There are one million STEM jobs that are going to go unfilled by 2020 if we don't start educating people about how to program, in the right ways, like All Star Code is doing. Our young men are headed to Top 50 universities, they are getting full scholarship packages, they have very bright futures ahead of them. We need more people to invest in our young men, so they can have the skills and mindsets to thrive in the 21st century."
Asked why All Star Code is a program for young men, Halpern explained: "There are some very large girls-oriented intensive programs that are already national and far larger than us. Young men of color are one of the least served groups in the social center. There are far too few opportunities for our boys today, so we need more programs focused on Black and Latino boys."
Thank you @SimplyAJ10 from @AllStarCode @MLB for talking #life & #grinding w our students! #summerofcode pic.twitter.com/yzwvKEJxOI

— Christina Lewis (@thechristina99) July 19, 2016
Jones joked during the one-hour session that "one of you all probably has already hacked me." He kept their attention the whole time, explaining why he chose baseball and what it meant to him to follow Tony Gwynn's lead as a youth. He continually reinforced the importance of working hard, saying, "I had a hunger to be good."
Jones also told them how he had prepared for Tuesday night's opposing starting pitcher, Nathan Eovaldi, saying that in addition to the usual scouting report, "I go into my own personal memory bank against him."
The group presented Jones with a bat that they all signed and a few All Star Code T-shirts.
"It's so cool, the opportunity that you're taking advantage of," Jones said. "The ethnicities you guys are, going this route, it's not the ethnicity that normally does it. ... The youth is the future."
Visit allstarcode.org and follow @AllStarCode for more information.