Reed, Teufel take part in Mets' Play Ball clinic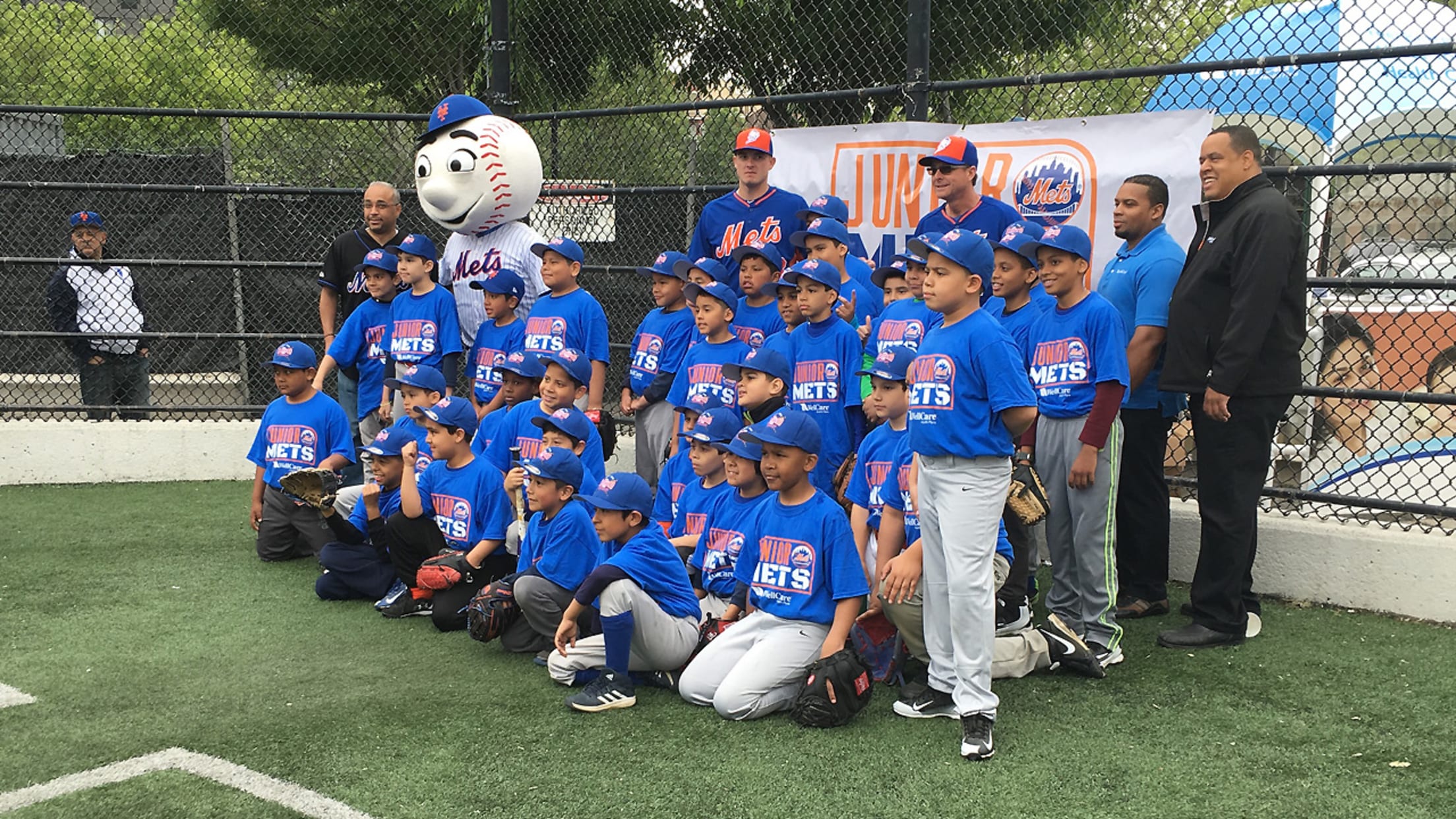 The clinic featured hitting, pitching and fielding drills for about 100 kids in Hinton Park. (David Adler/MLB.com)
NEW YORK -- About 100 kids gathered in Hinton Park in Corona, Queens, on Saturday morning, Citi Field just a few blocks away, as the Mets hosted a youth baseball clinic as part of Major League Baseball's Play Ball initiative.In attendance at the clinic were Mets setup man Addison Reed
NEW YORK -- About 100 kids gathered in Hinton Park in Corona, Queens, on Saturday morning, Citi Field just a few blocks away, as the Mets hosted a youth baseball clinic as part of Major League Baseball's Play Ball initiative.
In attendance at the clinic were Mets setup man Addison Reed and third-base coach Tim Teufel, who coached the Jr. Mets Kids participants at stations for hitting, pitching and fielding. With the upper reaches of the stadium visible through the trees behind them, Teufel rolled the kids ground balls, Reed inspected their pitching motions and Mr. Met smiled approvingly as they took swings.
• Complete Youth Baseball coverage
New York State Senator Jose Peralta, who represents the district containing Corona, also stopped in, donning a Pedro Martinez Mets jersey. A graduate of Flushing High School and Queens College, he emphasized the importance of the local team giving back to its immediate community.
"The fact that this is the Mets' backyard is very important," he said. "This is a great experience for the kids. I'm so proud that the Mets have actually taken it upon themselves to do these clinics."
Play Ball is MLB's largest effort to reach out to youth players and grow the game at its most basic levels, through both organized and informal play, attempting to highlight the many ways baseball can be played. Though last weekend was MLB's official Play Ball Weekend, the Mets are celebrating now because they were on the road at the time, with the Hinton Park clinic highlighting their participation.
After the drills were over, the participants in Saturday's clinic took group photos with Reed and Teufel, and they also received tickets to the Mets' game against the Brewers.
"The kids get inspired when they get the opportunity to see these players in action live, in living color," Peralta said. "It's kind of like, 'Wow, here they are. And if they can do it, maybe I can do it.'"