Tribe fans could get used to this
After Cavs' title, Clevelanders not so fearful of big games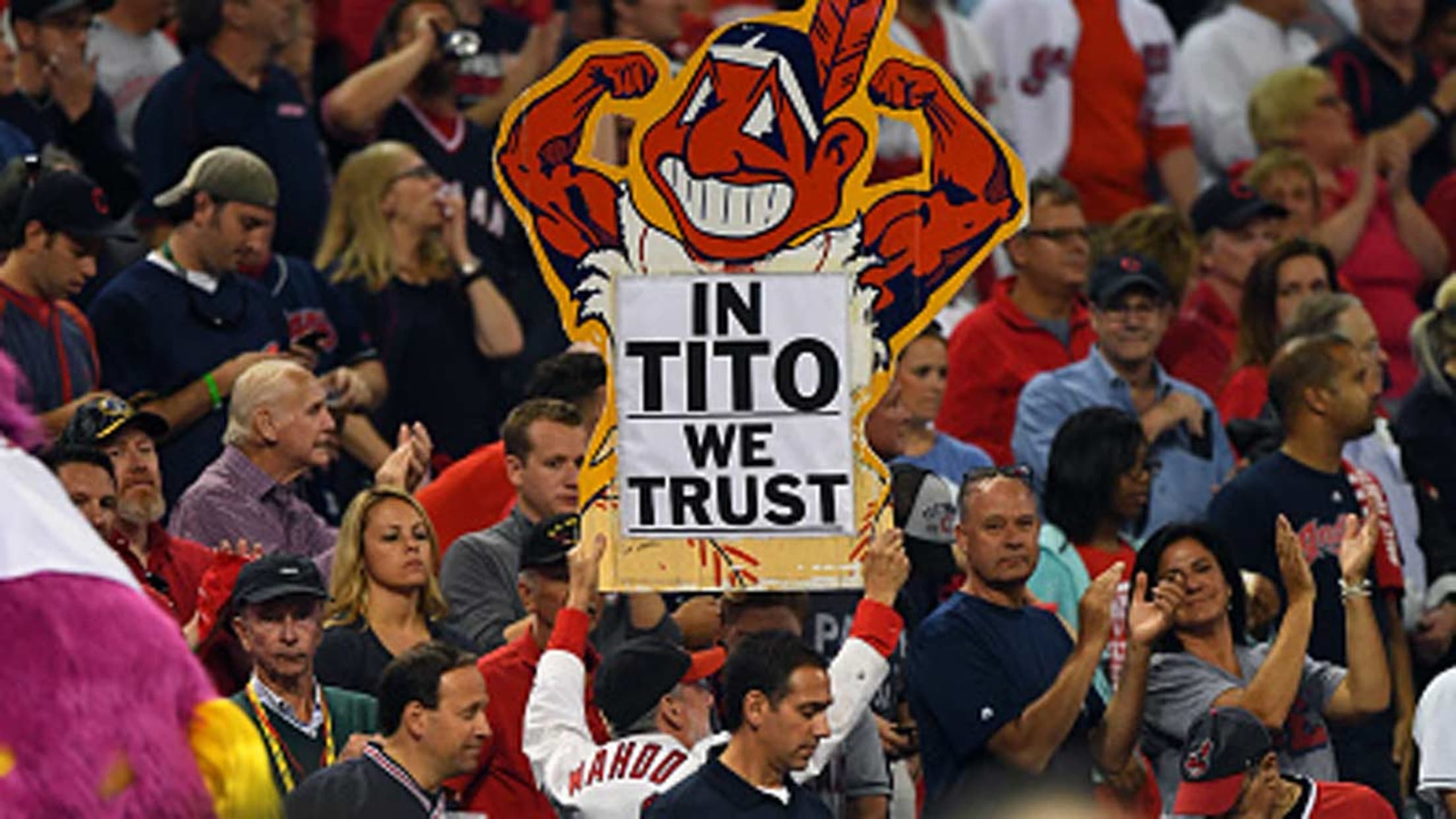 On a night the Tribe could advance to the American League Championship Series by beating the Red Sox, Cleveland fans believed their heroes could do it. Really. (Joe Sargent/Getty)
CLEVELAND -- Tensions were high in The Corner Alley with each ball, strike and baserunner in a tight ninth inning, but the crowd of Indians fans erupted in joy as Red Sox third baseman Travis Shaw flied out to clinch the Indians' 4-3 victory over Boston on Monday.The Indians, after
CLEVELAND -- Tensions were high in The Corner Alley with each ball, strike and baserunner in a tight ninth inning, but the crowd of Indians fans erupted in joy as Red Sox third baseman Travis Shaw flied out to clinch the Indians' 4-3 victory over Boston on Monday.
The Indians, after sweeping the Red Sox in three American League Division Series games, are headed back to the AL Championship Series for the first time since 2007. Game 1 of the best-of-seven series against the Toronto Blue Jays is scheduled for 8 p.m. ET Friday in Cleveland (TBS, SNET, RDS).
All 12 televisions in the main bar were tuned to the Indians-Red Sox game as the Clevelanders soaked in every moment. To them, there has been a different feeling since LeBron James and the NBA's Cleveland Cavaliers broke the city's 52-year championship drought in June.
:: ALCS: Blue Jays vs. Indians coverage ::
"City of Champions, baby," said Kevin O'Boyle, a Cleveland native who moved back to the city in 2012. "When the Cavs won, it changed. Normally, Cleveland fans would be expecting to lose this game; now we know we're going to win. It's a whole different mindset."
The Indians won 94 regular-season games, the most since they won 96 games and the division title nine years ago. The win was especially sweet, considering the Red Sox came back from down 3-1 to win the 2007 ALCS and down 0-2 to win the 1999 AL Division Series.
Boston even kept it interesting at the end of Monday's game by stranding seven runners -- four in scoring position -- in the last five innings.
"We were nervous," O'Boyle said. "Everybody was nervous. And not because of our mentality, because it's the Red Sox. They have the best lineup in baseball, and they've come back on us and beat us before."
The recently ended championship drought was tough on fans, even newer ones. Sorin Bica moved to Cleveland in 2006 from Bucharest, Romania, but immediately was drawn to the city's teams because of the fans' passion.
"This streak has been crazy," Bica said. "I live right up [the street]. It was like a two-month-long party. It was good to finally get a win. Ever since I moved here, for 10 years, all I experienced was loss. I've never seen the Browns win anything. I almost saw the Indians win once, but that was it, and the Cavs was kind of like at the end of the [first] era with LeBron. It was great."
With the victory, the Indians are four wins against the Blue Jays away from reaching their first World Series since 1997. And their fans couldn't be more upbeat.
"Based on what the city's doing, the vibe, we're confident," Boyle said.
Ben Weinrib is a reporter for MLB.com.