Preller might put faith in Padres' young arms
Myers' 2019 role uncertain; GM discusses Galvis' free agency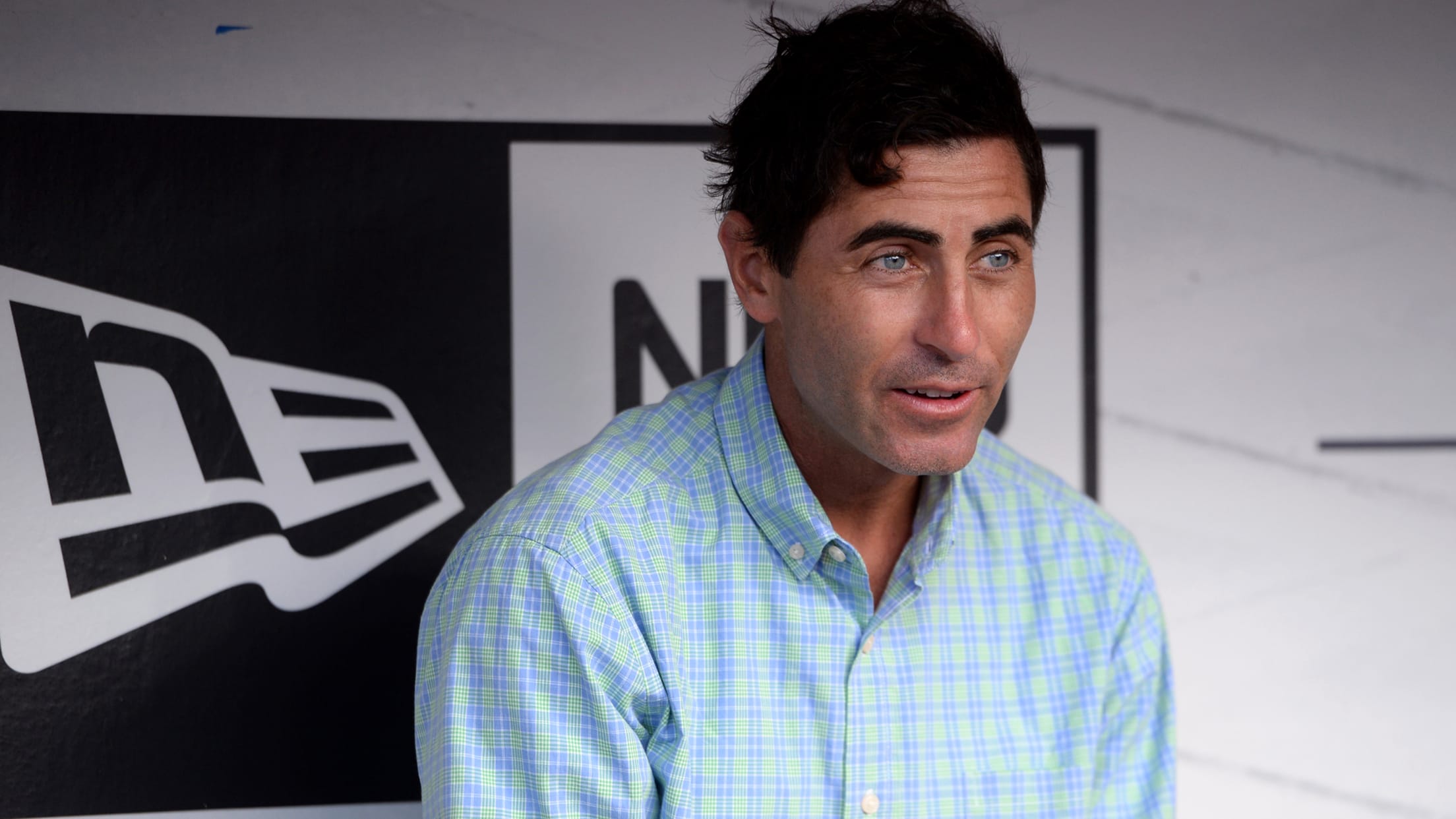 CARLSBAD, Calif. -- The Padres' starting pitching needs to get better. Of that, there is little debate.But how, exactly, will general manager A.J. Preller go about improving a rotation that finished last in the National League in ERA in 2018? Well, he might not be as aggressive on the trade
CARLSBAD, Calif. -- The Padres' starting pitching needs to get better. Of that, there is little debate.
But how, exactly, will general manager A.J. Preller go about improving a rotation that finished last in the National League in ERA in 2018? Well, he might not be as aggressive on the trade front this winter as was initially believed.
At the non-waiver Trade Deadline, the Padres were rumored as partners for Chris Archer and Noah Syndergaard, seemingly indicating that they'd be active in trying to land a front-line arm this offseason. And they will be.
But sources indicated that the front office's faith in its top-ranked farm system, according to MLB Pipeline, might preclude a trade for a starting pitcher. The Padres have seven pitchers ranked among MLB Pipeline's top 100 overall prospects. Essentially, the fit would have to be a perfect one, or else the Padres appear content to keep things in-house.
"We feel like we have a lot of guys that have the capability of being a [front-line] pitcher in the next few years," Preller said Tuesday. "But you're constantly looking to add to a starting staff."
• Padres' Top 30 prospects
Once again, the Padres are going to search for bargains in free agency. They might even look into a bigger-name arm with upside -- like Nathan Eovaldi or Japanese left-hander Yusei Kikuchi (if he's posted).
But in the trade market, it sounds unlikely that San Diego will sacrifice its youngsters unless there's a multiyear fit at the front of the rotation. Internally, the Padres feel their window for contention in the NL West likely won't be open in 2019. That means developing their young pitchers takes precedence. They aren't going to part with prospects for a mid-tier starter when doing so would take a rotation spot away from one of those youngsters.
As things stand, three places appear open in the San Diego rotation (behind Eric Lauer and Joey Lucchesi). There are a number of in-house options to fill out the starting five, including Jacob Nix, Robbie Erlin and Matt Strahm, among others. Prospects Logan Allen, Chris Paddack and Cal Quantrill should arrive at some point in 2019, as well.
That means, if the Padres are going to make a deal -- and they have the farm system to do so -- it would need to be a front-line arm with at least two (and preferably three-plus) years of team control remaining.
"You're constantly looking to add guys who can pitch in those top three roles," Preller said. "We'll examine that here over the next few weeks."
Myers' role remains undecided
The Padres have yet to decide on a defensive role for slugger William Myers, who shifted to third base for the final two months of the 2018 season (with little success).
The coaching staff and front office have held discussions about where Myers might play next season. Right now, it seems contingent upon whether the Padres clear space in their outfield.
Myers was much better in left field than at third base last season, but Franmil Reyes and Hunter Renfroe emerged in the two corner outfield spots. Both are trade candidates this offseason.
"He's a guy that's shown he has a lot of versatility, played really well this year in the corner outfield for us," Preller said of Myers. "He obviously gave it a go at third base, and I think [after] what we're able to do here in the next month, we'll have a definite idea about what Wil's role will be in the next year."
Myers missed half the 2018 season with an assortment of injuries and never got rolling offensively, finishing with a .253/.318/.446 slash line and 11 homers.
The Galvis decision
Three factors will go into the Padres' decision regarding free-agent shortstop Freddy Galvis.
"Looking at term, looking at dollars and looking at role," Preller said.
• Padres could try to sell Galvis on return to SD
Galvis is a free agent for the first time, and he's going to test the market. The Padres remain interested in a reunion but won't break the bank for it, given that Fernando Tatis -- MLB Pipeline's No. 2 overall prospect -- is waiting in the wings.
If the Padres are to re-sign Galvis, Preller's remarks indicate three things:
• Term: The Padres probably aren't interested in a deal of three years or more, unless there's a substantial annual discount.
• Dollars: If another team in need of a shortstop -- perhaps Detroit or Kansas City -- offers Galvis a larger-than-expected contract, the Padres wouldn't meet that number.
• Role: Galvis isn't going to start 162 games for the Padres over the next two seasons, as he did in 2018. He'll have to cede time to youngsters Tatis and Luis Urias.
As for Urias, the perceived second baseman of the future, Preller mentioned him as a candidate to open the year at shortstop in 2019. He's rotated time between second base and shortstop in the Minors.