Cobb to start Sunday; Cashner return up in air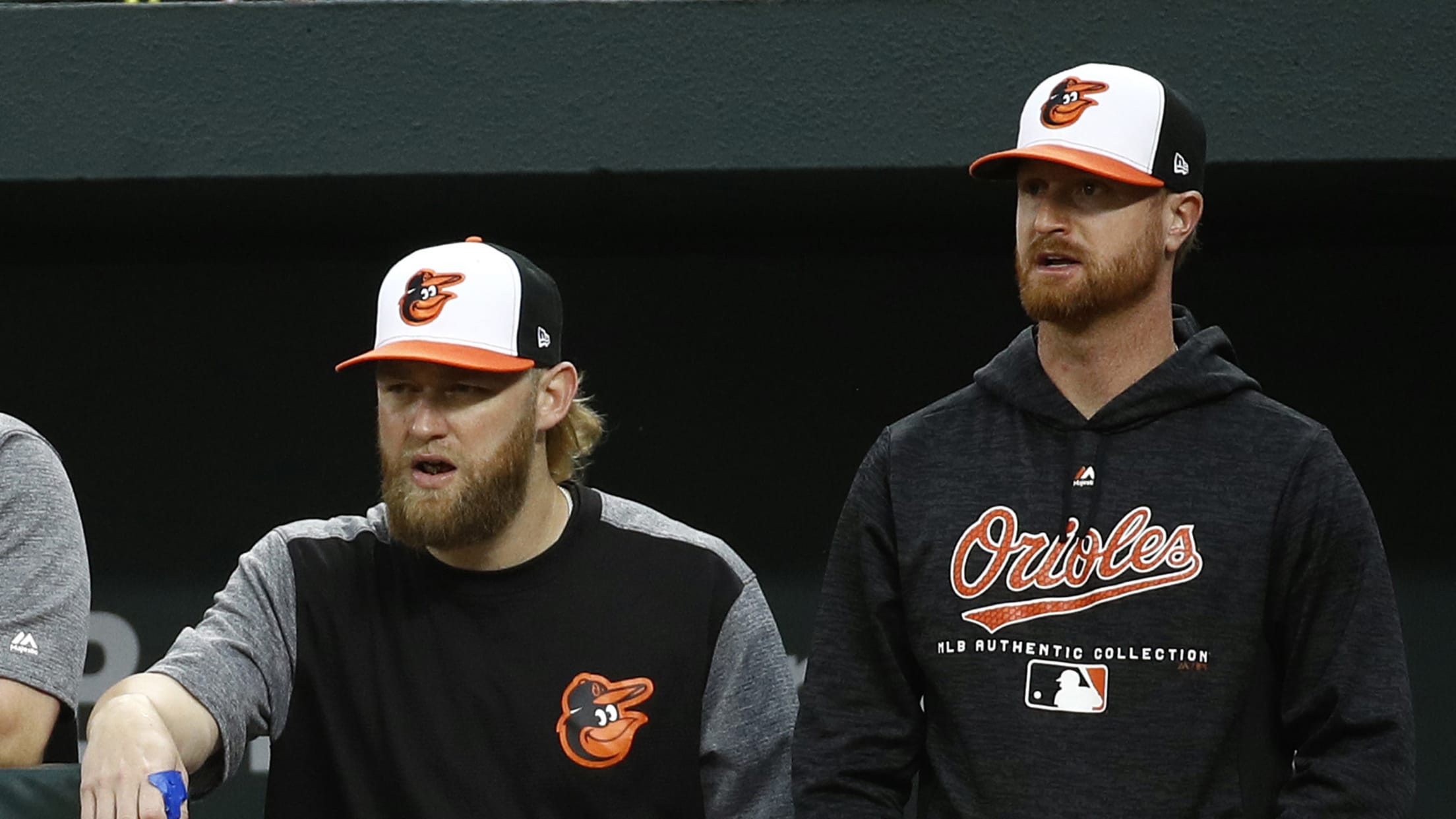 Baltimore Orioles starting pitchers Kevin Gausman, from left, Dylan Bundy, Andrew Cashner and Alex Cobb stand in the dugout during a baseball game against the Washington Nationals, Wednesday, May 30, 2018, in Baltimore. (AP Photo/Patrick Semansky) (Patrick Semansky/AP)
NEW YORK -- Although there seemed to be a chance that the Orioles would be without two of their veteran starters, at least one is guaranteed another trip to the mound this season on Sunday.On Sept. 11, Alex Cobb was pulled after throwing 30 pitches over two innings against the
NEW YORK -- Although there seemed to be a chance that the Orioles would be without two of their veteran starters, at least one is guaranteed another trip to the mound this season on Sunday.
On Sept. 11, Alex Cobb was pulled after throwing 30 pitches over two innings against the A's after aggravating the blister on his right middle finger. Andrew Cashner then couldn't make it out of the third inning the next night after allowing eight runs on eight hits. He was sent for an MRI the day after his start for pain he had been battling in his left knee.
After Cobb threw his second successful bullpen Friday since being sidelined, Orioles manager Buck Showalter announced that Cobb will get the start in the series finale against the Yankees on Sunday.
"We've talked to Alex in detail about the last few days, and he feels like he's going to be OK, and there's only one way to find out," Showalter said. "We've looked at the weather, and hopefully there won't be very much humidity and a lot of the factors that have played into it. It's not like he's had blisters the whole year. It's been a challenge for him, but it had nothing to do with starting pitching and young players. We have enough. It's just that he wants to pitch hopefully twice before the season ends."
Before announcing Cobb as the starter, Showalter was asked if Cashner could be in the mix to get the nod. He said the hurler may need more time off than Cobb before getting into a game.
"I don't think so unless something's drastically changed," Showalter said. "I don't think Andrew's in that mix, though he seems to be moving around well and doing OK."
Cashner has made the second-most starts for Baltimore with 28, trailing just Dylan Bundy (29). In those starts, he has gone 4-15 with a 5.29 ERA. Although there are only nine games remaining on the Orioles' schedule after Friday's opener in New York, Showalter said there is still a chance that Cashner could pitch at least one more time.
"I know what a competitive guy he is and how much he'd like to do that, but if there's any doubt at all, we're not going to pitch him," Showalter said.
As the season begins to come to a close, Showalter said that the team has already sent Josh Rogers and Luis Ortiz home since they were not going to pitch again this year.
Mandy Bell is a reporter for MLB.com based in New York.