Cora mulls playoff odds as key homestand starts
Dalbec working out with Red Sox, not on roster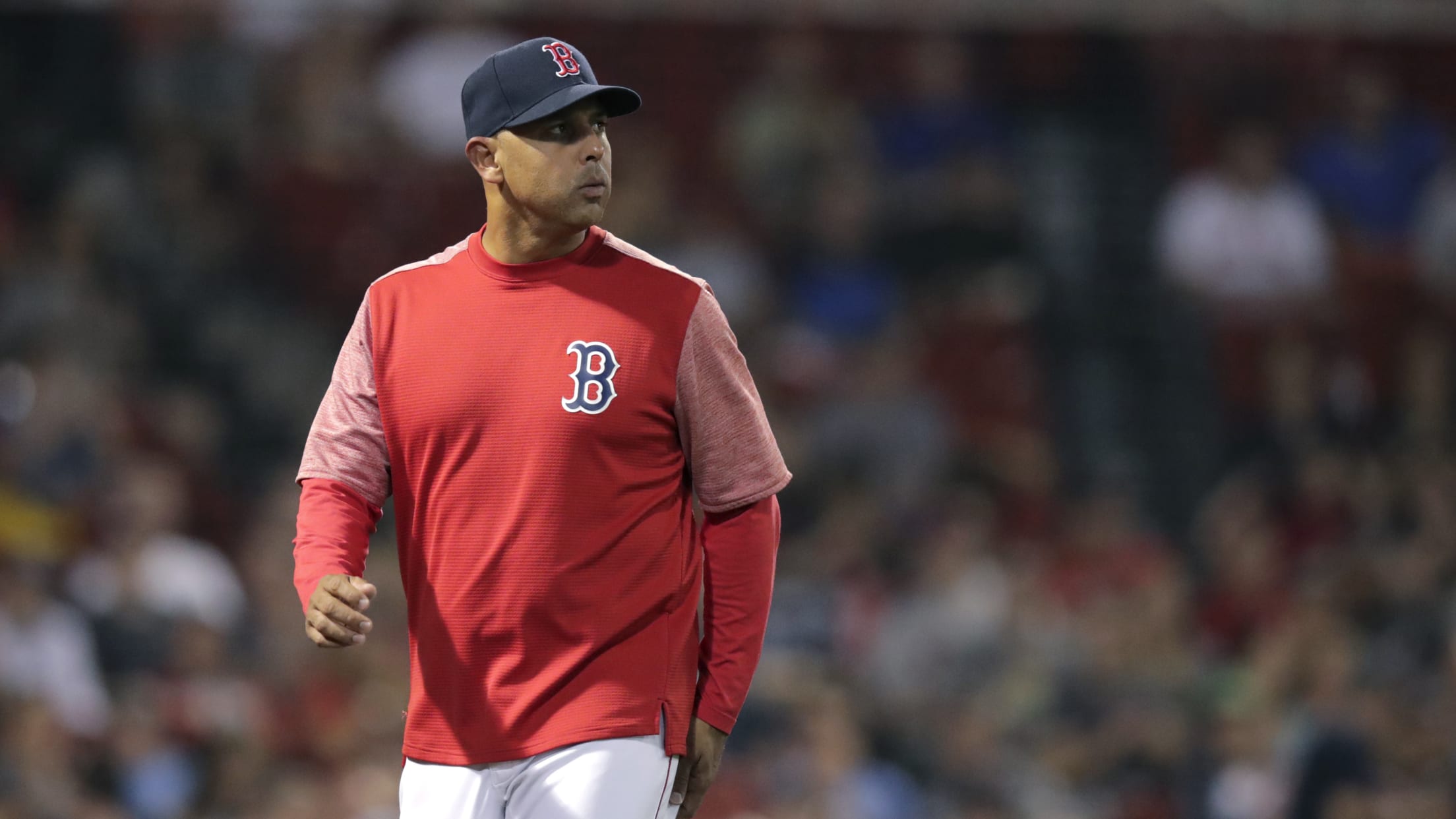 BOSTON -- Entering action on Tuesday, FanGraphs gave the Red Sox a 6.8 percent chance of making the playoffs. Boston manager Alex Cora didn't say where he came up with his calculations, but he weighed in at a slightly higher percentage. No matter what the calculator says or what your
BOSTON -- Entering action on Tuesday, FanGraphs gave the Red Sox a 6.8 percent chance of making the playoffs. Boston manager Alex Cora didn't say where he came up with his calculations, but he weighed in at a slightly higher percentage.
No matter what the calculator says or what your formula is, urgency was in the air as the Red Sox started a seven-game homestand in which they will play two of the top teams in MLB -- the Twins and Yankees.
This isn't the last homestand for the Red Sox. But it could very much be their last stand if they want to punch their ticket to October and have a chance at defending their title.
"Well, I mean, we have an 8 percent chance," said Cora. "Like 'Dumb and Dumber,' the movie, there's still a chance, I guess, at least in my eyes."
Cora then expanded to explain how he sees it.
"So you control two things. The way you play and the Rays, because we play them four games," said Cora. "You don't control the Indians; you don't control the A's. That's out of the equation. Although we started controlling the Indians when we beat them two out of three [last month].
"That's all we can do. Just keep playing good baseball, win games and make that series count in September. And, hopefully, by that time, we're already past one of the other two teams, and if that happens, the last week in September, it's going to be fun."
The four-game series against the Rays will be played at Tropicana Field from Sept. 20-23. After Tuesday's games, Tampa Bay has the American League Wild Card lead and is ahead of the Sox by five games in the loss column.
"It's easy to say it," Cora said. "I can map it out, and I can give you a lot of reasons that we can do this. But, obviously, over the course of this season, I've been trying to give you guys reason to believe in us and it hasn't happened on the field. We just have to take care of today."
To overcome the odds, the Red Sox need to immediately start doing two things they've struggled with all season: Play dominant baseball at Fenway Park (they are 34-33 this season) and beat teams above .500 (they are 23-38 this season).
Dalbec at Fenway, but not on roster
Corner infielder Bobby Dalbec, ranked as Boston's No. 2 prospect on MLB Pipeline, will spend the next few weeks with the Red Sox, but he was not added to the roster.
Why is he with the team?
"He's going to be part of the Team USA that is going to the Premier 12, so we're going to keep him working out with us and doing anything to be part of the program," said Cora. "I know that's far from here, but [there are] a few things we want to do with him as far as his approach and defensively and all that before he takes off. So he'll be around with us. It's good for him to just be here before he just goes on his offseason program."
Dalbec could become part of Boston's equation at first base next season. Mitch Moreland and Steve Pearce are both eligible for free agency. Third base, Dalbec's top position, has been taken over by Rafael Devers.
"This is a guy that's obviously very important to the organization," said Cora. "We're very excited with the strides that he made. I do feel like the higher the level, the better it is for him, because he can control the strike zone. So, you saw what happened in Triple-A. We were very happy with that."
In 105 games for Double-A Portland, Dalbec had a line of .234/.371/.454 with 20 homers and 57 RBIs. In 30 games for Triple-A Pawtucket, Dalbec slashed .257/.301/.478 with seven homers and 16 RBIs.
Chavis could return vs. Yankees
The return of rookie infielder Michael Chavis from a sprained AC joint in his left shoulder was prolonged when the slugger suffered an injury to his right side in a Minor League rehab assignment a few days ago. The latest is that Chavis could be back on Boston's roster by the four-game series against the Yankees that starts on Friday night.
In particular, the Sox have missed Chavis against left-handed pitching.
"We're trying to shoot for the weekend. I think he feels better," said Cora. "Talked to [trainer] Brad [Pearson] a little bit. It's a shame, because he was swinging the bat well. He made some adjustments and was feeling a lot better with the shoulder, but this happened. Hopefully, the next few days, he'll start with soft toss and hitting off the tee and start his progression. And by the end of the week, the goal is for him to be OK."
Would the Red Sox consider adding Dalbec to the roster if Chavis has another setback?
"We haven't talked about that," said Cora.