Reyes' return delayed, not in 'throwing mode'
Right-hander has totaled 7 big league innings over past 3 seasons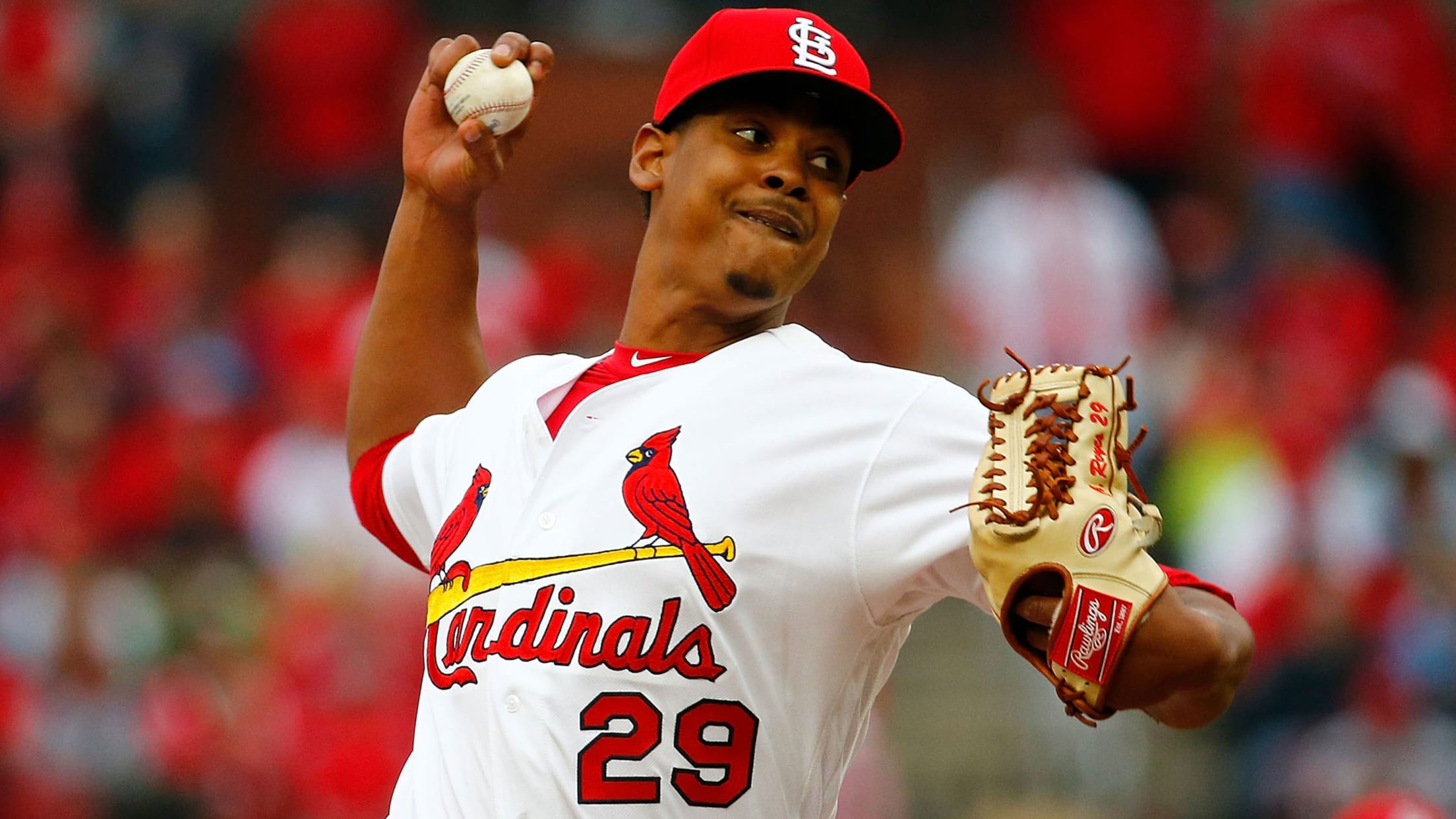 CINCINNATI -- Alex Reyes, on the Triple-A Memphis injured list with a right pectoral strain, is "not in a throwing mode," Cardinals manager Mike Shildt said Sunday. Reyes threw a bullpen session on Aug. 5 and felt more pain in his pectoral area and near his right shoulder, leading him
CINCINNATI -- Alex Reyes, on the Triple-A Memphis injured list with a right pectoral strain, is "not in a throwing mode," Cardinals manager Mike Shildt said Sunday.
Reyes threw a bullpen session on Aug. 5 and felt more pain in his pectoral area and near his right shoulder, leading him to be re-evaluated by the Cardinals' medical team and others in St. Louis. After his arm did not respond to the bullpen, it became increasingly unlikely that Reyes would be able to make a return to the Cardinals by the end of the season. His shutdown now is making the hope for his return almost nonexistent.
"He's been evaluated a couple of different times, he's had a couple of different opinions," Shildt said Sunday. "No one has seen anything different, necessarily. But Alex is not in a throwing mode. He's in a rehabilitation mode to get back to throwing."
It is unclear when Reyes might get back to throwing. Shildt said Reyes is rehabbing at a Cardinals facility that is neither in Memphis nor the Cardinals' camp in Jupiter, Fla.
Reyes has been hurt since June 23, when he strained his right pectoral muscle during a start for Memphis. He had just come off the injured list for a fractured left pinky finger, which he injured punching a wall in frustration. It has been another season riddled with injury for Reyes, who is likely facing his third consecutive lost season. He has totaled seven big league innings over the last three years.
Those injuries have all been on the same arm that made Reyes one of the highest touted prospects in years for the Cardinals. He was out all of 2017 after having Tommy John surgery done on his right arm, and in 2018, he had surgery on his right lat tendon, which caused him to miss most of the year.
Shildt has expressed before that frustration had crept in on the longtime prospect, but Shildt praised Reyes' mindset throughout the process.
"We all know what he's capable of," Shildt said earlier this month. "It's pretty clear, we've only seen a small window of it here at the big leagues, but we've watched enough baseball to realize that all of his pitches and weapons play, and can, and have been, and are elite. That makes everybody -- and probably more so [for] Alex than anybody, it creates that frustration. You think about it and take a step back for Alex and talk to him about it, 'You know you belong at the Major League level and you know you have the ability to be a top-line guy. You just physically can't get out there.'"