A-Rod delivers during big inning vs. Matz, Mets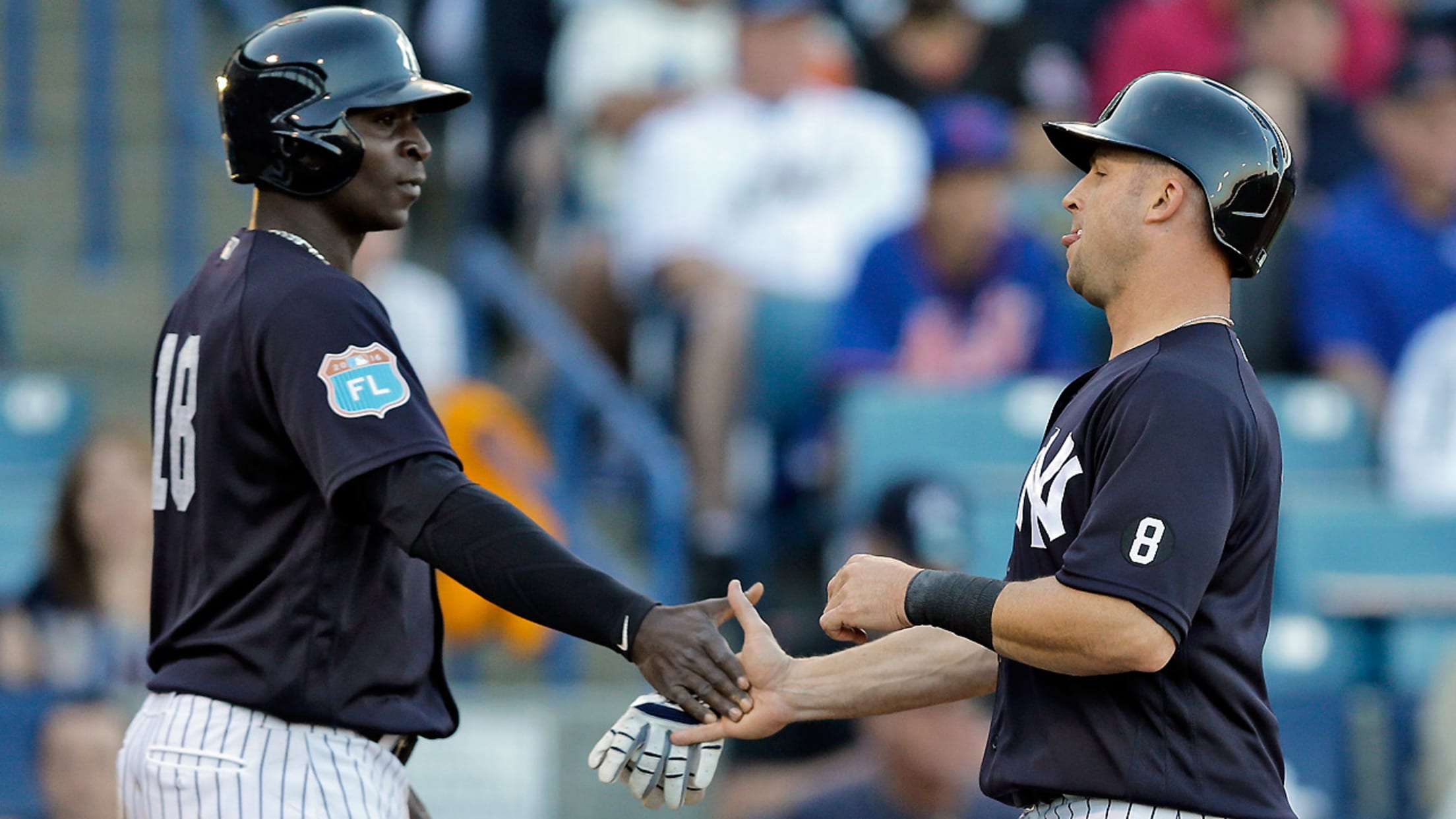 Didi Gregorius and Brett Gardner celebrate after scoring on Alex Rodriguez's single Tuesday. (Chris O'Meara/AP)
TAMPA, Fla. -- Alex Rodriguez drilled a two-run single to highlight a five-run second inning against Steven Matz as the Yankees rolled to a 6-3 Grapefruit League victory over the Mets on Tuesday night at George M. Steinbrenner Field.Rodriguez's line-drive single to left field chased home Didi Gregorius and Brett
TAMPA, Fla. -- Alex Rodriguez drilled a two-run single to highlight a five-run second inning against Steven Matz as the Yankees rolled to a 6-3 Grapefruit League victory over the Mets on Tuesday night at George M. Steinbrenner Field.
Rodriguez's line-drive single to left field chased home Didi Gregorius and Brett Gardner, each of whom had run-scoring hits in the frame off the 24-year-old southpaw.
Carlos Beltran also lifted a sacrifice fly off Matz, who retired the final eight batters he faced and hung around to complete four innings. Matz permitted seven hits, two walks and struck out three in his fourth appearance (third start) of the spring.
"You try to work on stuff, but at the same time, you're facing the New York Yankees," Matz said of his early issues. "So that stuff's going to happen. But I'm pretty happy how I bounced back there, and I got some results the last few batters."
Yankees right-hander Luis Severino struck out five and appears to be a lock for a spot in the rotation. Making his third start and fifth appearance of the spring, the 22-year-old Severino was charged with two runs on five hits over 4 1/3 innings, with a walk.
Yoenis Cespedes knocked a run-scoring double off Aroldis Chapman in the fifth inning, while Neil Walker contributed an RBI groundout.
It was the second and final meeting this spring between the New York clubs, who played to a 4-4 tie on March 9 in Port St. Lucie. They'll meet for four straight days in August during the regular season, playing at Citi Field on Aug. 1-2 before the Subway Series shifts to Yankee Stadium on Aug. 3-4.
Up next for the Mets: The Mets are staying overnight in Tampa, with another game scheduled for 1:07 p.m. ET on Wednesday against the Blue Jays across the bay in Dunedin. Bartolo Colon will start that one for the Mets, looking to rebound from his five-inning, eight-run performance last time out against the Nationals. Left-hander Sean Gilmartin is also scheduled to pitch in relief. The game can be heard live on Gameday Audio.
Up next for the Yankees:Masahiro Tanaka will make his fourth spring start on Wednesday as the Yankees visit the Nationals in Viera for a 5:05 p.m. ET contest on MLB.TV. Brett Gardner is scheduled to play in back-to-back games for the first time this spring and will be the biggest name in a lineup that also is expected to include Gary Sanchez, Dustin Ackley, Rob Refsnyder and Aaron Hicks.