Simmons sustains Grade 3 sprain; Ohtani OK
Angels' defensive star optimistic: 'I'm not too concerned'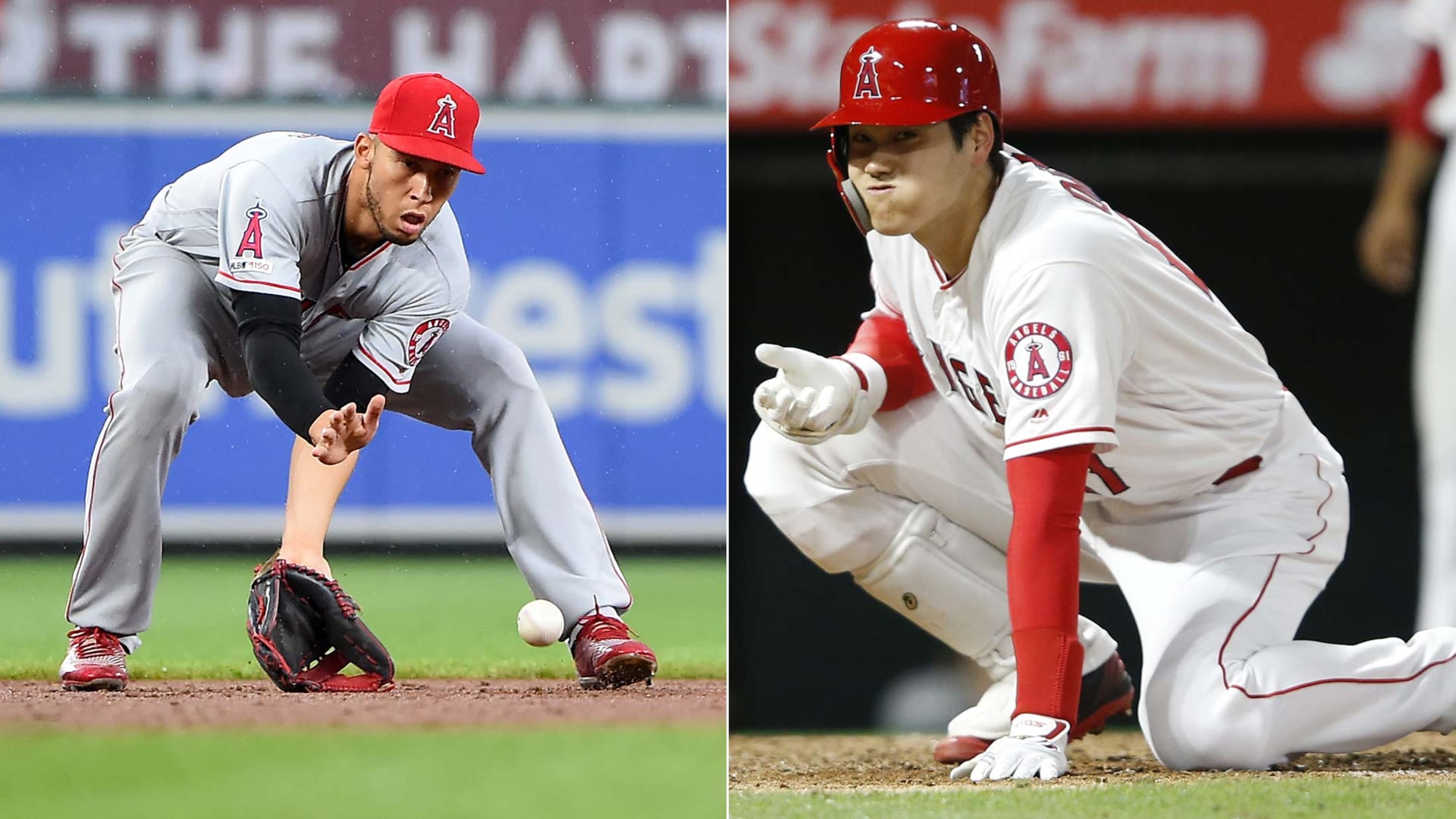 ANAHEIM -- The Angels received good news and bad news on the injury front on Tuesday, as designated hitter Shohei Ohtani was back in the lineup after being hit by a 94-mph fastball on his right ring finger in Monday's 3-1 loss, while shortstop Andrelton Simmons was diagnosed with a
ANAHEIM -- The Angels received good news and bad news on the injury front on Tuesday, as designated hitter Shohei Ohtani was back in the lineup after being hit by a 94-mph fastball on his right ring finger in Monday's 3-1 loss, while shortstop Andrelton Simmons was diagnosed with a Grade 3 left ankle sprain and was placed on the 10-day injured list.
Infielder Luis Rengifo was recalled from Triple-A Salt Lake to take the place of Simmons, who awkwardly twisted his ankle at the first-base bag while trying to beat out a grounder to first on Monday. Simmons is scheduled to see a specialist on Wednesday to get a better feel for his timetable to return, but the injury generally takes 8 to 12 weeks to heal. By definition, a Grade 3 sprain indicates a complete tear of the ankle ligament.
"I'm not too concerned," Simmons said. "Hopefully, I come back fast. I'm gonna try to do whatever the staff tells me so I can get back on the field and help the team."
It was a scary eighth inning for the Angels, as Ohtani suffered a contusion on his finger after swinging at a third strike from Twins lefty Taylor Rogers. Just two pitches later, Simmons hit a grounder to first and tried to beat Rogers to the bag, only for his left foot to come up short of the bag and twist upon impact.
"I was just trying to get there and, I guess, miscalculated a little bit," Simmons said. "I haven't even [seen] the replay yet, but I've heard a little bit about it. That's the first time I actually lunged at first and [it] didn't work out well for me."
With Simmons out, the Angels are expected to use a combination of David Fletcher, Zack Cozart and Rengifo at shortstop. But it's a big blow, as Simmons is arguably the best defensive shortstop in the game and his offense has been improving the last few seasons. He was hitting .298/.323/.415 with three homers and 21 RBIs in 46 games while mostly serving as the club's cleanup hitter.
"It's a huge blow," Angels manager Brad Ausmus said. "I mean, he's one of the best all-around players in the game. His defense is probably more valuable than a lot of player's bats. Regardless of the length of time, it's a big blow. There's no good time to lose Simmons."
One thing in Simmons' favor is that he's been a quick healer throughout his career, including last year when he suffered a Grade 2 right ankle sprain but only missed 11 games with the injury. This, however, is a more significant injury, so it's harder to pinpoint when he'll return until he sees a specialist.
"I'm hopeful that continues," Simmons said. "I'm gonna try my best to come back fast. The training staff is gonna try to do the opposite and make sure I'm 100 percent. I'm used to coming back kind of fast, but I can't predict yet. Gotta wait for the swelling to go down to figure out where we're at."
Simmons, though, said he believes the Angels will be able to stay afloat while he's out, as the Angels do have some middle-infield depth with Fletcher, Cozart and Rengifo to go along with second baseman Tommy La Stella.
"I'm confident in the team, man," Simmons said. "This lineup still has a lot of talent. We have a lot of young guys that are coming in and doing a good job, too. I'm confident they'll be fine without me for a little bit."