Yankees Magazine: Underdog Mentality
Andy Stankiewicz was an undersized shortstop who refused to quit until the Yankees gave him a chance. As head coach at Grand Canyon University, he is preaching the same ethos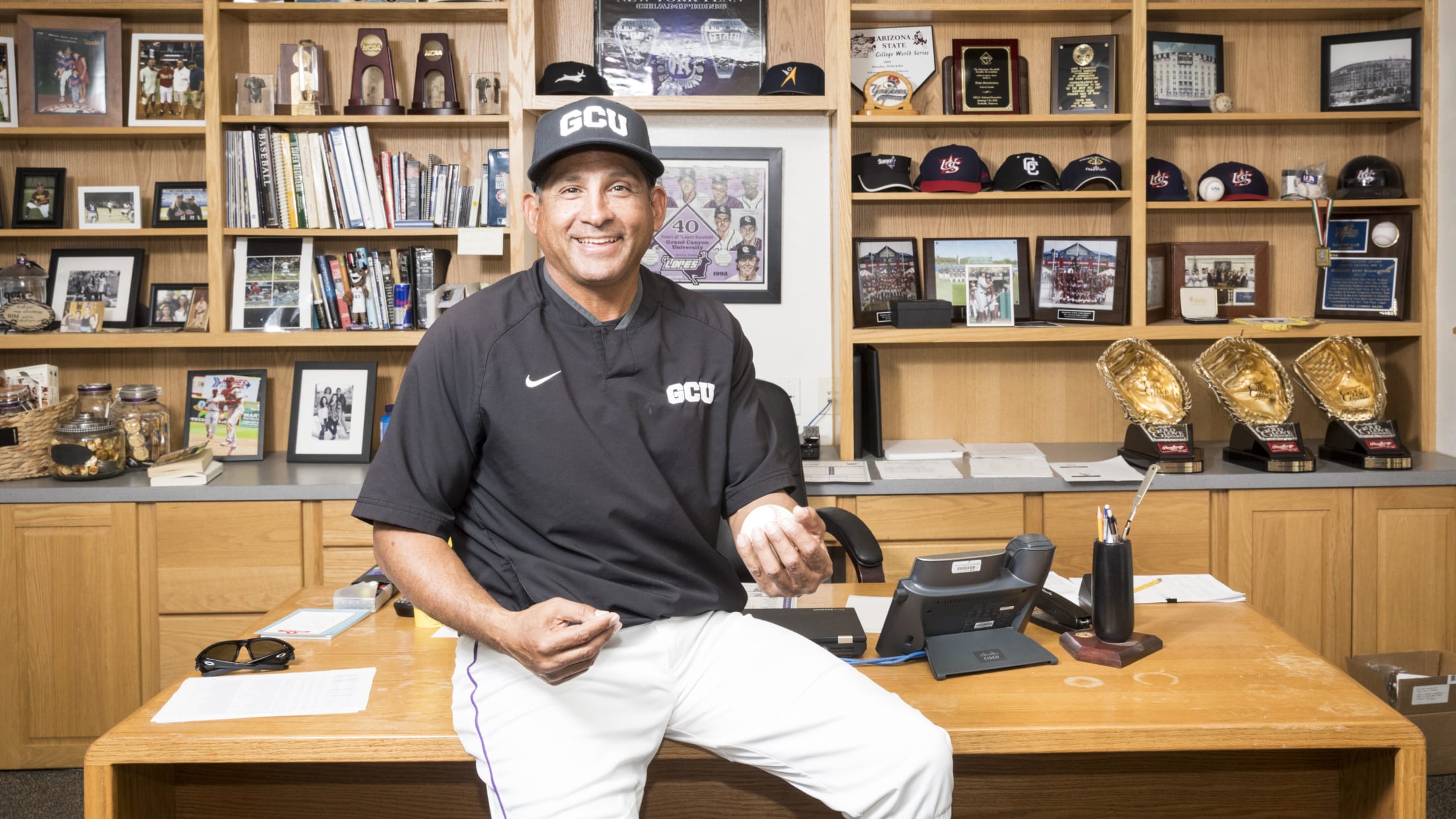 Despite the odds stacked against him, Stankiewicz never gave up on his dream of playing Big League ball. Today, he guides young men with similar aspirations as head coach of the Grand Canyon University Antelopes. (New York Yankees) (James Petrozzello)
In life, six years is a long time. But in baseball, it can feel like an eternity. For Andy Stankiewicz, that's how long the journey lasted from the time the Yankees drafted him out of Southern California's Pepperdine University until he made his major league debut.When the Yankees selected the
In life, six years is a long time. But in baseball, it can feel like an eternity. For Andy Stankiewicz, that's how long the journey lasted from the time the Yankees drafted him out of Southern California's Pepperdine University until he made his major league debut.
When the Yankees selected the pint-sized shortstop in the 12th round of the 1986 draft, there was no guarantee that he would climb the ladder to the Bronx. Even though he had completed a stellar career at Pepperdine, batting .291 and helping the team advance to the regional finals twice, at 5 foot 8 or so, he would not only need to make the normal improvements that turn minor leaguers into big leaguers, but he would also have to find a way to stand out and make a big impression on the coaches with whom he crossed paths.
Stankiewicz, now 52, is currently the head coach at Grand Canyon University in Phoenix. But he spent his first two professional seasons in Single-A, first with low-A Oneonta in 1986 and then with Fort Lauderdale in 1987.


Regardless of how fast he moved through the team's minor league system, Stankiewicz -- who was drafted out of high school by the Kansas City Royals, then taken after his junior year of college by the Detroit Tigers, but turned down both teams in favor of Pepperdine -- remained as confident as he was determined.
"Regardless of what anyone said, I knew that I was going to make it to the Majors," Stankiewicz says from an outside seating area at Bobby-Q, a popular barbecue joint a few miles from the GCU campus. "Everyone in the minors has good skills, but the guys who make it are those who can grind out the tough days and keep showing up ready to play. You have to be able to forget about the last game, whether it was good or bad, and just concentrate on the now. When you are young, that can be tough, but I needed to make that one of my strengths."
There's no doubt in Stankiewicz's mind that his ever-positive mentality propelled him to a .296 batting average in his first professional season and a .307 batting average the following year.
"I really loved the game," he says, while peering up at a television showing the Arizona Diamondbacks against the Colorado Rockies. "As you can see, I still can't get enough baseball in my life. Back then, I loved competing more than anything else. I wanted to play every day. Some of the guys I was playing with would run out of gas, but I always felt like I was gaining steam."
Besides the relentlessness that Stankiewicz brought to the ballpark each day, he was also self-aware, recognizing his strengths and limitations.
"I wasn't the biggest guy or the best player out there," he says. "But I knew that I had to make a difference somehow, some way. I always felt like I could make a difference over an extended period of time, like when we would have one game after another for a few consecutive weeks. I felt like I had to play harder on each of those days, and by doing so, I would make a strong impact on a team. If you watched me on one particular night, it might not be so pretty. But over the course of a week, two weeks or a month, I felt like I could bring something to help the team win."
Buck Showalter, who managed in the Yankees' minor league system before rising to the Big League club's top spot, quickly noticed what Stankiewicz brought.
"Buck was my manager for three years," Stankiewicz says. "I learned a ton about the game, about being a professional and about how to handle yourself from him. He was a good advocate for me and a great mentor. I was always trying to get as much information from him as I could. It was helpful to have someone in my corner."
Stankiewicz began the 1988 season in Double-A. He collected 111 hits and 39 walks, batting .268 in 109 games.
It was at that point that Stankiewicz felt like his first Big League call-up might not be too far away.
"I sensed that I was getting closer," he says. "Once you get to Double-A and you're performing well, you feel really good about yourself. Most importantly, you've gotten past Single-A, which doesn't happen for a lot of players."
Later that season, the Yankees promoted Stankiewicz to Triple-A Columbus, but the shortstop's ascent would soon take a turn in the other direction. His batting average dipped to .219, and for a player with little power, having the same number of strikeouts as hits compelled the organization to send him back to Double-A Albany-Colonie at the start of the 1989 season.
Stankiewicz spent that entire campaign in upstate New York, lifting his average to .267 and proving that he deserved a second look in Triple-A.
Beginning on Opening Day of 1990, Stankiewicz took over as the Triple-A Clippers' shortstop, where he would remain for two full seasons.
According to Stankiewicz, 1990 was a critical time for him. That's when he dug his cleats into the challenge of facing the quality of pitching rarely seen below the Triple-A level. And although Stankiewicz barely treaded water during his first full season in Columbus, batting .229, he still appreciates how special that experience was.
"When you're in the middle of it, it's all about, 'Did I get a hit tonight?'" Stankiewicz says as a salad arrives at the table for lunch. "But when I look back, I realize what a valuable growing experience it was playing for [former manager] Stump Merrill and how much fun it was to fight through everything just to keep playing. I feel like players who don't get that miss out on something. It really was a wonderful time."
If 1990 was wonderful, then the following season was sheer bliss for Stankiewicz, as he improved his batting average to .272 and earned an invitation to Big League Spring Training in 1992.
With his ultimate dream clearly within reach, Stankiewicz worked tirelessly in the offseason leading up to that spring, then batted .400 in the exhibition season. But with Pat Kelly at the top of the depth chart at second base and Mike Gallego -- who played with Stankiewicz at St. Paul High School in California -- entrenched at shortstop, the underdog would need a break in order to make the Big League club.
That development came when Gallego, who had just signed a three-year contract, bruised his heel in late March. With Showalter -- whose managerial climb mirrored Stankiewicz's playing journey -- now at the helm in the Bronx, Stankiewicz traveled from the team's spring home in South Florida to New York City for an exhibition series against the Mets in the days leading up to Opening Day. With Gallego's status for the beginning of the season still uncertain, Stankiewicz was not officially added to the roster as of the morning of Opening Day. But he had certainly proven to Showalter that he could handle the job if the skipper needed an infielder.
"Buck had told me that if Mike was healthy, I'd be going back to Columbus on Opening Day," Stankiewicz says. "That morning, I was joking around with Mike, telling him not to be in a hurry to get healthy. I said, 'No need to rush -- these things can linger.'"
Then, in a real-life scene that would rival the drama of those written in Hollywood, Stankiewicz learned his fate hours before the season got underway.
"Mike was slated to lead off that day, so he took batting practice," Stankiewicz says. "I was taking ground balls and watching him closely, just to see how his body was reacting. From what I could see, he looked like he was fine, but I really couldn't tell. While I was taking ground balls, Buck and Mike walked into shallow left field. This was a defining moment for me. I knew that I would either be staying with the Yankees or walking into the clubhouse and getting on a plane to Columbus. As Buck walked away from Mike and headed in my direction, I had no idea where I was going. When Buck got to me, he just said, 'Hey, we're going to put Mike on the DL. We're going to activate you.'"
At 27 years old, Stankiewicz's moment had finally arrived. The Yankees' version of Rocky Balboa -- or maybe Rudy Ruettiger -- would be wearing pinstripes.
"I always believed that I could play in the Big Leagues," Stankiewicz says. "Without that confidence, it never would have happened. It was about setting a goal -- even though it was an improbable one -- and attaining that goal. I called my wife and my brother from the clubhouse. That was pretty cool."
A few days later, Stankiewicz made his first plate appearance, as a pinch-hitter against Detroit relief pitcher Mike Munoz.
"I'll never forget that," Stankiewicz says as he finishes his lunch. "I got called out on a ball. I remember walking back to the dugout in Detroit and watching as one of my teammates was barking at the umpire. The umpire was behind me, but my teammates said that when he rung me up, he was like staring me down, as if to say, 'Are you going to say anything to me?' It was a bad call, but I was a 27-year-old rookie, so there was no chance I was going to say anything to him. I was happy that I was officially in the books."
With each day, that strikeout seemed further away.
On April 14, Stankiewicz made his first start against the Toronto Blue Jays, collecting an RBI single and a walk.
"I had a couple of good swings in that game," Stankiewicz says. "We were facing Juan Guzman, who was really good. After that, I felt like I was going to be able to compete at that level, and it was just going to be a matter of when Buck wanted me to play."
In addition to hitting .308 with a home run in 15 April games, Stankiewicz continued to do what he had always done best in the minors.
"I always felt good about fielding ground balls," Stankiewicz says. "It didn't matter where I played defensively. [Former coach] Frank Howard used to tell me all the time that my bat got me to the Big Leagues, but my glove would keep me there. I knew that I had to play second, third and shortstop well. I knew that I had to run the bases well and be a reliable pinch-hitter so that the manager would trust me to pinch-run or come off the bench to advance a runner."
As spring turned to summer, Stankiewicz earned more playing time, getting into the lineup on a regular basis at shortstop or second base. And as his hit total grew, so did Stankiewicz's popularity among the crowds in the Bronx. For a fan base that had little to cheer about at that time other than all-time great Don Mattingly, Stankiewicz became an inspiration and a fan favorite.
"I think the fans identified with me because I was a smaller guy, and because the name Stankiewicz sounds like one that would be more common on the East Coast," he says. "Fans would ask me if I was from New Jersey or New York, and I wasn't. But I guess because I was an underdog and a scrappy player, fans could really identify with me."
One of Stankiewicz's most ardent supporters was Yankees great Phil Rizzuto, who at the time was a broadcaster for WPIX in New York. The Hall-of-Fame shortstop quickly began singing Stankiewicz's praises on air, which further ingratiated the up-and-coming infielder with Yankees fans. Rizzuto, who stood about the same height as Stankiewicz during his playing days in the 1940s and '50s, also made an effort to get to know the rookie.
"He started coming down to the field that season," Stankiewicz says. "The other players were like, 'Hey Andy, he doesn't do this. He's coming down to the field just to talk to you.' That was really nice. It's funny because if you saw us standing side-by-side, you'd see how similar we looked. I loved Phil, and I had so much fun with him."
Stankiewicz struggled in July, but turned it on for the last few months of the 1992 season, batting .290 in August and finishing the season with a .268 average, two home runs and 25 RBI. Stankiewicz was the first Yankees rookie to reach 100 hits since Willie Randolph accomplished the feat in 1976.
As quickly as Stankiewicz's star began to shine in the Big Apple, it dimmed even faster. Following the 1992 season, the Yankees -- anxious to climb back into contention after a subpar decade -- signed shortstop Spike Owen to a long-term deal. Owen had been an everyday player for nearly a decade and was widely regarded as one of the premier defensive shortstops in the game. With Owen on board, along with Kelly and a healthy Gallego, Stankiewicz was forced to begin the 1993 season in Columbus. He was brought back to the Bronx in June for six games, then for the final few weeks of the season, but he didn't collect a hit the entire year.
The Yankees traded Stankiewicz to the Houston Astros after the 1993 season.
"That was a tough year," he says. "I felt like I did enough in '92 to be playing again in '93 with the big team. I got a taste of the high life a little bit, and it was unbelievable. When I went back to the minors, I just worked hard and tried to get better. I wanted to be a Yankee, if I could, for the rest of my life. But you realize that baseball is a business, and I ended up getting a chance to play in Houston, and the experiences I had there were incredible."
After two seasons as a utility infielder with the Astros, Stankiewicz filled the same role for the Montreal Expos for two seasons and then for the 1998 Arizona Diamondbacks, where he was reunited with Showalter. He then returned to the Yankees organization, attempting to make it back to the Bronx one more time, but that never came to fruition. Stankiewicz's playing career came to an end after 66 games with the Los Angeles Dodgers' Triple-A affiliate in 2001.
Almost immediately after his playing days ended, Stankiewicz got into coaching, first in the Yankees organization with the Gulf Coast League team. He managed the Staten Island Yankees for two seasons, guiding the Single-A club to a championship in 2005. More recently, Stankiewicz served as an assistant coach with Arizona State University before getting the top job at Grand Canyon University in 2012.
When Stankiewicz took over as the Antelopes' head coach, he inherited a Division II program with a long history of winning.
"There have only been four coaches here before me, and the baseball program started in the '50s," Stankiewicz says as he sips a cup of coffee a few hours before his team's game against the University of Texas Rio Grande Valley. "When you compare other programs around the country to that during the same timespan, you realize that most schools have had at least 15 coaches. The coaches before me did a really good job, and I feel like it has been my job to carry the torch and move it forward."
From day one, Stankiewicz has done just that. After putting together a 27-23 record in his first season, he led the Antelopes to a 40-19 mark in 2013 and the team's first appearance in the D-II Championship.
"That was a lot of fun," he says. "We won 23 straight games that year, and you could see the kids starting to believe in themselves."
The players also got behind the coach's basic philosophy, which emphasizes pitching and defense.
"If you look at the history of baseball, for the most part, every big game is won or lost by only a few runs," Stankiewicz says. "In those games -- especially the most important games -- you've got to be able to pitch and play good defense."
With that mentality serving as the foundation of GCU baseball, things only got better. Following the 2013 campaign, the university applied for entry into the Division I Western Athletic Conference, and the baseball team was accepted.
"I was excited about it because I knew it would help our recruiting efforts," Stankiewicz says. "But we really went into those first few seasons in D-I with a D-II roster. I didn't want to cut any of the players I had made a commitment to. Instead, I told them that they had a chance to compete against the best college baseball players in the country."
Clearly, there was an implied grace period for a program that had just made such a huge jump, but Stankiewicz's teams quickly began to exceed expectations. In their first D-I season, the Antelopes finished with a 30-23 record. They bested that in 2015, going 32-22.
"Our kids really battled," Stankiewicz says. "Part of my job has been to get my players to understand that it doesn't matter who we're playing. If we approach the game right, we'll be fine in the long run. The success that we had early on reinforced that, as a coaching staff, we were doing things right."
With a young roster the last two seasons, the Antelopes were not able to maintain their same win totals from 2014 and 2015. But they remained competitive, and to date, eight of their players have been drafted by major league teams since 2012.
Stankiewicz, who with his wife, Mari Ana, has two sons -- Drew, who is in the Philadelphia Phillies' minor league system, and Dane, who just finished his freshman season with the Antelopes -- and two daughters, remains confident and determined about the future of his program.
He has good reason for that optimism. Besides posting a 183-140-1 record in his first six seasons, the Antelopes will be eligible to participate in D-I postseason play for the first time in 2018.
"We have set our sights differently in recruiting now," he says shortly before heading to the ballpark to prepare for the game. "It was hard to get kids to say yes to us when they knew that there was no chance of playing in the postseason. But that's gone now, and that will be a big help."
Additionally, the Antelopes' already-picturesque Brazell Stadium on the sprawling downtown Phoenix campus will be renovated for the 2018 season.
For Stankiewicz, playing for the Yankees was the realization of a dream all those years ago. But coaching the Antelopes and building a program in his image these days is just as rewarding.
"I love what I do," Stankiewicz says. "I've got four years to invest in kids' lives and help them get through school. I get to put a baseball uniform on at 50 years old and act like a kid. What else could I possibly want?"
Alfred Santasiere III is the editor-in-chief of Yankees Magazine. This article appears in the September 2017 issue of Yankees Magazine. Get more articles like this delivered to your doorstep by purchasing a subscription to Yankees Magazine at yankees.com/publications.