Pagan flashes renewed speed against A's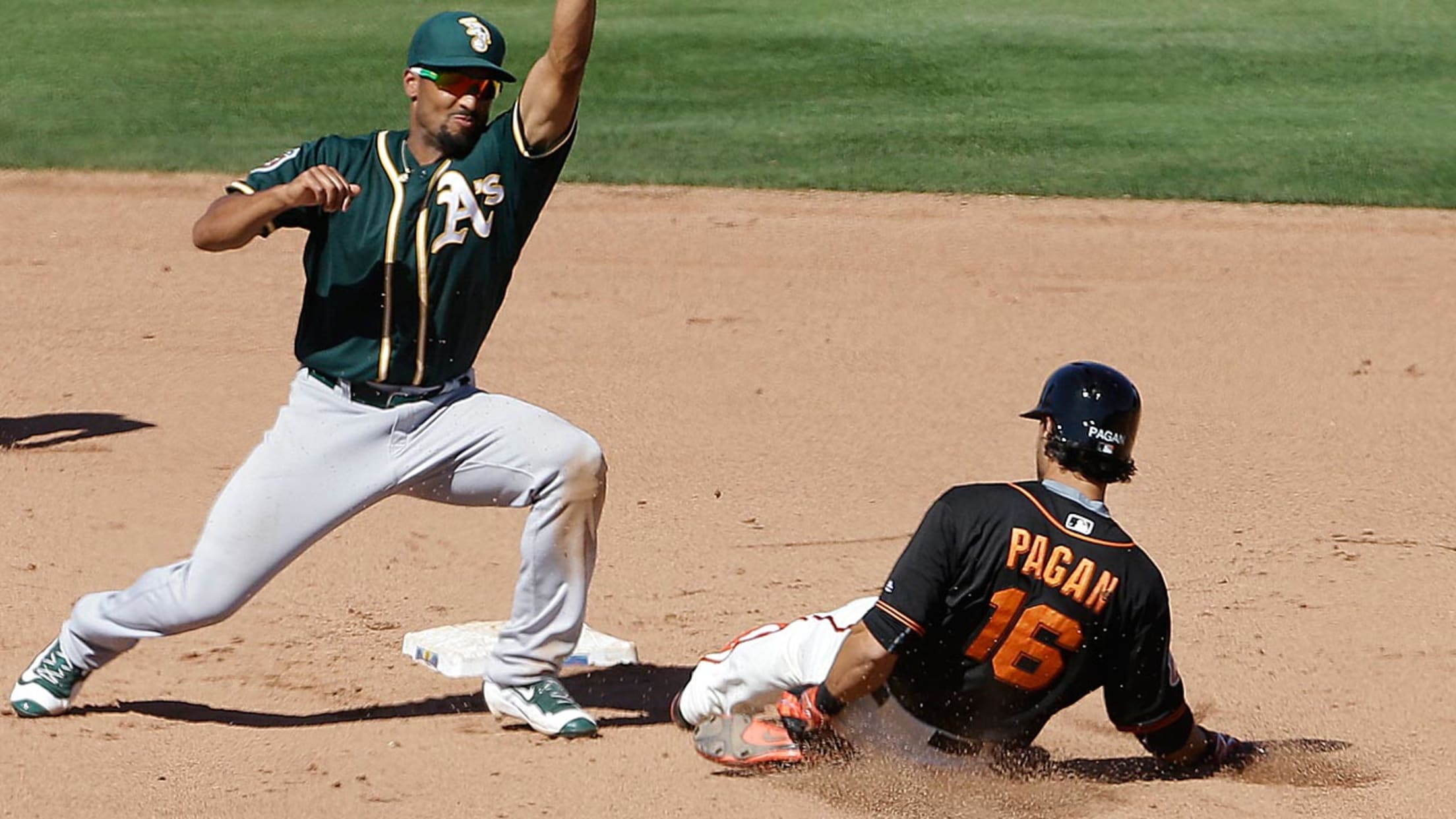 Angel Pagan slides into second base as A's shortstop Marcus Semien receives the throw. (AP)
SCOTTSDALE, Ariz. -- After scoring 29 runs in their previous three games, the Giants displayed scant offensive potential in Saturday's 9-1 Cactus League loss to Oakland. However, the sight of left fielder Angel Pagan accelerating from virtually a standing start and dashing from first to second base on pitcher Ryan
SCOTTSDALE, Ariz. -- After scoring 29 runs in their previous three games, the Giants displayed scant offensive potential in Saturday's 9-1 Cactus League loss to Oakland. However, the sight of left fielder Angel Pagan accelerating from virtually a standing start and dashing from first to second base on pitcher Ryan Dull's fifth-inning fielding error recaptured what had been and suggested what could be.
Pagan suddenly resembled the offensive dynamo who galvanized the Giants in 2012 by amassing 38 doubles, 15 triples and 95 runs. He again looked daring, quick and unstoppable -- a rare sight since then, when hamstring (2013), back (2014) and knee (2015) ailments limited his effectiveness.
• Spring Training:Schedule | Tickets | Information
Pagan largely was testing himself by going for the extra base.
"I wanted the opportunity to see where I'm at," he said. "It felt good."
Giants manager Bruce Bochy liked what he saw from Pagan, 34.
"He's running well," Bochy said. "He showed a lot of life. Just watching his first step, he looks healthy."
Pagan, who stole 29 bases for San Francisco in 2012 and 37 in the last three years, probably won't use his reclaimed speed for thievery, at least not most of the time. Mostly, he'll try to accomplish precisely what he did Saturday -- taking an extra base as often as possible to pressure opponents.
"I have to try to find a way somehow to score a run," he said.
• Gregor Blanco, who hadn't played since March 12 while healing a sore left oblique and dealing with back issues, went 1-for-2 as San Francisco's designated hitter. Blanco threw to bases in fielding practice before the game and expects to be able to play defensively within a few days.
• Bochy said catcher Andrew Susac (wrist) might need a couple of days before he resumes playing. Susac is competing with Trevor Brown, who's batting .375, for the No. 2 catcher's spot behind Buster Posey. Brown played the entire game Saturday and will catch Johnny Cueto's pitching tuneup in a Minor League exhibition Sunday.
• Left-hander Madison Bumgarner, who hasn't swung a bat for nearly two weeks since injuring his rib cage, is expected to resume batting practice this week. Hitting is a big deal to Bumgarner, winner of the past two Silver Slugger Awards as the best hitter at his position. He has nine home runs and a .252 batting average in the previous pair of seasons.