Ex-teammates back to making sweet music
Punk aficionados Radinsky, Hansen reunited in Angels clubhouse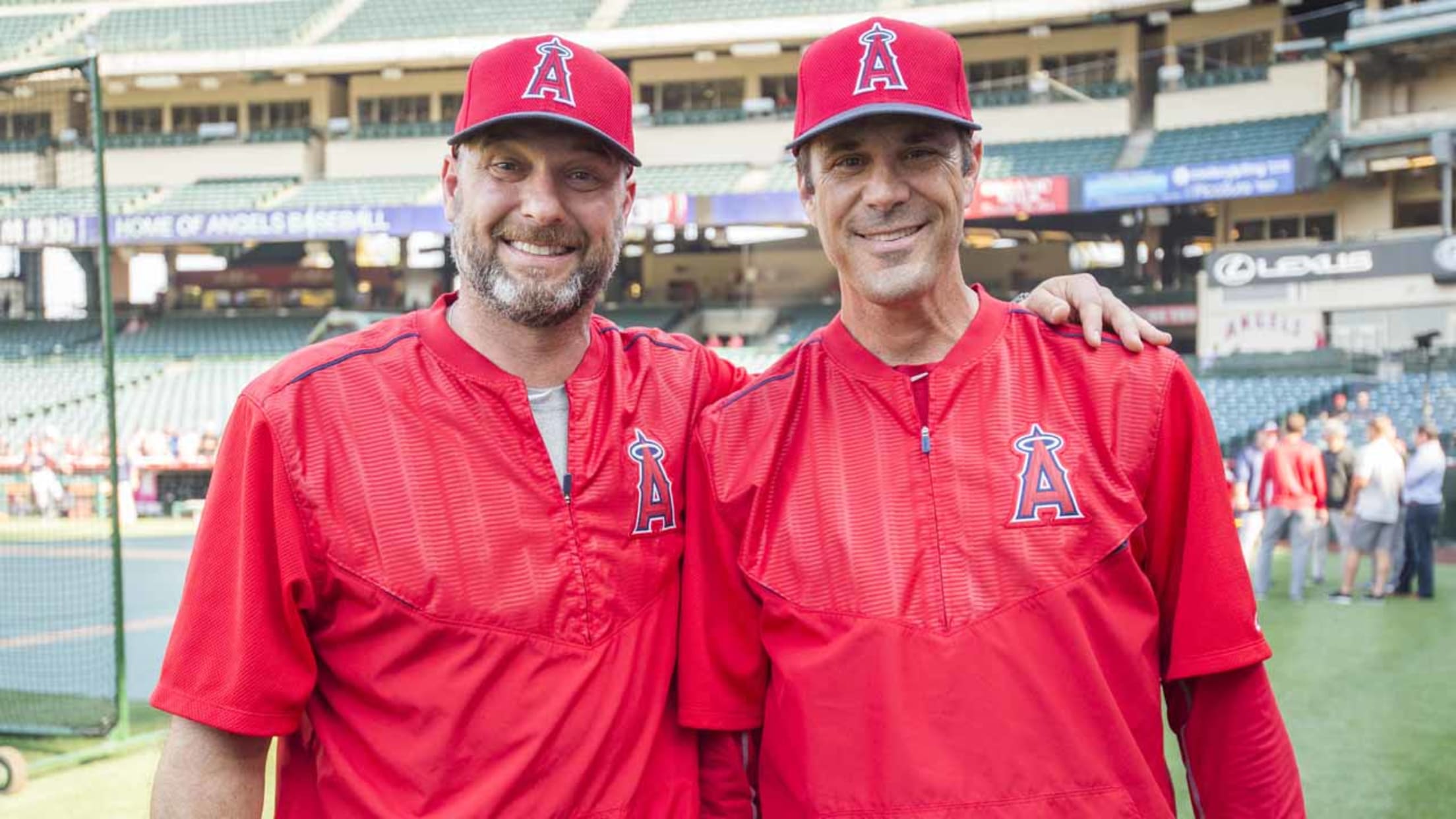 Angels coaches Dave Hansen, left, and Scott Radinsky bonded two decades ago over punk rock music. (Los Angeles Angels)
ANAHEIM -- It began in the trainer's room in Vero Beach, Fla. It was the spring of 1996, and Dave Hansen and Scott Radinsky were Dodgers. Hansen was carving out a career as a successful pinch-hitter, Radinsky was re-establishing himself as a late-inning reliever -- and all they did that
ANAHEIM -- It began in the trainer's room in Vero Beach, Fla. It was the spring of 1996, and Dave Hansen and Scott Radinsky were Dodgers. Hansen was carving out a career as a successful pinch-hitter, Radinsky was re-establishing himself as a late-inning reliever -- and all they did that day was talk about hardcore punk music, which had swept the West Coast in the 1980s and captivated them both.
Off-field hobbies of Major League Baseball players usually are confined to hunting, golfing and shopping. Not so with Hansen and Radinsky.
Radinsky, in his first season as the Angels' bullpen coach, is lead singer of a well-known California punk band called Pulley, which still tours and records. Hansen, the Angels' hitting coach, is a rock-and-roll junkie who began playing guitar as an 11-year-old and hasn't stopped.
"We had a natural connection through music," Hansen said. "And I think our friendship just kind of grew from there."
Both Hansen and Radinsky were born in 1968 and drafted out of Los Angeles high schools 18 years later. Radinsky attended Simi Valley, north of Malibu, and Hansen went to Rowland Heights, near Long Beach. Radinsky was already making headway in the punk scene by that point, and Hansen was a fan.
When they met, Radinsky introduced Hansen to his world.
One night, Hansen tagged along to watch Henry Rollins in Philadelphia and Radinsky slapped Pulley stickers on every light post he saw on his way to the venue. Watching local punk bands during road trips became their thing. They saw Strung Out, Social Distortion, The Vandals, No Use For A Name, Pennywise. And on other nights -- 20, if he had to guess -- Hansen stood in the crowd to watch Radinsky sing for his own band.
"I thought that to be so impressive, not only to do one of the things we love to do but to do both of the things we love to do," Hansen said.
A hardcore punk movement began to take over Southern California in the early '80s. And the band Radinsky helped form in 1983 -- first called Scared Straight, then Ten Foot Pole -- was right in the middle of it.
Radinsky played baseball simultaneously and sees them as "two separate worlds."
"Since the first day I can ever remember being in eighth grade and jamming with some guys, it's always been about getting to go out and having fun," Radinsky, now 48, said. "And I think some of the survival, the reason we've been able to last, is the fact that we've never had to pay bills through the music."
Professional obligations forced Radinsky to leave Ten Foot Pole in the mid-'90s and form Pulley, which has produced five studio albums and toured three continents over the last 22 years.
Radinsky did a lot else during that time.
He was a nightmare for left-handed hitters, holding Ken Griffey Jr., George Brett, Wade Boggs, Fred McGriff and Tony Gwynn to a combined seven hits in 59 at-bats over an 11-year career.
He survived Hodgkin's lymphoma, which struck right in the middle of his playing career in 1993. He went on a 44-day bike ride from Seattle to Los Angeles. He sprouted an indoor skate park in his hometown, Skatelab, which also houses the Skateboarding Hall of Fame. And he eventually carved out a coaching career with the Indians, Dodgers and, now, the Angels.
On April 13, shortly after finishing up a three-game series in Oakland, Radinsky was taken to a local hospital and was told he needed double-bypass surgery because the chemotherapy from the cancer that struck him 23 years earlier had shut down a couple of his arteries.
Radinsky has spent most of the last 11 weeks recovering, and Hansen made it a point to stay in touch.
"I wanted to make sure that he knew I was -- and we were -- thinking about him," Hansen said, "and not that we were just going to move on."
Hansen, who holds the Dodgers' record for most pinch-hits, still packs a guitar on every road trip. Usually it's the acoustic his father gifted him in 1993, but sometimes he'll go electric. He needs 45 minutes after each workday to decompress.
"Music is kind of what we do out here on the field," said Hansen, promoted from assistant hitting coach last offseason. "We have to be on time. We have to be rhythmatic in order to deliver our mechanic. I admire that part of it, too, just to be able to stay in a rhythm, constant rhythm all the time."
Hansen, 47, still remembers how excited he was on that day in November, when Radinsky sent him a text to let him know he was joining the Angels' coaching staff and that, after two decades, the two would be together again.
They played together only one season. But of all the guys Radinsky has come across in baseball, Hansen, he said, "is probably the one guy that I've stayed in touch with and continued to keep a friendship with. The connection was music."
Hansen and Radinsky frequently shared dinners throughout Spring Training, and sometimes those meals led right back to Hansen's apartment, for the same jam sessions they held 20 years earlier.
Radinsky is almost fully recovered now. He's joined the Angels for pregame work in Anaheim several times, and soon -- perhaps immediately after the All-Star break -- he'll start traveling, resuming his coaching duties full-time.
"I can't wait, really," Hansen said. "I don't know -- when I see him, it just changes my attitude, too. I enjoy being around him."