Eppler says rebuilding phase not in Halos' plans
Angels GM also says Scioscia's job 'not in jeopardy'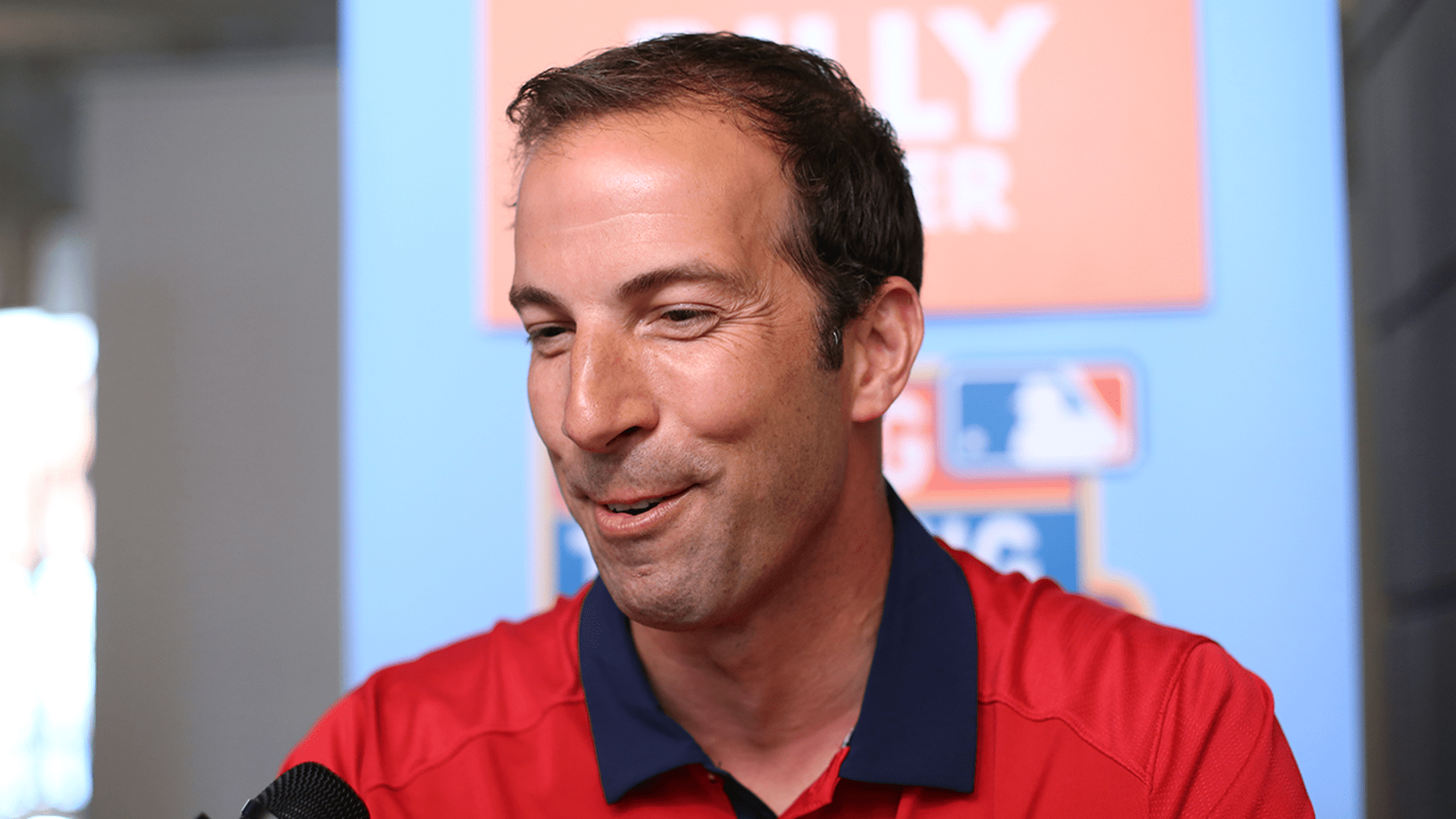 'These guys have not stopped fighting,' Angels GM Billy Eppler says of his club. (Getty)
ANAHEIM -- The Angels took the field on Tuesday with an 18-game deficit in the American League West, a farm system that is considered to be among the weakest in the industry and a top-heavy payroll that has basically maxed out.But they have no plans to enter into any sort
ANAHEIM -- The Angels took the field on Tuesday with an 18-game deficit in the American League West, a farm system that is considered to be among the weakest in the industry and a top-heavy payroll that has basically maxed out.
But they have no plans to enter into any sort of rebuilding phase.
First-year general manager Billy Eppler pretty much guaranteed that.
"With the position of this organization, and the financial strengths of this organization, it's not in the DNA to rebuild," Eppler said prior to the second game of a three-game series against the division-rival Astros. "So, we will not do that. We'll continue to invest. We'll invest throughout this season, with a mind for this season, with a mind for the future and this winter, with a mind towards competing, and contending year in and year out."
Eppler didn't rule out using veteran players to acquire prospects prior to the Aug. 1 non-waiver Trade Deadline, but he also didn't commit to it, saying: "We're not up against any decision at this point in time."
The Angels can eventually part with players who are eligible for free agency at season's end, a list headlined by starting pitcher Tim Lincecum, setup man Joe Smith and catcher Geovany Soto.
But the bigger returns, and the tougher decisions, come with regards to trading players signed beyond 2016, including third baseman Yunel Escobar ($7 million club option for '17), closer Huston Street (on the books for up to two additional seasons), right fielder Kole Calhoun (controllable through '19) and first baseman C.J. Cron (controllable through '20).
Eppler indicated that most of the latter group may stay, because he wants the Angels to compete in '17.
"There is no doubt we want to be a contending team year in and year out," he said. "You can connect the dots on that."
Jered Weaver and C.J. Wilson, each making $20 million in '16, are off the books after this season. But the Angels will still be paying the Rangers an additional $22 million for Josh Hamilton in '17, Albert Pujols will still be owed $140 million over a five-year period, the farm system will still need a lot of work, and the upcoming free-agent class won't be very deep.
Eppler needs to navigate through all of that in his quest to build a competitive team around Mike Trout, who doesn't line up to hit the free-agent market until after the '20 season.
Eppler doesn't necessarily believe there is a trade-off.
"I think you can serve both masters," Eppler said. "I think you can contend and compete at the Major League level while maintaining a commitment to building a farm system. So, we're making that commitment. We'll do both."
Mike Scioscia, baseball's longest-tenured manager, is signed through '18, and Eppler assured that his job is "not in jeopardy." He called his relationship with the Angels' owner, Arte Moreno, "great."
"Very positive, very supportive," Eppler said. "Yeah, it's been great."
Eppler also insisted that "there is talent on this roster," even if a minus-37 run-differential would indicate otherwise. He believes the win-loss record is largely a product of both injuries and underperformance, and he remains perpetually hopeful that a turnaround will come.
His plan?
"Continue to just allow guys to play and just take it day to day," Eppler said. "I think the one thing that is a positive, that we walk out of every day with, is the fact that these guys have not stopped fighting. There's absolutely no quit. That's a good thing for our fans to see, for our coaches to see. Hey, welcome to the grind. This is it."