Angels honor Newhope as part of Adopt-A-School program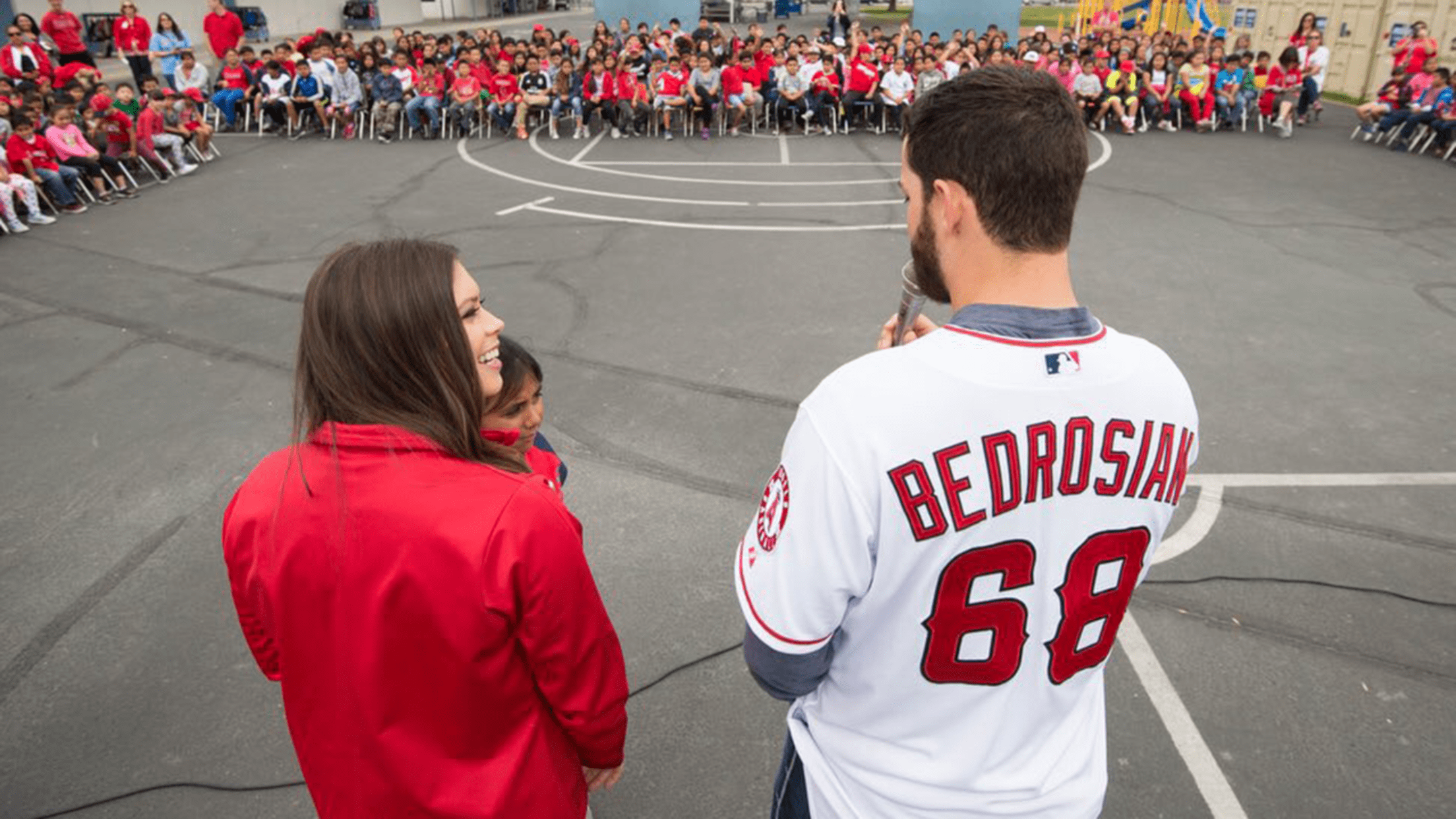 Angels relief pitcher Cam Bedrosian speaks with students Wednesday at Newhope Elementary School. (Angels)
SANTA ANA, Calif. -- Angels relief pitcher Cam Bedrosian has the best job in the world -- being a professional baseball player.Well, almost the best."Being a baseball player is the best job in the world, except for being a teacher for great students like you guys," Bedrosian said amongst a
SANTA ANA, Calif. -- Angels relief pitcher Cam Bedrosian has the best job in the world -- being a professional baseball player.
Well, almost the best.
"Being a baseball player is the best job in the world, except for being a teacher for great students like you guys," Bedrosian said amongst a sea of Angels red T-shirts at Santa Ana's Newhope Elementary School.
• Photos: Cam Bedrosian and Alex Curry visit Newhope Elementary
Bedrosian, along with FOX Sports West reporter Alex Curry and several other team representatives, was on hand as the Angels honored the school on Wednesday morning.
The Angels named Newhope Elemenary School as one of five "Adopt-A-Schools," joining the eighth class of such schools for the organization. As a recognized school, Newhope received a $2,000 donation to the school to fund physical education and reading; tickets to last Monday's game against the Minnesota Twins; a school supplies pack for each student and a banner to hang at the school to show their recognition.
Bedrosian and Curry each spoke to the students about their school experiences and the importance of education and hard work, with some select students getting the chance to have Angels hats autographed by the two.
"If you have a dream and you want to make it there, it's going to take a whole lot of hard work," Curry said to the students.
Bedrosian, who said he loved history and cats and would likely be a farmer if it wasn't for his love for baseball, also spoke about the challenges of adversity. The reliever talked about his 2011 Tommy John surgery, and how his rehab has continued to push him into the player he is today.
"Every day, you can do something to get a litte bit better," Bedrosian said. "I know how it is with school and some days are harder than others, but there's always something you can do to make yourself better each day."
Curry added: "You can't let those little bumps in the road keep you down. Just look at Cam and how far he's come."
Bedrosian, the son of former Major League pitcher Steve Bedrosian, also reflected on his time when he was a kid in Georgia. He idolized his father, as well as Mark McGwire and Ken Griffey Jr., who he said had the "sweetest swing I've ever seen."
Though Bedrosian signed with the Angels out of high school, he said he likely would have gone to college had he not been a first-round Draft pick. He stressed the importance of education, saying that with that base, anything is possible.
"Whatever dream you have right now, keep reaching for it," Bedrosian said. "You'll get it if you keep working hard."
Fabian Ardaya is a reporter for MLB.com based in Anaheim.