Angels encouraged as Ohtani begins throwing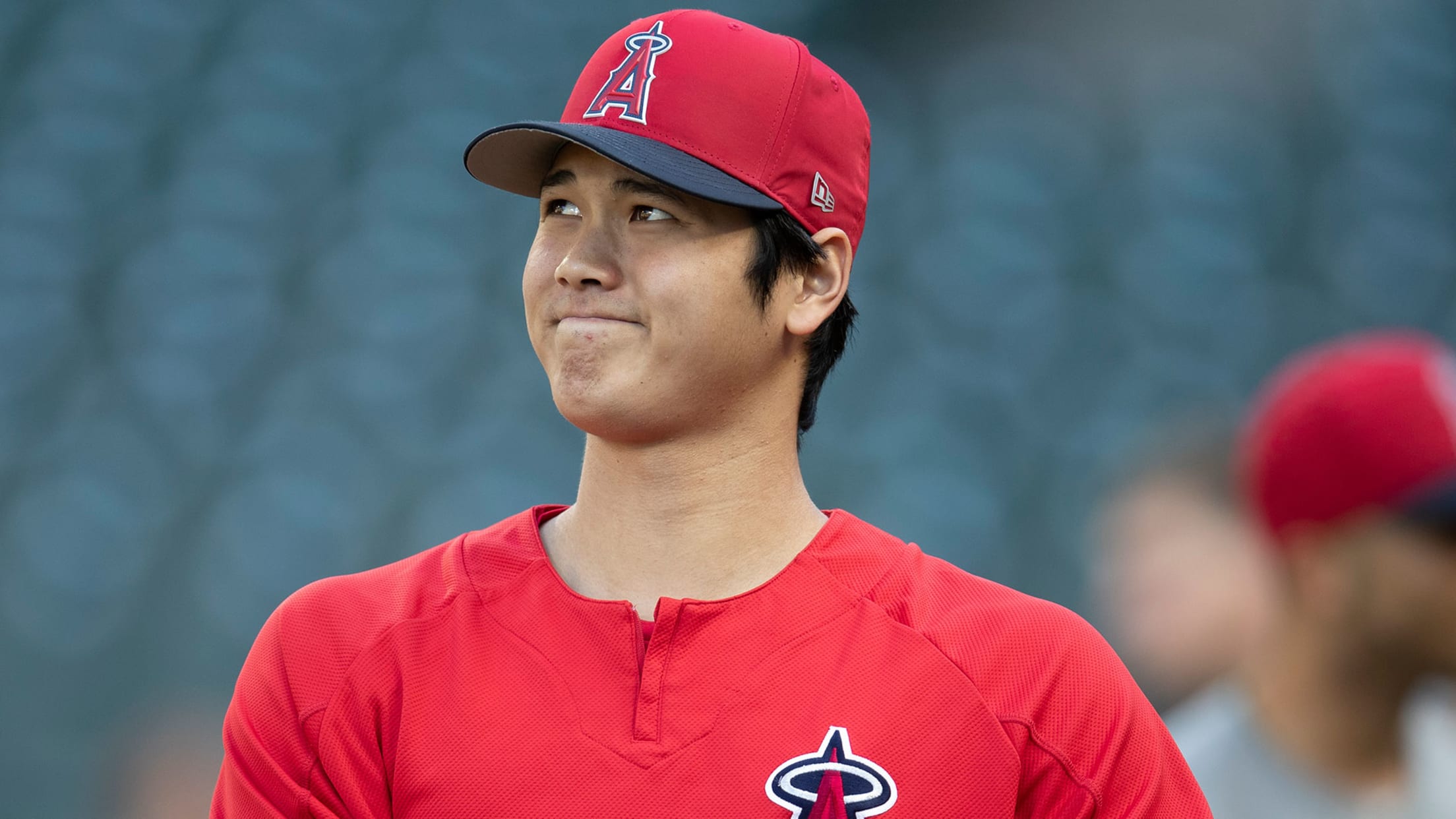 Shohei Ohtani has not pitched for the Angels since June 6. (AP)
ANAHEIM -- Shohei Ohtani was cleared to begin a throwing progression on Thursday, stoking optimism among the Angels that the Japanese rookie could return to pitch this season and recover his unique identity as a two-way player.Ohtani visited Dr. Steve Yoon at the Kerlan-Jobe Institute on Thursday for his scheduled
ANAHEIM -- Shohei Ohtani was cleared to begin a throwing progression on Thursday, stoking optimism among the Angels that the Japanese rookie could return to pitch this season and recover his unique identity as a two-way player.
Ohtani visited Dr. Steve Yoon at the Kerlan-Jobe Institute on Thursday for his scheduled six-week evaluation and received the green light to resume throwing after his damaged elbow ligament showed "improved healing" following a prescription of platelet-rich plasma and stem-cell injections. Ohtani began throwing from a distance of 60 feet on Thursday and played catch on Friday before the Angels' series opener against the Astros.
"We're very happy," manager Mike Scioscia said. "We're excited about him being able to throw. Hopefully he'll start that journey to get back to pitching for us. I think we're encouraged with this step, but there's obviously some hurdles he's going to have to get over before he's throwing in a game. Hopefully we'll continue to get good news as he moves through his progression."
Added Ohtani: "I was simply happy to be able to start throwing again. I just need to keep on taking the next steps to be able to get back on the mound."
Scioscia said the Angels "do anticipate [Ohtani] pitching for us this year if everything in his rehab goes as planned." Barring any setbacks, it's possible that Ohtani could return to pitch in September, though general manager Billy Eppler declined to disclose a timetable for his potential return to the mound.
"I can't answer that," Eppler said. "He's a unique player with unique demands on him physically. They go above and beyond a regular pitcher and above and beyond a regular hitter. I think it's just important to be mindful of it. He's going to take these steps of his throwing progression, step by step. He'll be assessed daily as far as how he's feeling, both from objective and subjective standpoints. If he's feeling good, his distances will be increased, his time of the throwing progression will be increased, but I can't answer the question of when he would potentially be back on the mound in a Major League Baseball game."
Ohtani has not pitched for the Angels since June 6, when he developed stiffness in his elbow following his start against the Royals. Ohtani underwent an MRI exam the following day that revealed a Grade 2 sprain of the ulnar collateral ligament in his right elbow and opted to treat the injury with PRP and stem-cell injections. Ohtani spent nearly a month on the disabled list before returning exclusively as a hitter in early July.
While Ohtani's elbow ligament has responded well to the injections so far, it doesn't mean he's completely out of the woods with regards to Tommy John surgery. Fellow Angels starters Garrett Richards and JC Ramirez also used the conservative treatment on their UCL injuries and successfully returned to pitch before re-damaging their elbow ligaments this year. They were both forced to undergo Tommy John surgery the second time around.
Still, Eppler reiterated that no Angels doctor has recommended that Ohtani undergo Tommy John surgery, which would prevent him from pitching until at least 2020.
"I go to our doctors at Kerlan-Jobe," Eppler said. "I can tell you the consensus among that group is to never push a player into surgery. I've got to take the advice of the people that spent a lot of time and a lot of money getting those [medical] degrees."
Ohtani is currently on the active roster as a designated hitter, so the Angels will have to figure out the best way for him to rehab his right arm while continuing to contribute with his bat. Eppler suggested that Ohtani could eventually pitch in simulated games if he progresses as expected. The Angels could also send Ohtani on a rehab assignment in the Minor Leagues, though that would require a stint on the disabled list.
"It's going to require some creativity," Eppler said.
Regardless of the plan, Eppler said the Angels will continue to rest Ohtani on the days before and after he pitches. Prior to the elbow injury, Ohtani logged a 3.10 ERA with 61 strikeouts over 49 1/3 innings as a pitcher. He is batting .283 with an .887 OPS, seven home runs and 22 RBIs as a hitter this season.
Worth noting
• Right-hander Nick Tropeano (shoulder inflammation) will come off the disabled list on Saturday and pitch against the Astros in his first MLB outing since June 10.
"I think the way Nick was throwing the ball, it's going to be a big boost for us if he can go in there and pitch the way he was before he was shut down," Scioscia said. "Hopefully we'll see that."
• First baseman Jose Pujols (knee inflammation) remains on track to return from the disabled list on Monday after spending the minimum 10 days on the shelf.
• Scioscia said backup catcher Rene Rivera is not progressing as quickly as the Angels would have hoped from May 25 surgery to repair a torn meniscus in his right knee.
"It's coming slowly," Scioscia said. "Right now it's making progress, but certainly not at the pace that you would hope to see. But it doesn't mean that he's not going to be able to come back and contribute."
• Right-hander Jim Johnson (lumbar strain) pitched a scoreless inning in a rehab outing for Triple-A Salt Lake on Wednesday. He is expected to make at least one more appearance in a Minor League game before the Angels determine whether he's ready to return from the disabled list.