Angels host local Pitch, Hit & Run competition
24 children take part in team championship stage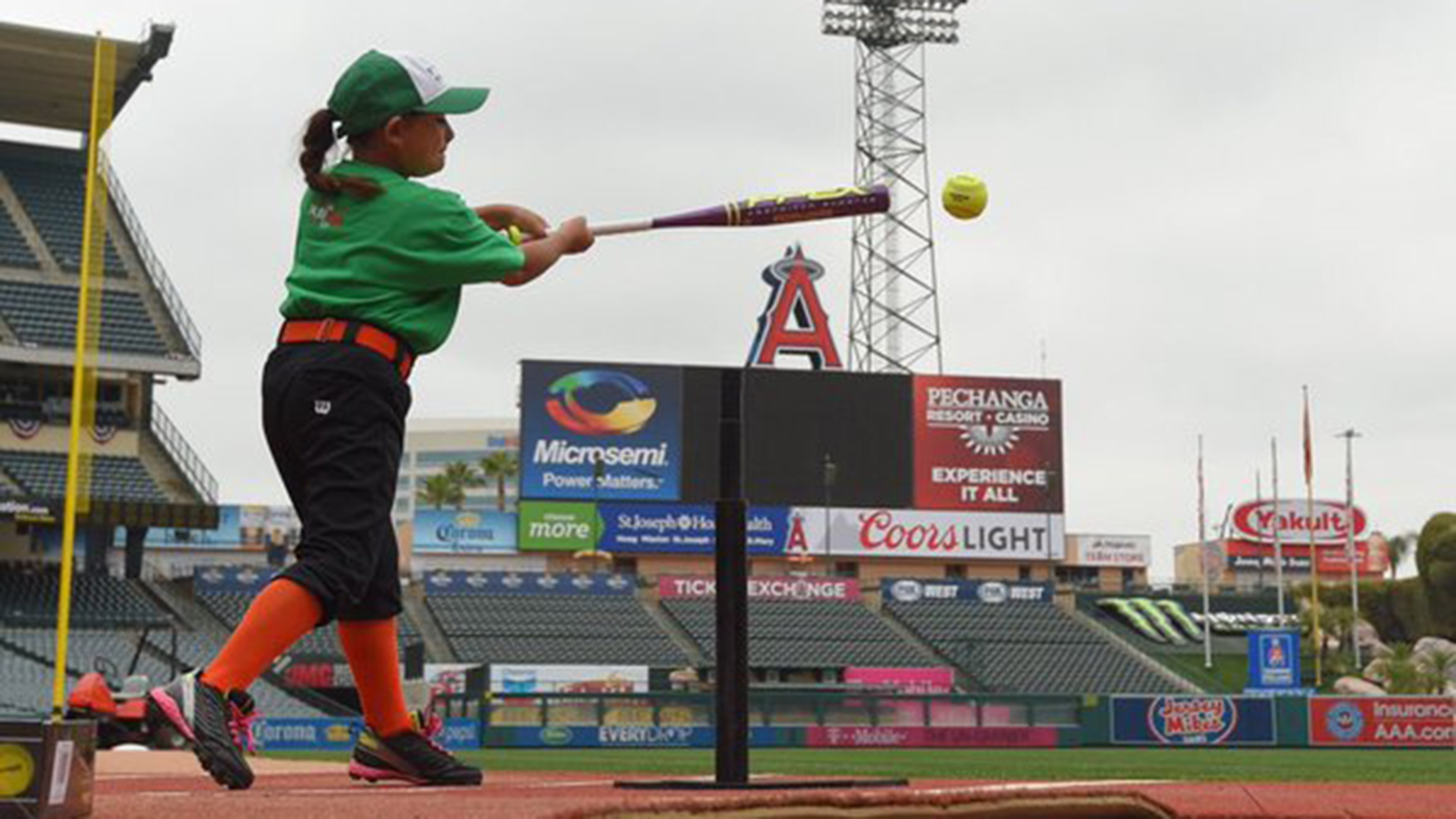 Each of the 24 children took part in local and sectional competitions to reach this stage at Angel Stadium. (@Angels)
ANAHEIM -- Several children got to live out their dreams Saturday morning -- playing on the field at Angel Stadium.Scotts MLB Pitch, Hit & Run, the official youth skills competition of Major League Baseball, held its latest event Saturday morning as 24 participants -- 12 boys and 12 girls --
ANAHEIM -- Several children got to live out their dreams Saturday morning -- playing on the field at Angel Stadium.
Scotts MLB Pitch, Hit & Run, the official youth skills competition of Major League Baseball, held its latest event Saturday morning as 24 participants -- 12 boys and 12 girls -- took part in the team championship stage.
The event took part in three stages. The pitch stage tested a player's ability to throw strikes either from 45 feet for baseball or 35 feet for softball. Each player got six attempts to throw into what is considered a standard Major League strike zone. The hitting portion required participants to hit off a tee, aiming for both distance and accuracy in their three attempts, while the running portion measured the participant's speed beginning from second base, rounding third and touching home plate.
Today, kids took part in Scott's Pitch, Hit & Run, @MLB's official youth skills competition: https://t.co/wHMTRV1vFM pic.twitter.com/aJ2rRZJB9W

— Los Angeles Angels (@Angels) May 28, 2016
The competition, which is a collaboration between MLB, Scotts and USA Baseball and under the league's Play Ball initiative, is in its 20th season and has more than 650,000 participants across the country.
Each of the 24 participants took part in local and sectional competitions to reach this stage at Angel Stadium. Only the first-place winners from each group at the team championsips will be eligible to be national finalists, with the top three scores in each division's age group out of all 30 MLB team championships advancing to the nationals. National finalists receive an all-expenses paid trip to San Diego for the 2016 MLB All-Star Game. Finalists will participate in a national competition on the field before shagging balls at the Home Run Derby.
Among the past winners of the event are current Royals first baseman Eric Hosmer and Braves right-hander Matt Wisler.
"To get to play where the pros play, where their idols play, where their heroes play, it's a dream come true," Amy Ashbrock, a Scotts MLB PHR national headquarters representative, said of the event.
Here are the winners of each division age group at Angel Stadium, who will now be eligible to be among those chosen for the nationals:
• Nicole Chandler (Ontario, Calif. -- 7/8 Softball Division)
• Kate Verhoef (Aliso Viejo, Calif. -- 9/10 Softball Division)
• Maya Taylor (Aliso Viejo, Calif. -- 11/12 Softball Division)
• Jeralynn Wells (Menifee, Calif. -- 13/14 Softball Division)
• Lukas Tello (Menifee, Calif. -- 7/8 Baseball Division)
• Jaxon Baker (Menifee, Calif. -- 9/10 Baseball Division)
• Michael Easter (Arcada, Calif. -- 11/12 Baseball Division)
• Michael Downtain (Perris, Calif. -- 13/14 Baseball Division).
Fabian Ardaya is a reporter for MLB.com based in Anaheim.