Halos, Tribe thinking of families in Puerto Rico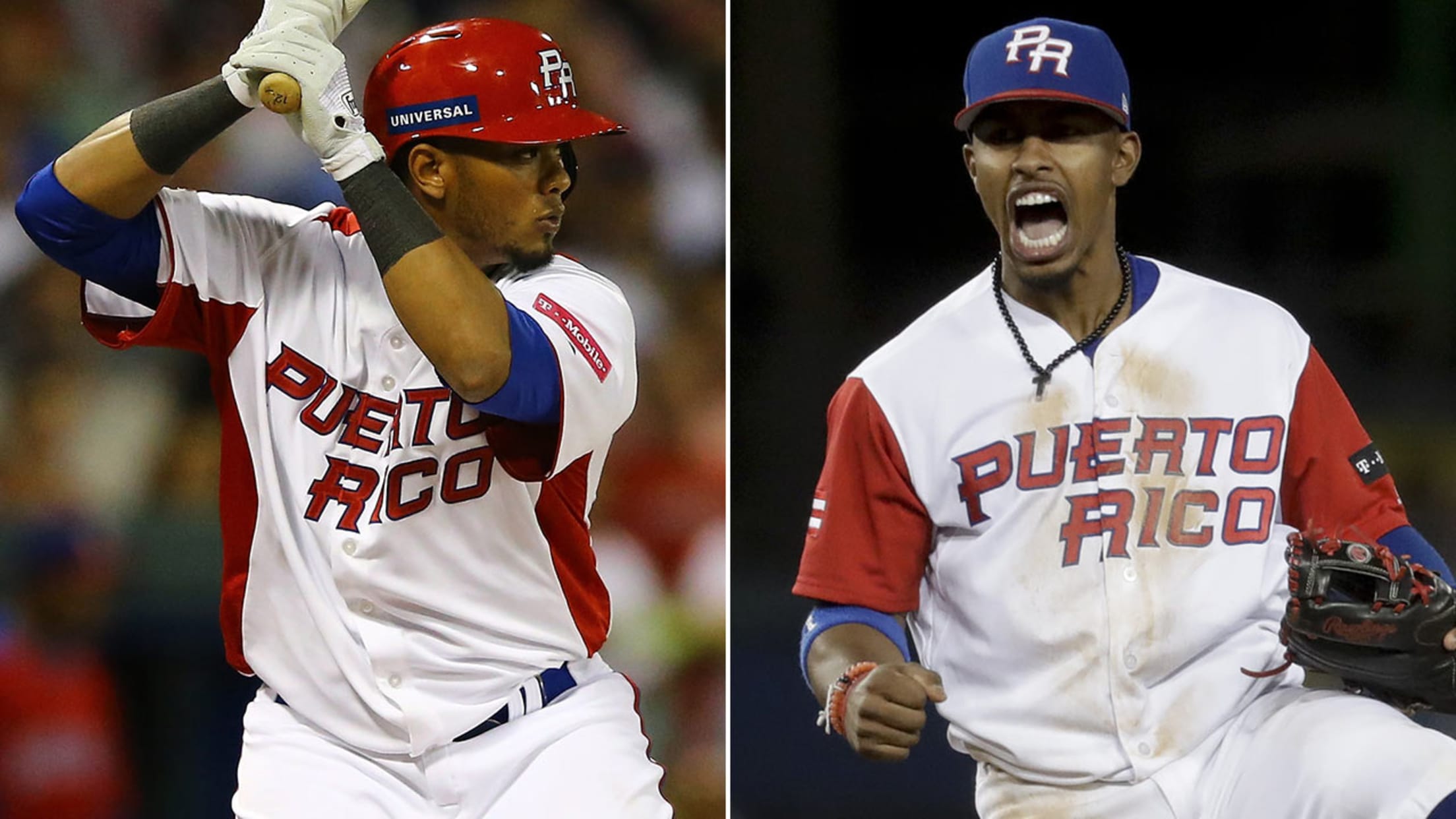 Martin Maldonado (left) and Francisco Lindor played for Puerto Rico during the World Baseball Classic. (AP)
ANAHEIM -- Martin Maldonado sat in front of his locker in the Angels' clubhouse on Wednesday afternoon and scrolled through his social-media feeds, his attention fixated on videos and photos of the destruction wrought by Hurricane Maria in his native Puerto Rico.He had been unable to contact his family in
ANAHEIM -- Martin Maldonado sat in front of his locker in the Angels' clubhouse on Wednesday afternoon and scrolled through his social-media feeds, his attention fixated on videos and photos of the destruction wrought by Hurricane Maria in his native Puerto Rico.
He had been unable to contact his family in Naguabo, a town located on the east coast of the island, as the storm had caused widespread power outages and severed lines of communication. Before taking the field for batting practice prior to the Angles' matchup with the Indians, Maldonado retrieved the blue and red cap Team Puerto Rico wore during the World Baseball Classic in March and wrote "Pray 4" next to the PR logo on the front.
After receiving special permission from Major League Baseball, he donned the hat on the field as a sign of support for Puerto Rico.
Can't sleep thinking about my family

— Machete Maldonado (@Machete1224) September 20, 2017
Maldonado's anxiety was mirrored in the Indians' clubhouse, where countrymen Francisco Lindor and Roberto Perez were enduring similar concerns. Lindor, who stayed up late Tuesday trying to maintain contact with his family in Puerto Rico, said he had managed to speak with his cousins, but not his brother.
"They told me that the surroundings look bad, but the houses are OK," Lindor said. "Everything around them is very bad. It's sad, but hopefully they can get back on their feet soon."
Perez said he had also been unable to communicate with his family, including his mom, brother, aunt and cousins.
"I asked my mom to come here before it happened, but she didn't want to come," Perez said. "But, I'm sure they're safe. They were going to be safe. They were staying with my aunt, and it's a concrete house, so they should be good. I'm just worried about our house. I think where I live it's a lot of flooding and a lot of rain. Even if it's not a hurricane, if it rains, there can be flooding."
While their hearts were in Puerto Rico, Lindor and Perez understood that they couldn't afford to let the storm distract them from the task at hand, namely Wednesday's game against the Angels. Both said they are looking forward to the offseason, when they will be able to return to their homeland and assist with rebuilding efforts.
"I can't wait," Lindor said. "I've got to help. I've got to find a way to help people. There's no way I can sit here and just not do anything.
Added Perez: "This is the hardest hurricane we've ever had hit. Everybody was prepared for it. I know we had time to prepare for this hurricane, but it sucks, man. I want to be there with them and supporting them. But, I will be there after the season, after the playoffs, after we hopefully win the World Series. I've just got to keep my focus on the baseball field."