Missed chances pile up in frustrating loss
'We just couldn't get that run across,' Scioscia says after Angels' 8-6 loss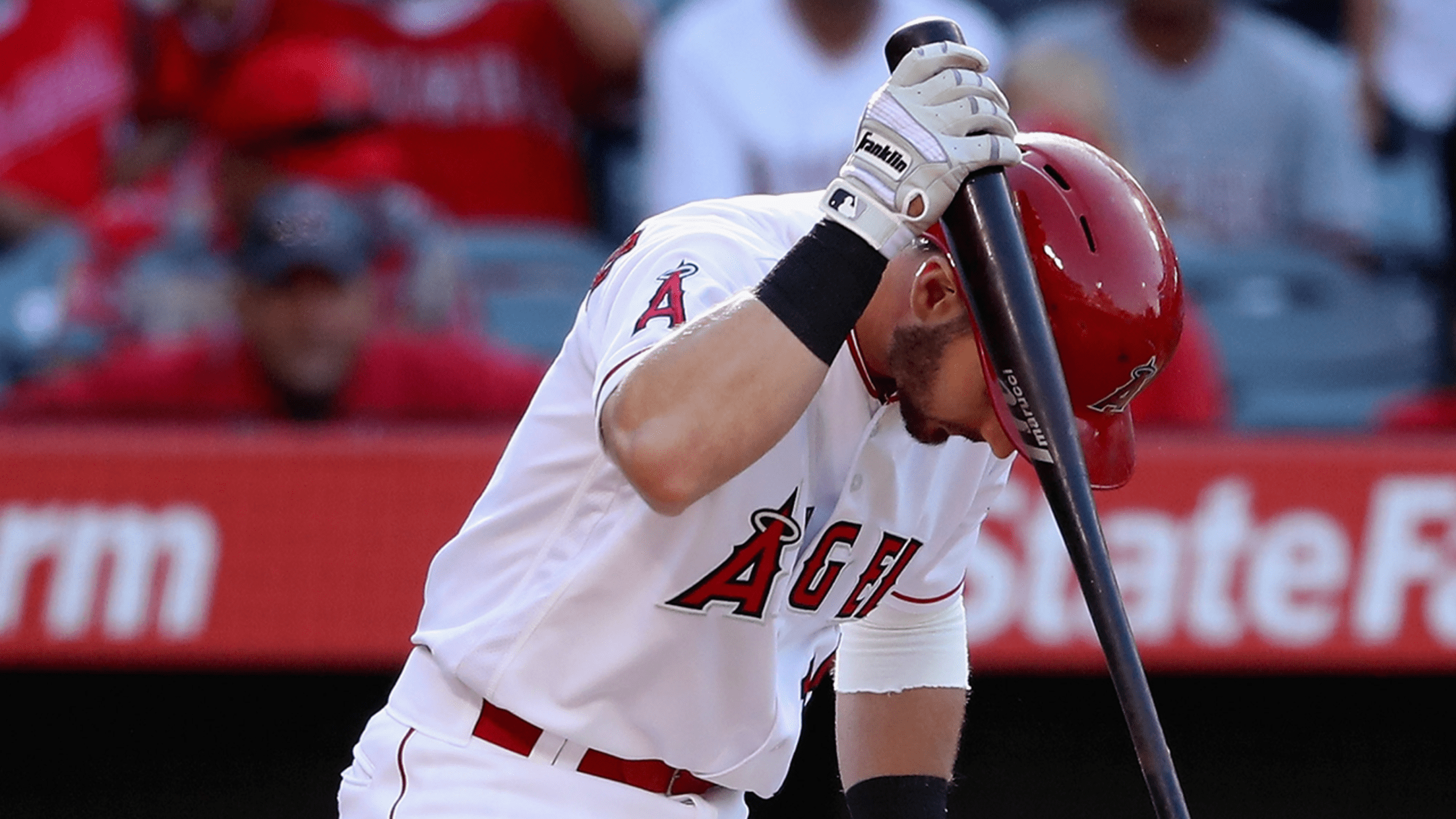 Johnny Giavotella reacts after striking out in the 13th inning of the Angels' 8-6 loss. (AP)
ANAHEIM -- Get guys on base, move them over and bring them home.That's the strategy that has driven the Angels' offense this season, particularly as their offense caught fire to rank third in the American League in runs scored in the month of May entering Sunday.On Sunday, they attempted to
ANAHEIM -- Get guys on base, move them over and bring them home.
That's the strategy that has driven the Angels' offense this season, particularly as their offense caught fire to rank third in the American League in runs scored in the month of May entering Sunday.
On Sunday, they attempted to follow the same pattern. They got guys on, moved them over, but couldn't quite push them across in an 8-6 loss to the Houston Astros in 13 innings. The loss pushed the Angels to 22-28, within a half-game of last place in the AL West standings.
The Angels left 14 runners on base as they couldn't find the big hit to break through.
"We had a lot of opportunities and definitely put ourselves in a number of good places throughout the course of the ballgame," Angels manager Mike Scioscia said. "Unfortunately, we just couldn't get that run across."
In the ninth, a walk by Mike Trout and single from Albert Pujols gave the Angels a chance to win with runners in scoring position. Johnny Giavotella struck out, and Rafael Ortega grounded out following a double steal to strand them.
In the 11th, Giavotella came up again, this time with the bases loaded and one out against Astros reliever Pat Neshek. After working the count full, he struck out on a foul tip. Ortega recorded the third out on a shallow popup to short. Rally over.
"I enjoy competing with two strikes," Giavotella said of the at-bat. "It doesn't matter who's pitching. I have confidence that I'll come through with two strikes. He made a good pitch 3-2 and I foul-tipped it. Unfortunately, the catcher caught it."
Giavotella came up again in an 8-6 game in the final frame, representing the tying run with a runner on third against Astros closer Luke Gregerson. He struck out.
The Angels went 2-for-14 overall with runners in scoring position after entering Sunday's game ranking fourth in the Majors in such situations. Scioscia had precisely the guy he wanted -- Giavotella, who excels in putting the ball in play and is in the midst of a hot streak -- come up to the plate.
"He's definitely one of the guys that, in those situations, very rarely is he not going to put the ball in play," Scioscia said of Giavotella. "Unfortunately, he had three opportunities this afternoon and he couldn't put the ball in play. That's not like Johnny."
Giavotella did come through once, in the seventh, bringing home what was then the go-ahead run in Trout when he executed a perfect safety squeeze off of Ken Giles. It made the score 5-4, a lead that lasted less than a half-inning. Giavotella said he wanted the moment again, but just couldn't come through.
"Any time the game is on the line, I want to be up there," Giavotella said. "It's a situation that I prepare for, work hard for and tonight they made quality pitches against me and I didn't come through."
Fabian Ardaya is a reporter for MLB.com based in Anaheim.