Calhoun placed on paternity list; Rengifo recalled
Halos, Twins visit children's hospital; Skaggs meets the Vikings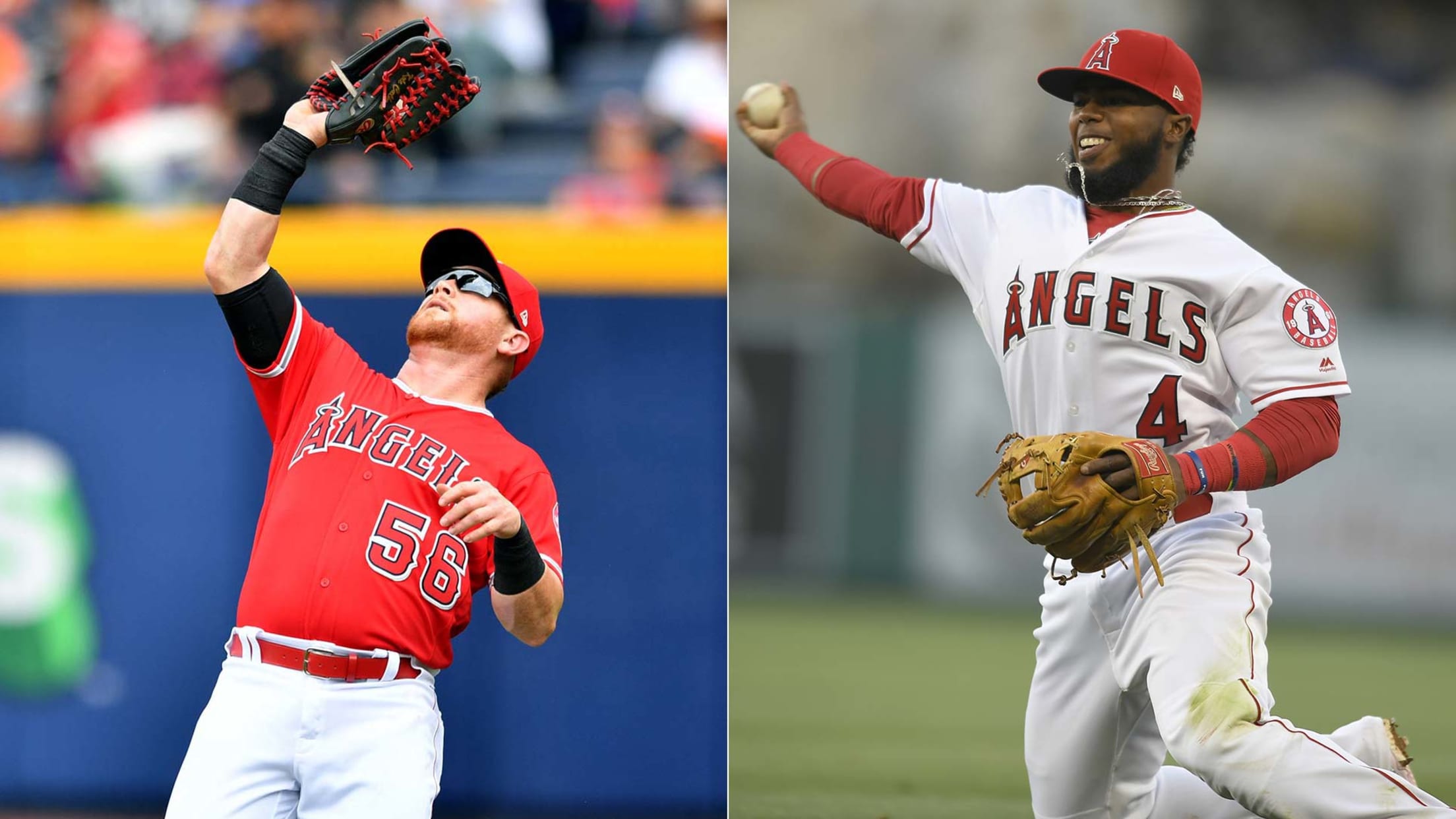 MINNEAPOLIS -- The Angels placed right fielder Kole Calhoun on the paternity list before Tuesday's game against the Twins, and called up second baseman Luis Rengifo from Triple-A Salt Lake to take his place on the roster. Calhoun, who flew to Southern California for the birth of his second child
MINNEAPOLIS -- The Angels placed right fielder Kole Calhoun on the paternity list before Tuesday's game against the Twins, and called up second baseman Luis Rengifo from Triple-A Salt Lake to take his place on the roster.
Calhoun, who flew to Southern California for the birth of his second child with his wife, Jennifer, is expected to rejoin the Angels on Friday at Angel Stadium after an off-day on Thursday.
"The off-day helps," Angels manager Brad Ausmus said. "The standard is three days. So it works out well. He flies out west and then can meet us there."
Rengifo, who started at second base and went 0-for-2 with two walks and a run scored in Tuesday's 4-3 loss, will also serve as the club's fourth outfielder in Calhoun's absence. Rengifo, ranked as the club's No. 7 prospect by MLB Pipeline, has played 26 career games in the outfield in the Minors.
"He hasn't played much since two years ago, but he has the most experience," Ausmus said.
Angels, Twins visit children's hospital
Angels and Twins players both visited Gillette Children's Specialty Healthcare on Tuesday to meet with young patients and their families. David Fletcher, Griffin Canning and Tyler Skaggs represented the Angels, while Mike Morin, first-base coach Tommy Watkins and former reliever Glen Perkins represented the Twins.
It was the idea of Angels bullpen coach Andrew Bailey, who started the tradition last year. Angels and Twins players are scheduled to visit Children's Hospital of Orange County when Minnesota plays at Angel Stadium next week.
Competitors on the field.
Partners off of it.

We teamed up with the @Twins and made a visit to a children's hospital in Minnesota today! #BiggerThanBaseball pic.twitter.com/1vKQWLuCci

— Los Angeles Angels (@Angels) May 14, 2019
"Bailey asked us about a week ago," Canning said. "He had a daughter who was at that same hospital. So they had that kind of connection. I think it was cool for him to go back. He's had that experience. He was able to talk to parents and just say, 'Hang in there.' His daughter is doing well now. So I think that was cool for him."
Canning said it was a great experience and it's always a good feeling to be involved in community efforts.
"It was really cool," Canning said. "Anything just to get their mind off what they are going through. Obviously, it was nice to do. We just kind of walked around and met with the kids. We had a lot of hats and shirts and beanies to give away. So we were signing stuff, taking pictures with them and talking with them. But a lot of the kids are shy."
Skaggs meets Vikings players
Skaggs, a lifelong fan of the NFL's Minnesota Vikings, was able to meet with a few players before the game, including quarterback Kirk Cousins, safety Harrison Smith, defensive end Everson Griffen and linebacker Eric Kendricks.
SKOL! 🏈

Lifelong Vikings fan @TylerSkaggs37 meets with several players pregame, including @KirkCousins8 and @HarriSmith22! pic.twitter.com/o5Hz3W9jja

— Los Angeles Angels (@Angels) May 14, 2019
Vikings players attended the game as part of a promotion with the Twins, and Skaggs said he talked with Cousins for about 30 minutes before the game, and was excited to meet with a few of his favorite players.