Looking for fresh arms, Angels add Guerra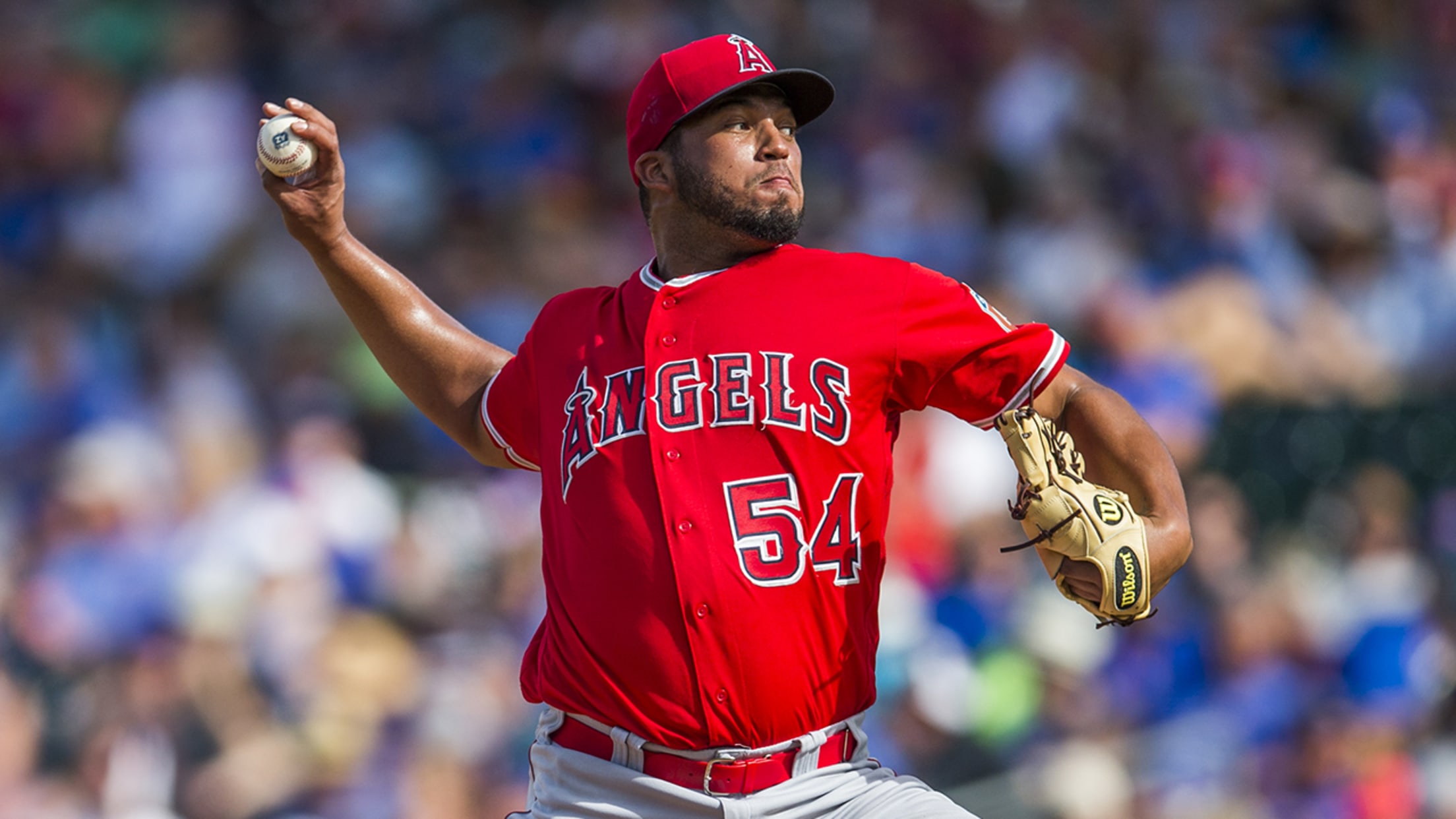 The Angels selected the contract of right-handed reliever Deolis Guerra on Saturday. (Getty) (Rob Tringali/Getty Images)
ANAHEIM -- The Angels selected the contract of right-handed reliever Deolis Guerra on Saturday, optioning reliever A.J. Achter to Triple-A Salt Lake in the corresponding move.The team also designated Minor League reliever Al Alburquerque for assignment, clearing a spot on the 40-man roster for Guerra.Guerra, 27, was re-signed by the Angels
ANAHEIM -- The Angels selected the contract of right-handed reliever Deolis Guerra on Saturday, optioning reliever A.J. Achter to Triple-A Salt Lake in the corresponding move.
The team also designated Minor League reliever Al Alburquerque for assignment, clearing a spot on the 40-man roster for Guerra.
Guerra, 27, was re-signed by the Angels during Spring Training and showed promise before undergoing an emergency appendectomy on March 29. He has since thrown in Tempe, Ariz. in extended Spring Training and threw five innings over three appearances with Salt Lake.
Angels manager Mike Scioscia feels Guerra showed plenty of Major League ability during Spring Training before the emergency surgery.
"He showed some signs in the spring of being able to, with the angle he has on his pitches, be effective," Scioscia said. "He spins the ball well, throws a good changeup. He had some good outings for us, but struggled with things."
Guerra boosts a bullpen that has combined for 11 innings over the last two games, including a 48-pitch performance from Achter on Friday.
Following the team's addition of two-time Cy Young Award winner Tim Lincecum on Friday, the Angels played with 24 players instead of the usual 25 players and did so again Saturday.
Due to his Major League tenure, Lincecum had to agree to be optioned down to the Minor Leagues. He did so Friday, but must go through waivers before the team can remove him from the 25-man roster. The team will be back to 25 players on Sunday for its series finale against the Orioles.
Alburquerque signed with the Angels for $1.1 million this offseason after posting a 3.20 ERA in five seasons with the Tigers from 2011-15. He never made the Major League roster, something Scioscia said was a matter of simply needing relievers who could go longer in outings.
Worth noting
• Angels left fielder Craig Gentry went 0-for-3 with a walk, two strikeouts and a walk in his first rehab appearance with Advanced Class-A Inland Empire. Gentry, who is dealing with a right lumbar spine strain, is expected to stay with the team through the weekend and Scioscia said he could possibly rejoin the team in Texas on Monday.
• Scioscia said he still believes that left-handed pitcher Tyler Skaggs is not ready to throw off of a mound. Skaggs has been dealing with left biceps tendinitis in his recovery from Tommy John surgery.
• Scioscia said that Lincecum will likely require at least two rehab starts with Salt Lake before he is called up to the Big Leagues. Lincecum will throw a 75-100 pitch simulated game in extended Spring Training. From there, the team will decide where he will make his next rehab start in the Minors before he wraps up his rehab in Triple-A.
Fabian Ardaya is a reporter for MLB.com based in Anaheim.