Friedrich released after waiver claim reversed
Angels request move after concern over lefty's physical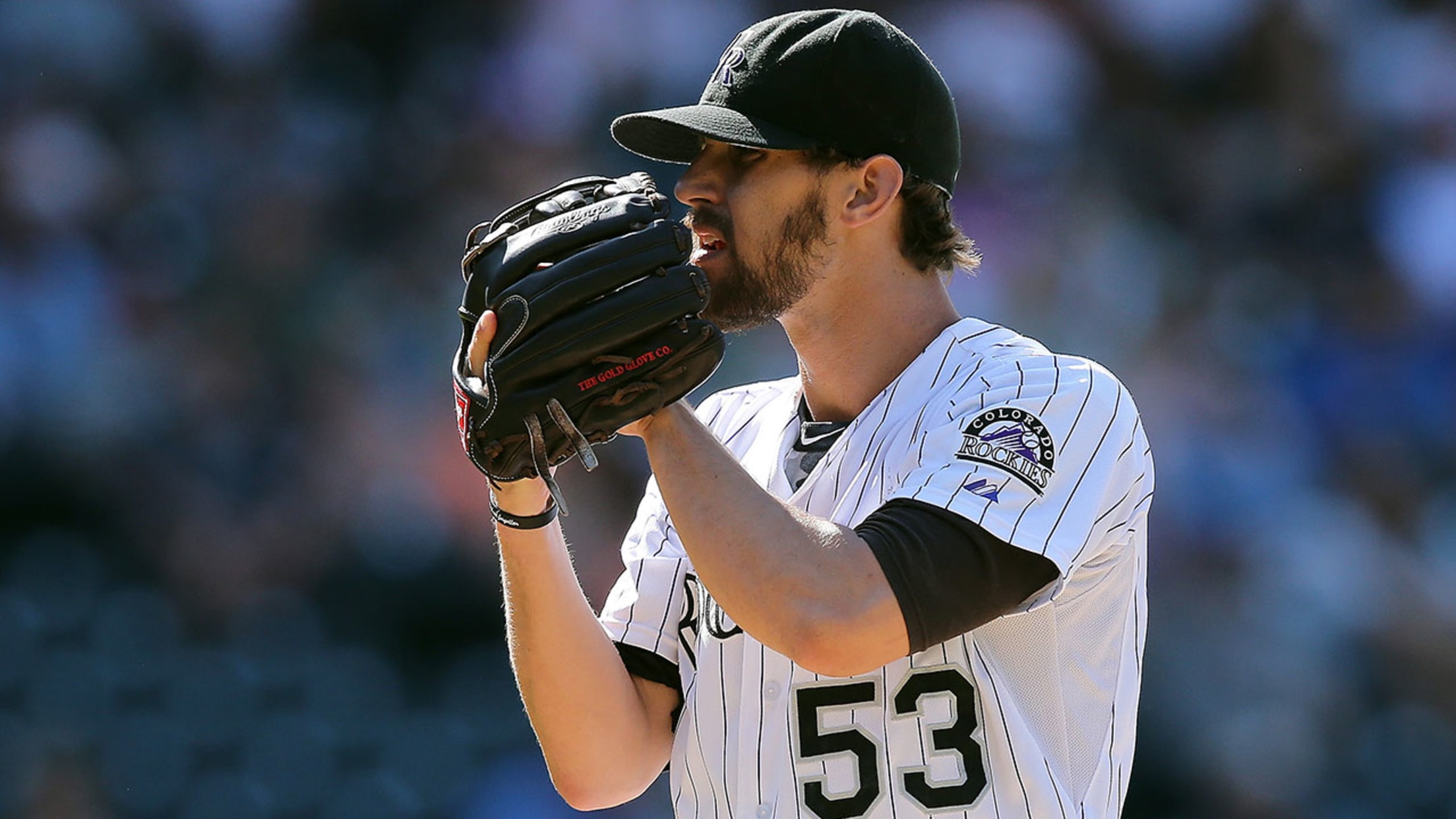 Christian Friedrich posted a 5.81 ERA across three seasons with the Rockies. (Getty Images)
SCOTTSDALE, Ariz. -- The MLB Commissioner's Office, at the behest of the Angels, reversed the team's waiver claim of former Rockies left-handed pitcher Christian Friedrich on Friday. The Rockies, in turn, unconditionally released Friedrich.The Angels requested the move because of concerns from Friedrich's physical. The club released a statement from
SCOTTSDALE, Ariz. -- The MLB Commissioner's Office, at the behest of the Angels, reversed the team's waiver claim of former Rockies left-handed pitcher Christian Friedrich on Friday. The Rockies, in turn, unconditionally released Friedrich.
The Angels requested the move because of concerns from Friedrich's physical. The club released a statement from the office of general manager Billy Eppler: "Based on Friedrich's initial medical evaluation, the Angels raised a concern with the Commissioner's Office about Friedrich's ability to play at his accustomed level. Upon evaluation of the circumstances by the Commissioner's Office, it was determined that Friedrich would be returned to the Rockies."
Friedrich, reached Friday evening, politely declined to comment. Neither the Angels nor the Rockies, who announced Friedrich's release through a spokesman, would discuss the specific injury. Privacy laws about baseball players are essentially the same for any medical patient, so information cannot be released without permission.
The Rockies' No. 1 Draft pick out of Eastern Kentucky in 2008, Friedrich battled shoulder and back injuries in the Minors but stuck with the Major League club in late 2014 as a reliever. Last season, he was 0-4 with a 5.25 ERA in 68 appearances.
The Rockies designated him for assignment on Feb. 1 because they had to clear a roster spot when they acquired lefty reliever Jake McGee and righty prospect German Marquez from the Rays for outfielder Corey Dickerson.
The Angels claimed him four days later.
Eppler told media covering the Angels that such cases are rare.
"It doesn't happen a lot," Eppler said. "Where you do see it happen is in the offseasons, when there's a time lapse between a player's last game and the next time that player is in front of people again."
Friedrich dressed for Friday's workout of pitchers and catchers but did not participate.
"It's obviously disappointing," Eppler said. "When you claim a player off waivers, there's a reason you do that, because you like him and have interest in the player. But it's part of the gig. That's all I can really say.
"The process of claiming players off waivers, or designating players, absent of the trade waivers, they're irrevocable. This is just part of the cost of doing business. There was nothing in Christian's medicals last year that would alert us. But when we actually put our hands on the player and he showed up, that initial medical evaluation when he walked through our doors raised some concern."
The move leaves the Angels with an open spot on their 40-man Major League roster. The Rockies' roster is full.
To make room for Friedrich, the Angels designated infielder Taylor Featherston -- a Rule 5 pick from the Rockies who stayed with the Angels all last season. The Angels lost Featherston when the Phillies claimed him off waivers.