Ausmus: Sanchez has chance to start April 6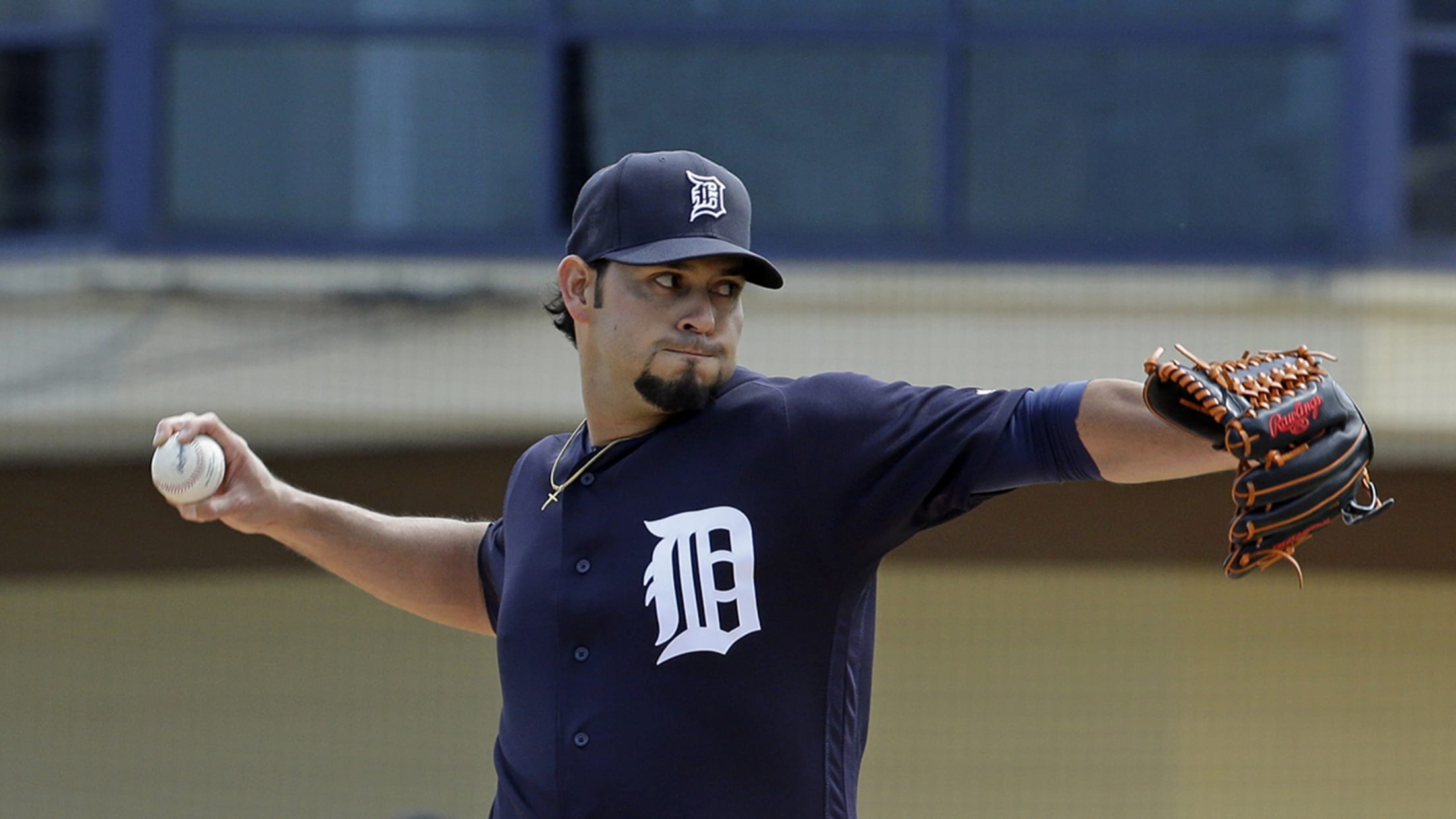 Anibal Sanchez could start on April 6 against the Marlins if he continues to progress. (AP) (John Raoux/AP)
LAKELAND, Fla. -- Anibal Sanchez has one game under his belt so far this spring. He could still have enough time left to be ready for the second game of the regular season.While Justin Verlander is set for Opening Day on April 5, and Jordan Zimmermann will pitch the home
LAKELAND, Fla. -- Anibal Sanchez has one game under his belt so far this spring. He could still have enough time left to be ready for the second game of the regular season.
While Justin Verlander is set for Opening Day on April 5, and Jordan Zimmermann will pitch the home opener on April 8, the game in between against the Marlins in Miami remains in flux. Though Mike Pelfrey is lined up for the start, manager Brad Ausmus said Sanchez is a possibility, depending on how his pitch count builds in his next couple of starts.
"There's still a chance," Ausmus said, "because if everything goes on track, he could be at 90 pitches in his final spring start, which would allow him to make the start on Game 2. And there's a little upside to that if it's possible, because it's warm weather [in Miami] as opposed to pitching in the cold weather.
"It's still possible, but it's certainly not a lock."
Spring Training:Tickets | Schedule | Complete info
Sanchez's spring has been challenging enough that no timetable is guaranteed. Triceps inflammation stalled his early spring throwing program, then a bronchial ailment slowed his recovery. He made a triumphant return to the Tigers' rotation with four hitless innings on Monday over 54 pitches, raising hopes that he could stretch out to season readiness over two more spring starts rather than needing to stay back for one more outing in Minor League camp.
Sanchez feels good and expects to be ready when the season starts. If he faces the Marlins, he'll face his old club for the second time since Miami traded him to Detroit around the non-waiver Trade Deadline in 2012.
Pelfrey gives up nine in Minor League game
Pelfrey has permitted two earned runs on eight hits over 15 1/3 innings in four Grapefruit League starts this spring, so the Tigers sent him across the street to increase his pitch count in a Minor League game. He allowed nine runs on nine hits over five innings there, walking two batters and striking out three.
At this point, the pitch count was more important than the results.
"I backed up bases all day," Pelfrey said, putting the outing in perspective. "I have no idea how many runs I gave up, but I got 86 pitches in, felt good doing so, and I felt like I could've backed up about 20 more bases in the process and gone 30 more pitches. They hit everything I threw."
Pelfrey said he used a lot of sliders, a pitch he wanted to work on.
Worth noting
• Catcher James McCann said he's still regaining strength after being sidelined by a virus for much of the last week. McCann caught Monday's game and pinch-hit in Tuesday's 16-1 loss to the Blue Jays. He'll have Wednesday off with the rest of the team before catching Thursday against the Blue Jays in Dunedin, Fla.
• Alex Wilson, who has missed nearly a month with a lat strain near the back of his shoulder, will throw live batting practice Thursday in the hopes of pitching in Sunday's game. Wilson isn't ruling out being ready for Opening Day, but Ausmus acknowledged time is running out.
"It would be tough," Ausmus said, "because we really need him to be able to go multiple innings."
• Verlander will prepare for his April 5 Interleague matchup against the Marlins by taking at-bats in his next start Saturday against the Phillies in Clearwater, Fla.
"He's not going to hit; he's going to bunt," Ausmus said. "But he's going to stand up there and see pitches."