DeSclafani in mix for Opening Day start
Reds righty struggling in spring, but experience could strengthen his case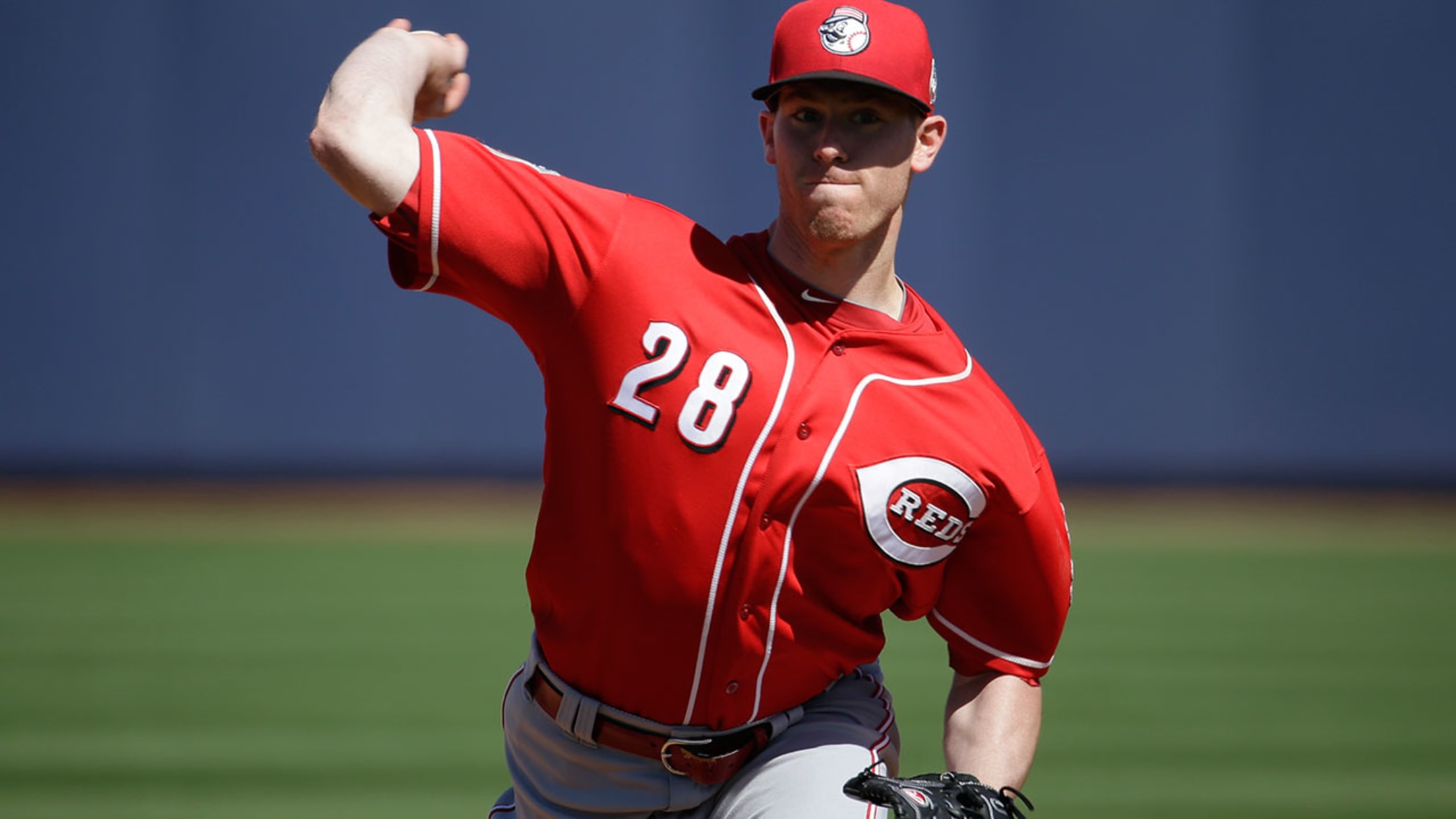 Despite allowing eight earned runs -- including four home runs -- on Thursday against the Rangers, Anthony DeSclafani could start on Opening Day. (AP)
SURPRISE, Ariz. -- It wasn't the best of days for Reds right-hander Anthony DeSclafani."I don't know how to describe this outing," he said after allowing eight runs on nine hits -- including four homers -- in the first 5 2/3 innings of Thursday's 12-5 loss to the Rangers at Surprise
SURPRISE, Ariz. -- It wasn't the best of days for Reds right-hander Anthony DeSclafani.
"I don't know how to describe this outing," he said after allowing eight runs on nine hits -- including four homers -- in the first 5 2/3 innings of Thursday's 12-5 loss to the Rangers at Surprise Stadium.
The good thing is, DeSclafani could still be the starter when the Reds open the season against the Phillies on April 4 at Great American Ball Park.
"He's definitely in the running," Reds manager Bryan Price said earlier in the day.
"It would be [an honor]," DeSclafani said. "Guess we'll see what happens. I haven't been throwing the ball as well. I feel good. I feel like I've been doing some good things. I've had some good stretches and bad stretches. But hopefully, once the season comes, it kind of gets pulled all together."
• Bailey ahead of the curve in Tommy John recovery
Right now, DeSclafani knows he's one of the five pitchers in the rotation, but he has no idea where that start will fall.
"Your guess is as good as mine, to be honest," he said. "We'll find out in another week."
Well, perhaps sooner than that. Price said he expected to name his Opening Day starter pretty soon.
"I'll probably do that within 48 hours, I would say," Price said.
As far as the five starters are concerned, Price clicked off these names in this order: DeSclafani, Raisel Iglesias, Tim Melville, Brandon Finnegan and Alfredo Simon. But they might not all make the cut and likely won't pitch in that order.
"I can't guarantee that those are the five guys who would be in the rotation," Price said. "We could do something where we access somebody who is in the Minor Leagues now and have them make a start for us."
Because the Reds have two days off during the opening 10 days of the season, Price said he probably will only need a fifth starter once during that period.
"We probably won't need him again until April 17," Price said. "So really we're in a position where we need a [fifth] starter for one start. That opens it up for guys who are in our system, especially to guys who are on the [40-man] roster."
DeSclafani, 25, is one of Cincinnati's more experienced starters, having pulled a full load of 31 starts as a rookie last year, posting a 9-13 record and 4.05 ERA. After Homer Bailey underwent Tommy John surgery on May 8 and veterans Johnny Cueto and Mike Leake were traded near the July 31 non-waiver Trade Deadline, the Reds set a record by starting a rookie in every one of their games the remainder of the season.
DeSclafani has struggled this spring with a 2-1 mark and an 8.38 ERA in his five Cactus League starts. If there was any good to come from Thursday's outing, he at least stretched himself out to 92 pitches.
"They hit the mistakes," Price said afterward. "But I loved his stuff, and I think that what he did was he showed that his arm is ready to throw those 90-plus pitches he'll need for his first start of the season."