DeSclafani could return Friday vs. A's
Righty's six innings in final rehab start answers questions about durability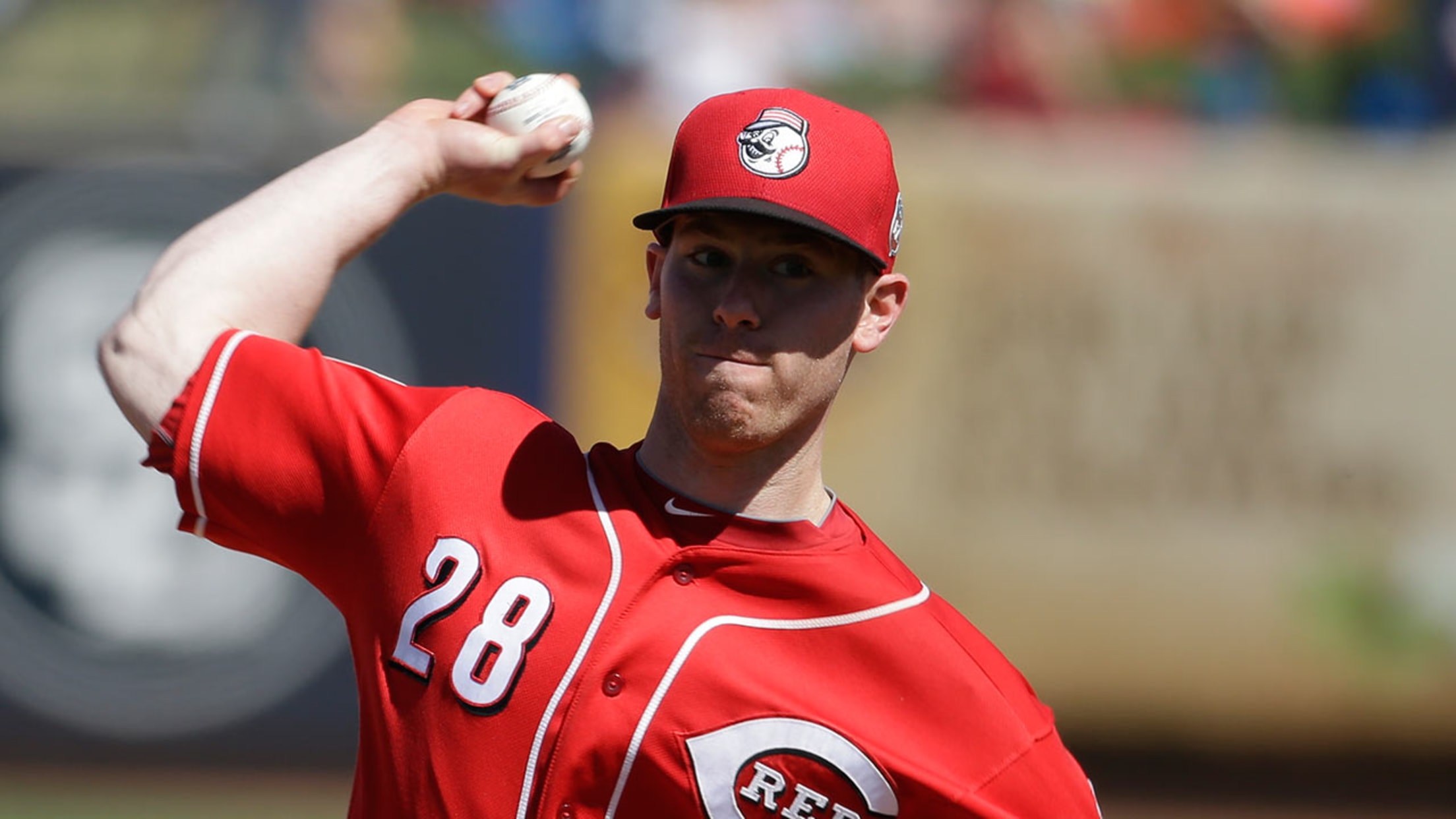 Anthony DeSclafani threw 72 pitches over six innings in his final Triple-A rehab start. (AP)
CINCINNATI -- Reds pitcher Anthony DeSclafani has been on the cusp of activation from the disabled list once already this season before his pesky left oblique injury flared up. On the heels of what is expected to be his third and final outing of rehab assignment No. 2 for Triple-A
CINCINNATI -- Reds pitcher Anthony DeSclafani has been on the cusp of activation from the disabled list once already this season before his pesky left oblique injury flared up. On the heels of what is expected to be his third and final outing of rehab assignment No. 2 for Triple-A Louisville, all systems appear to be "go" for DeSclafani to make his next start for the Reds.
DeSclafani threw 72 pitches over six innings vs. Rochester on Saturday, allowing four earned runs and eight hits, including two homers, with no walks and two strikeouts. He didn't reach his scheduled pitch limit, so he threw an additional 12 pitches in the bullpen.
"The oblique felt good, everything is fine," DeSclafani said on Sunday morning. "I had three rehab starts and a couple of bullpens in between. Nothing is an issue."
It's probable that DeSclafani -- who has missed the entire season to this point -- could rejoin the rotation on Friday vs. the A's. That would give him one extra day of rest before pitching, which is the protocol the club does for pitchers coming out of Spring Training before their season debuts.
The Reds will wait until DeSclafani's side session in the bullpen before making a final decision on a return date.
"There's no reason to make a commitment until we bump right up until the date we would use him and verify that he's still healthy," Reds manager Bryan Price said. "The oblique has not been an issue this second time around with this rehab. I don't anticipate that he's going to throw a side and go, 'Oh boy, my oblique is bothering me.' I think he's going to be fine. Finishing the sixth inning kind of answers it as far as his length and durability."
When DeSclafani returns, someone will have to come out of the rotation. Price, his coaches and the front office will confer before making that decision.
"Can we help our bullpen by making this move?" Price said. "Do we need somebody in Triple-A that's getting stretched out in a rotation along with [Cody] Reed and [Robert] Stephenson that gives us some options? There will be different mitigating factors that will help us with this decision. I think we all have some ideas of what we'd like to and think is going to happen and let things continue to play out."
Making the decision a little harder is the rotation seems to be finding a groove lately. Entering Sunday, four straight starters have gone into, or completed, the seventh inning, resulting in four straight victories for the team. Jon Moscot, John Lamb and Alfredo Simon would seem to be the candidates to move out when DeSclafani moves in.
"It's good to have hard decisions instead of easy ones," Price said. "It's better than, 'Boy, you could replace anybody in our rotation, and it would be an upgrade.' That's a bad place to be."