Making sense of whirlwind day around MLB
Hot Stove picks up as arbitration deadline delivers record deals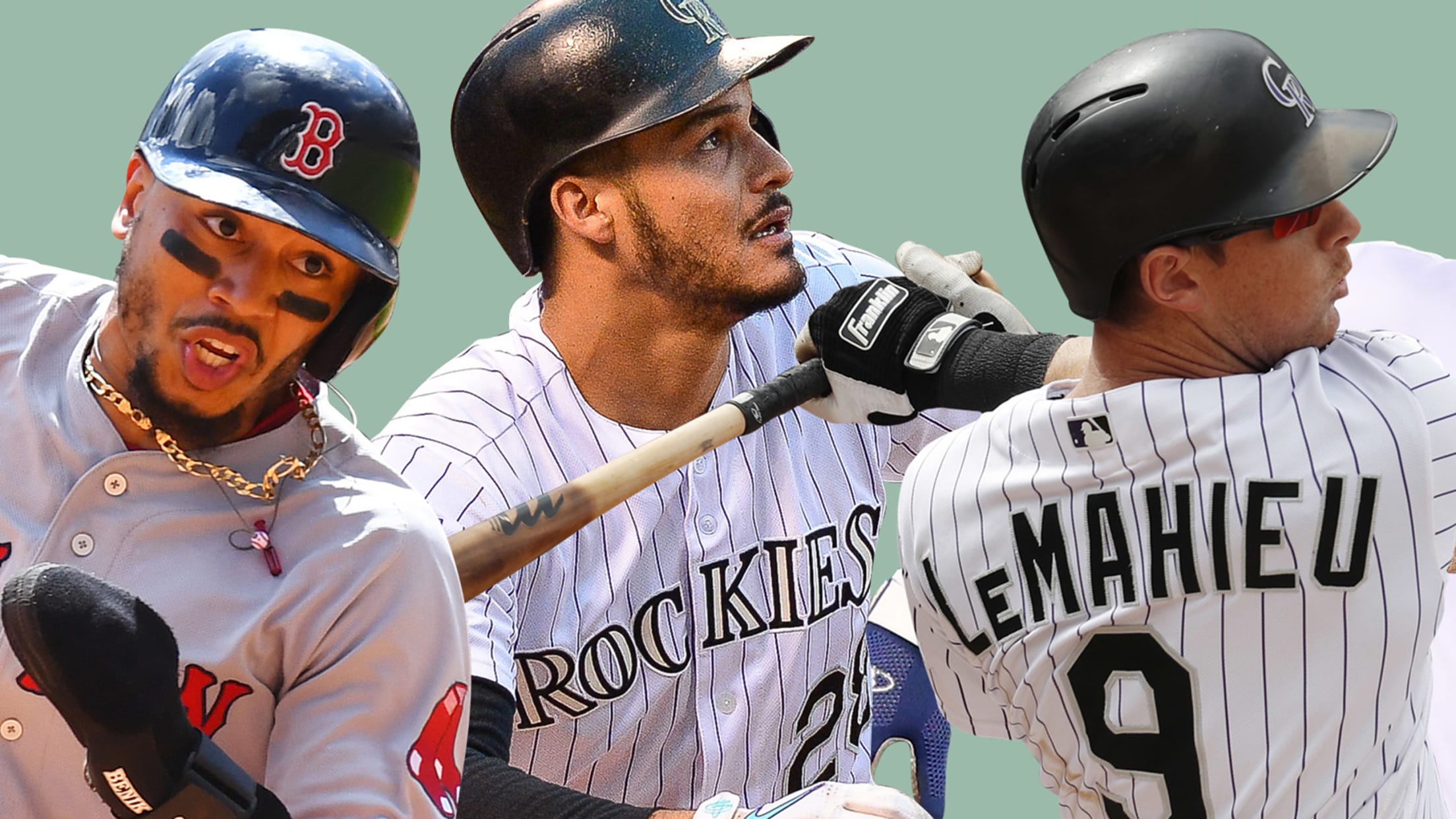 The slow pace of the offseason has threatened to lull us to sleep at times, but the light bulb went on in the last few days. And between the gathering momentum in the market and the salary-arbitration deadline, Friday was a particularly interesting day on the Hot Stove.In case you
The slow pace of the offseason has threatened to lull us to sleep at times, but the light bulb went on in the last few days. And between the gathering momentum in the market and the salary-arbitration deadline, Friday was a particularly interesting day on the Hot Stove.
In case you need help catching up on everything, here's a rundown of Friday's biggest news items and what they mean moving forward.
1. The Yankees added DJ LeMahieu to their infield.
As the middle-infielder market began to move this week, with Jed Lowrie (Mets) and James Dozier (Nationals) finding homes, the Yankees zeroed in on former Rockies second baseman LeMahieu with a two-year deal. The 29-year-old has been a premier defender at second, but the Yankees, who already have Gleyber Torres, Troy Tulowitzki and Miguel Andujar as options at second, short or third and will get Didi Gregorius back from elbow surgery at some point in 2019, envision LeMahieu as an option at multiple spots on the infield.
What it means going forward: This, in combination with the signing of Tulowitzki for the Major League minimum (with the Blue Jays picking up the rest of his gargantuan tab), casts serious doubt on the Yankees doing what many assumed going into the offseason and signing Manny Machado, who has long been rumored to want to be a Yankee. Though there remains the possibility that the Yankees could trade Andujar -- or simply not view the bare-minimum deal with the oft-injured Tulo as an impediment -- Machado to the Bronx doesn't look especially likely right now. The Phillies and White Sox are the only teams known to have made formal proposals to Machado.
The Yankees have tried to signal all winter that they have no interest in Bryce Harper, so Machado signing there would likely not have any impact on Harper's market. But Machado signing with another team could have an impact. The Phillies and White Sox, for instance, both appear to have made Machado their first choice but could aggressively pursue Harper should Machado sign elsewhere.
2. There could be a mystery team in on Machado.
This news came from MLB Network insider Jon Heyman, who tweeted that the Machado camp is alerting clubs to the existence of a mystery bidder beyond the White Sox and Phillies.
What it means going forward: If we knew, it wouldn't be much of a mystery, would it?
In all seriousness, as much as we tend to roll our collective eyes at the "mystery" notion, mystery teams do exist. The Angels, to grab an example at random, were not expected to be serious suitors for Jose Pujols until they actually signed him. So ... stay tuned.
One bit of conjecture: If Machado's asking price (reportedly well north of $300 million over 10 years) is simply not being met in the marketplace, we can't rule out the possibility of him soliciting a shorter-term deal with a higher average annual value, giving him another bite at the apple in a few years (he's only 26, remember). That would conceivably widen the number of teams involved.
But like most things in the Machado/Harper markets, the above is nothing more than speculation.
3. Russell Martin returned to the Dodgers.
Just a couple days after Yasmani Grandal officially left in free agency by signing with the Brewers, the Dodgers addressed their catching vacancy by trading for the soon to be 36-year-old Martin, who came up in the L.A. system and last played for the Dodgers in 2010. The Dodgers sent Minor Leaguers Ronny Brito and Andrew Sopko to Toronto, and the Blue Jays are covering $16.4 million of Martin's $20 million salary.
What it means going forward: After Grandal came off the board this week, MLB.com's Joe Frisaro reported that the Marlins were in "substantive" discussions with six teams -- the Dodgers, Braves, Astros, Padres, Rays and Reds -- regarding star catcher J.T. Realmuto. Does the acquisition of Martin, who had a .663 OPS in 352 plate appearances and hasn't graded out as an impact defender for several seasons, pull the Dodgers out of the running? In a word, no.
Realmuto would still represent a serious upgrade to the Dodgers' catching core. The hangup, as has been the case all offseason, is the price tag, which has been said to begin with Cody Bellinger or Alex Verdugo.
4. Mookie Betts and Jacob deGrom set records in arbitration process.
Friday was the deadline for teams and players to exchange arbitration figures. And with the vast majority of teams employing a "file and trial" approach -- meaning they don't negotiate one-year deals with players after the deadline and instead await an arbitration hearing -- there was the usual flurry of activity.
But no deals stood out more than the ones the reigning American League MVP and National League Cy Young winner agreed to with their respective teams. Betts got $20 million -- a record for a second-time arbitration-eligible player. Actually, it's even a higher salary than any third-time arbitration-eligible has received, too. Meanwhile, deGrom's leap from his 2018 salary of $7.4 million to his $17 million settlement with the Mets for 2019 is a record jump of $9.6 million.
What it means going forward: Arbitration operates off past precedent. So when contracts of this magnitude come out of the process not just from the ruling of independent arbiters but in a settlement between player and team, it moves the needle forward for those who follow, extreme though these particular cases may be. With the free-agent markets for players in their 30s nowhere near as flush as they once were, arbitration is an increasingly important area for players to make aggressive asks. Because the free-agent market has changed so much so rapidly with the influence of analytics, arbitration is now the area where the most significant salary gains are taking place. The most interesting players likely headed to hearings are Nolan Arenado, Carlos Correa, Trevor Bauer, Gerrit Cole, Aaron Nola and Blake Treinen, and their outcomes will be informed by the deals that were reached Friday.
As for Betts and deGrom, the one-year settlement does not preclude player and team from coming to agreement on a multiyear extension. But one-year pacts of this magnitude give these players better financial leverage to bet on themselves moving forward. Betts and deGrom are both two seasons away from free agency.
5. Arenado will also set a record. Soon.
The Rockies and Arenado did not come to agreement on a deal before the deadline. But however this turns out, Arenado will break an arbitration record. He asked for $30 million for his final season before free agency, the Rockies countered with a $24 million offer. The current arbitration record is the $23 million Josh Donaldson got from the Blue Jays last year.
What it means going forward: As interesting as Arenado's 2019 salary is, it pales in comparison to the bigger picture, which is that the Rox want to sign their franchise face to a long-term extension. They will continue to make an attempt to do so. But this is yet another place where the Harper and Machado dominoes (particularly Machado) really matter, because they inform Arenado's ultimate free-agent value (although he'll be entering his age-29 season a year from now, whereas Harper and Machado are both 26 in 2019).
6. The Phillies and Nola are far apart.
In his first arbitration round, Nola is seeking $6.75 million. The Phillies are offering $4.5 million.
What it means going forward: That's a significant difference. If the two sides are that far apart in the first year of the arbitration process, it sure makes a multiyear extension appear unlikely.
Nola's situation is an example of what was said above: Players are testing the limits of the arbitration process. In arbitration hearings, the three-person panel entrusted with the decision-making chooses one figure or another. There is no compromise.
To date, the only first-time arbitration-eligible starter to command a contract north of $6 million in this process was Dallas Keuchel, and that was coming off his 2015 AL Cy Young season. So if Nola, who finished third in the Cy Young voting in 2018, is successful in his effort, it would become an important benchmark.
7. Alex Bregman had elbow surgery.
Coming off a stellar season for the Astros (31 homers, 51 doubles, .926 OPS), the 24-year-old Bregman had arthroscopic surgery to remove loose bodies in his right elbow. Bregman told MLB.com's Brian McTaggart that the elbow had been "bugging" him since 2016 and that he finally opted for surgery when the issue began affecting his range of motion last month.
What it means going forward: Despite the close proximity to the start of Spring Training, Bregman's surgery does not appear as though it will compel the Astros to suddenly explore alternatives in the free-agent or trade market. Bregman is expected to begin working out in about 10 days and is hoping to be ready for Grapefruit League play by the start of March.
The Astros will have several key members of their lineup coming back from injury this spring. Jose Altuve had surgery in October to repair an avulsion fracture in his right knee. Correa had surgery in November to repair a deviated septum, but, more meaningfully, battled back issues in 2018.