Here's what happened in Thursday's AFL action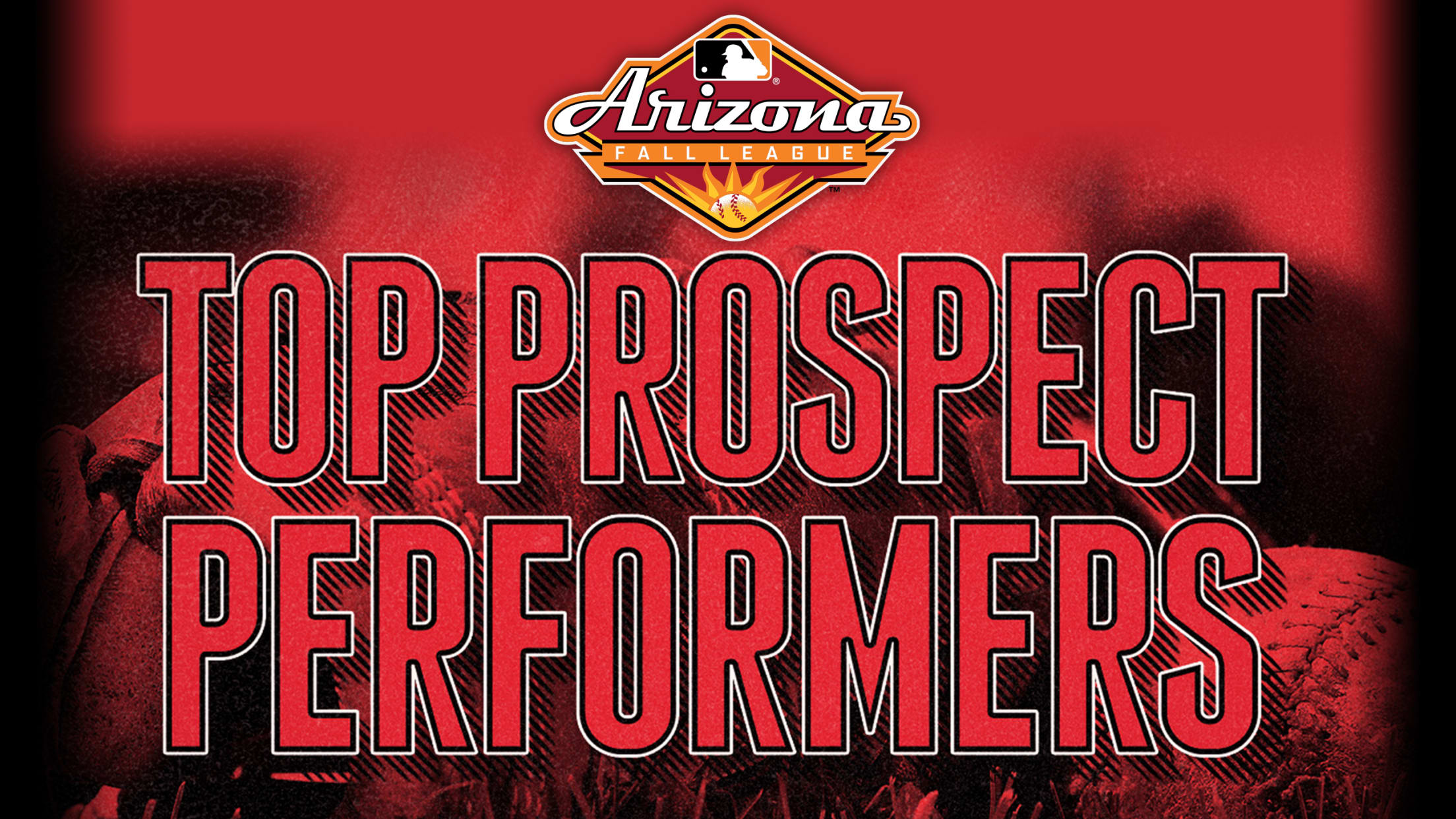 Here's a team-by-team breakdown of how all 30 teams' prospects fared in Arizona Fall League action on Thursday:• Gameday:Mesa 11, Surprise 10 | Peoria 2, Scottsdale 1 | Glendale 4, Salt River 2AL EastBlue Jays (Surprise)Blue Jays No. 22 prospectSantiago Espinal was 1-for-4 with a two-run single. Shawn Morimando started and lasted
Here's a team-by-team breakdown of how all 30 teams' prospects fared in Arizona Fall League action on Thursday:
• Gameday:Mesa 11, Surprise 10 | Peoria 2, Scottsdale 1 | Glendale 4, Salt River 2
AL East
Blue Jays (Surprise)
Blue Jays No. 22 prospectSantiago Espinal was 1-for-4 with a two-run single. Shawn Morimando started and lasted three innings, allowing five runs (three earned) on seven hits with a strikeout and a walk.
Orioles (Glendale)
Martin Cervenka went 2-for-4 and scored a run, and Jay Flaa pitched one clean inning, only allowing a walk.
Rays (Peoria)
Rays No. 7 prospect Ronaldo Hernandez hit a walk-off single to give Peoria a 2-1, come-from-behind victory. Matt Krook pitched three shutout innings in relief, striking out five while scattering two hits. No. 9 prospect Lucius Fox was 0-for-3 with a walk.
Red Sox (Mesa)
Third baseman Bobby Dalbec, the Red Sox's No. 6 prospect, crushed a two-run homer, his third this fall season, going 1-for-5.
Yankees (Glendale)
Yankees No. 2 prospect Estevan Florial reached base three times, going 1-for-2 with two walks and a run scored. Steven Sensley provided the game-winning hit for Glendale with his two-run triple in the bottom of the eighth.
AL Central
Indians (Glendale)
Connor Marabell collect an RBI triple in the top of the first inning, scored a run and finished 1-for-4. Indians No. 6 prospectYu Chang went 1-for-4. On the mound, Rob Kamisky threw 1 1/3 innings of scoreless relief before Dalbert Siri threw two-thirds of an inning to get the win.
Royals (Surprise)
Royals No. 2 prospect Khalil Lee went 1-for-5, and Nick Heath went 2-for-5, each scoring a pair of runs.
Tigers (Mesa)
Tigers No. 8 prospectDaz Cameron had multiple hits for the fourth time in his last five games, going 3-for-5, including a double and an RBI single. Jake Rogers (No. 12) hit a walk-off single to give Mesa the 11-10 victory. Daniel Pinero was 0-for-3 with a pair of walks and two runs, and No. 14 prospect Gregory Soto made the start, allowing two runs on two hits as he struck out six in four innings.
Twins (Salt River)
Griffin Jax started for the Rafters and gave up two runs over four innings. Hector Lujan pitched an 1 1/3 scoreless innings of relief, and Adam Bray threw one scoreless frame.
White Sox (Glendale)
White Sox No. 9 prospectLuis Alexander Basabe scored a run and finished 1-for-5 for the Desert Dogs. Zach Thompson secured the win with his scoreless ninth-inning relief.
AL West
A's (Mesa)
A's No. 30 prospect Skye Bolt had a perfect day at the plate, hitting two doubles and walking three times as he plated two runs and scored three. Sam Sheehan pitched a perfect seventh, and Calvin Coker was charged with five unearned runs in the eighth.
Angels (Mesa)
David Mackinnon hit a two-run double as part of a 2-for-5 day, and Brett Hanewich allowed an unearned run on two hits in his inning of relief. Ryan Clark earned his first win of the fall despite allowing two runs in the ninth.
Astros (Scottsdale)
Astros No. 2 prospect Forrest Whitley was stellar in his five-inning start, allowing only one hit while striking out nine. Drew Ferguson went 2-for-4 with a double, while Erasmo Pinales took his second loss of the fall after allowing two runs in 1 1/3 innings. More »
Mariners (Peoria)
David McKay earned his second win of the fall after striking out two in a scoreless ninth inning. Chris Mariscal was 1-for-3 with a walk, and Joe DeCarlo and No. 20 prospect Ian Miller were a combined 0-for-4.
Rangers (Surprise)
Charles Leblanc was 2-for-5 and hit a game-tying two-run single in the ninth, but Joe Barlow took the loss after allowing the walk-off single in the bottom of the frame. Joe Kuzia also didn't fare well, allowing five runs in two-thirds of an inning.
NL East
Braves (Peoria)
Braves No. 6 prospect Cristian Pache was 1-for-3 with a walk and his third stolen base, and also recorded an outfield assist when he doubled a runner off of first base in the first inning. No. 23 prospect Izzy Wilson was 0-for-1 after entering as a pinch-hitter. Braxton Davidson was 0-for-3 with a walk and scored a run.
Marlins (Salt River)
It was a quiet day for Miami prospects as Marlins No. 12 prospect Brian Miller went 1-for-4, and Chad Smith took the loss, allowing two runs on three hits in two-thirds of an inning.
Phillies (Scottsdale)
Austin Listi was 3-for-4 with an RBI double to extend his hitting streak to four games. Darick Hall was 0-for-3 with a walk, and Luke Williams was 0-for-4.
Nationals (Salt River)
Nationals No. 2 prospect Carter Kieboom went 0-for-3 with a walk. Ben Braymer worked a scoreless inning of relief, striking out one and allowing one hit. Daniel Johnson (No. 7) finished the day 0-for-4
Mets (Scottsdale)
Top Mets prospect Andrew Gimenez and No. 11 prospect Desmond Lindsay combined to go 0-for-6.
NL Central
Brewers (Peoria)
After entering the game as a defensive sub, Weston Wilson walked and tied the game with an RBI single as part of Peoria's game-winning rally in the ninth inning. That helped starter Bubba Derby, who allowed one run in five strong frames but was on track for the loss. Brewers No. 1 prospect Keston Hiura and No. 19 prospect Trent Grisham both went 0-for-3.
Cardinals (Surprise)
Cardinals No. 27 prospectConner Greene helped steady the ship after the Surprise pitching staff coughed up 10 early runs, as he got four groundouts and a strikeout as part of two perfect innings out of the bullpen. Lane Thomas started Surprise's late rally with a two-run single in the eighth, while Andy Young doubled, walked and scored two runs. Jeremy Martinez was 1-for-4 with a run.
Cubs (Mesa)
Cubs No. 6 prospect Nico Hoerner led Mesa hitters with three RBIs, as he doubled twice and hit a two-run single to hit safely in his fourth consecutive game. DJ Wilson (No. 16) added a double and a run, and Trent Giambrone (No. 29) walked twice. Manuel Rondon pitched a perfect fifth inning. More »
Pirates (Surprise)
Pirates No. 16 prospect Will Craig mashed his sixth homer of the fall, a three-run shot, to cap a five-run rally in the eighth. Bryan Reynolds (No. 8) was 0-for-3 with a walk, and Cole Tucker (No. 5) didn't hit after entering as a pinch-runner in the ninth. Geoff Hartlieb walked two in 1 1/3 scoreless innings.
Reds (Scottsdale)
Mark Kolozsvary hit his second double of the fall and was 1-for-4, while No. 23 propsect Alfredo Rodriguez was 1-for-3.
NL West
D-backs (Salt River)
The D-backs' No. 3 prospect, Jazz Chisholm, reached base three times, tallying two hits and a walk, and scored a run from the leadoff spot in the Rafters' lineup. D-back's No. 5 prospect Daulton Varsho finished 0-for-2, then was substiutted out. Pavin Smith (No. 4) finished the day 0-for-3 with a walk, and Drew Ellis went 0-for-3 with two strikeouts
Giants (Scottsdale)
Chase Johnson tossed his eighth consecutive scoreless appearance, allowing one hit in two innings, while striking out four. Giants No. 28 prospect CJ Hinojosa was 0-for-3 with a walk.
Padres (Peoria)
Padres No. 23 prospect Hudson Potts was 0-for-2.
Dodgers (Glendale)
Dodgers No. 20 prospect Errol Robinson and Cody Thomas each had 1-for-4 performances. Jared Walker finished 1-for-3 with a walk.
Rockies (Salt River)
Josh Fuentes launched a two-run home run, his only hit of the day (1-for-4), to put the Rafters ahead 2-0 in the top of the first inning. Rockies No. 9 prospect Sam Hilliard went 0-for-4.