Astros join mayor for 'Houston Strong' pep rally
City will 'orange out' for playoffs; Verlander announces Harvey initiative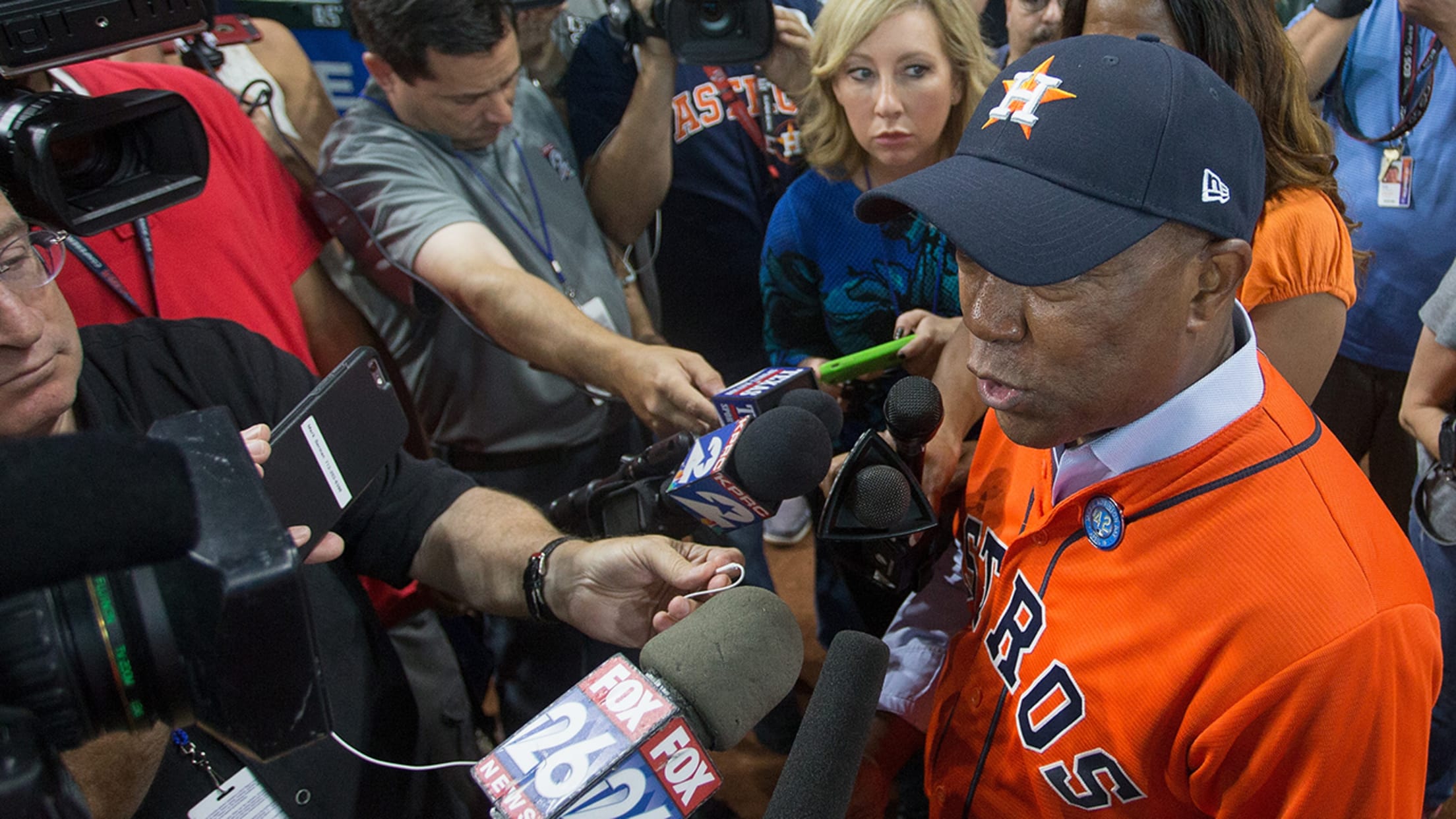 Mayor Sylvester Turner and the Astros rallied fans in advance of the American League Division Series. (Getty)
HOUSTON -- Houston Mayor Sylvester Turner's relentless energy that fueled the city of Houston in the aftermath of Hurricane Harvey was again on full display in downtown Wednesday, during a "Houston Strong, Houston Proud" pep rally in advance of the Astros' postseason."We needed something to cheer for, and the Astros
HOUSTON -- Houston Mayor Sylvester Turner's relentless energy that fueled the city of Houston in the aftermath of Hurricane Harvey was again on full display in downtown Wednesday, during a "Houston Strong, Houston Proud" pep rally in advance of the Astros' postseason.
"We needed something to cheer for, and the Astros have come a long way and made us Houston proud," Turner said to the lunchtime crowd that had gathered at the steps of City Hall. "And now we are a contender for the World Series, starting tomorrow."
:: ALDS schedule and coverage ::
The rally, attended by Astros owner and chairman Jim Crane, outfielder Derek Fisher, pitcher Joe Musgrove, Orbit the mascot, the Coca-Cola Shooting Stars and several city leaders, served as the beginning of what the Astros are hoping is a long October run. That pursuit begins today at Minute Maid Park, when the Astros host the Red Sox for Game 1 of the American League Division Series presented by Doosan.
In addition to their goal of delivering the city its first World Series championship, the Astros are committed to continuing to provide the Houston area with something for which to cheer, as the cleanup process continues in the aftermath of Harvey.
Musgrove and Fisher each touched on that theme as they addressed the crowd.
"I just want you to know how special it was to play in front of you guys this year," Musgrove said. "We're simply entertainers; you guys are the real heroes of the city. The way everyone stepped up and pulled together in times of need was incredible."
Added Fisher: "We feel like one of y'all. When this city gets hit like it has, we appreciate everyone coming together and still giving us support. We just want to be out there for you guys to enjoy it. We are one of you, and you guys are one of us, and we're going to get through it together."
The off-the-field postseason celebration will continue through the week. The Astros have asked local businesses, schools, community leaders, organizations and Astros fans to "orange-out" Houston by wearing orange clothing and accessories, donning their Astros apparel and decking out their buildings in orange.
The Astros will continue wearing the "Houston Strong" patch on their jerseys, which they added to their uniforms when they resumed play after the storms hit in late August.
"They don't forget that in the locker room," Crane said to the crowd, referring to the "Houston Strong" rally cry. "They really want to win, and we've got a great team. Everybody's pulling together. There's a lot of chemistry."
That unity, due in part to tough circumstances, has extended beyond just the team, given how much city leaders and the Astros have worked together since Harvey. That process began the day Mayor Turner told Crane he wanted the Astros to resume playing in Houston, to create as much normalcy as possible as quickly as possible.
"We are so proud of every single member of the Astros," Turner said at the rally. "We have a fantastic team. Are we ready to win? We are Houston proud, and we are Houston strong."
Verlander announces Harvey initiative
Justin Verlander may be new to the Astros, but he's already making an impact in the Houston community.
While preparing to start Game 1 of the Division Series, Verlander announced an initiative to provide aide to Hurricane Harvey victims through grants awarded by his foundation.
The Wins for Warriors Foundation, founded by Verlander in 2016, is launching a grant-making program and taking applications to provide financial assistance to military and veteran families who have been impacted by Hurricane Harvey.
The grants being awarded are up to $2,500 per family to help cover basic living expenses.
"There's a lot of families that need help, and I have been doing a lot of research since I got here and making sure that the way I want to give back is properly executed and helping people that really need it," Verlander said. "I think we have really nailed this."
Verlander has donated $100,000 of his own funds, and the Astros matched that number. Verlander said he will donate his playoff share to the cause as well.
"When I got here to Houston, I immediately saw the resiliency of the city and wanted to help," Verlander said. "I came in right after the hurricane and wanted to find the best way I could give back."
Since 2013, Verlander has donated $1 million directly to veteran non-profit organizations, and since 2011, he has hosted more than 5,000 veterans family members to experience a game in his suite at the Tigers' Comerica Park. In 2016, he founded Wins for Warriors Foundation, a 501(c)(3) charity, to empower military veterans with a strong focus on family-bonding activities and collaboration with other organizations.
Thank you @astros Foundation for donating $100K to match my contribution to start @winsforwarriors Patriot Grant. Grateful for your support! pic.twitter.com/45eBZMEQHW

— Justin Verlander (@JustinVerlander) October 4, 2017
Wins for Warriors is encouraging organizations, foundations, corporations and individuals to contribute to the Harvey grantmaking program through two options: pledging a one-time donation, or pledging a donation per Astros win throughout the postseason. Donations can be made at www.winsforwarriors.org/harvey.
"It's going to go to the right families, and it's going to go to people who really need it," Verlander said.