Bidding for job, Straily sees uptick in velocity
Astros right-hander is out of Minor League options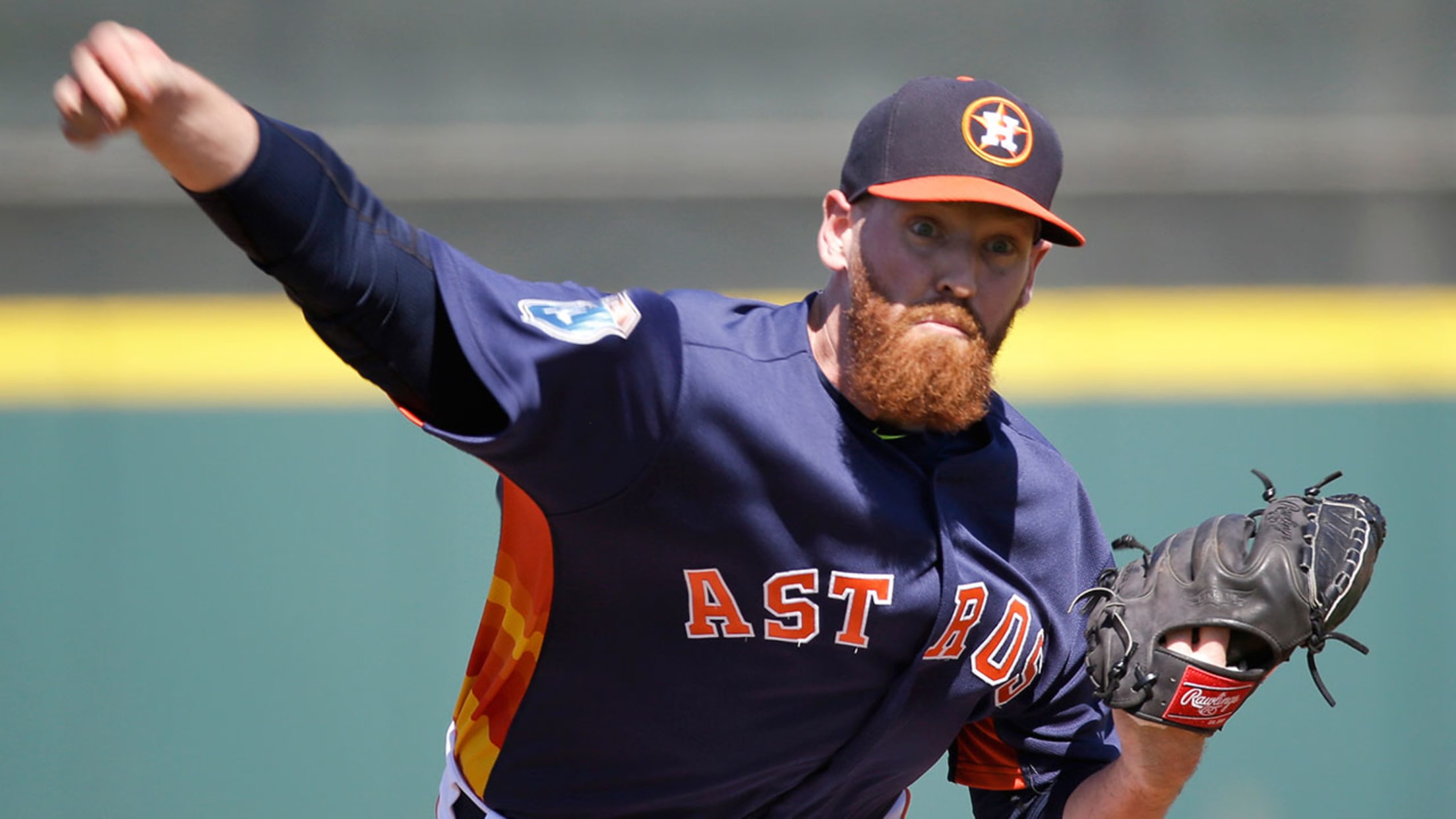 Dan Straily has allowed eight runs over eight innings during Spring Training. (AP)
VIERA, Fla. -- For the first time since 2012, Astros right-hander Dan Straily was able to look at a pitch speed reading on a scoreboard and see 94 mph folllowing one of his pitches. That was earlier in camp, but he said it was a confidence builder and a sign
VIERA, Fla. -- For the first time since 2012, Astros right-hander Dan Straily was able to look at a pitch speed reading on a scoreboard and see 94 mph folllowing one of his pitches. That was earlier in camp, but he said it was a confidence builder and a sign he's back on track.
Straily, who is out of options as he competes for the final spot on the pitching staff, allowed four hits and one run on a sac fly while striking out three batters in two innings in Monday's 5-3 loss to the Nationals at Space Coast Stadium. It was the best outing in a spring in which he's allowed 15 hits and eight earned runs in eight innings.
• Spring Training:Schedule | Tickets | Gear
"I felt it went OK," he said. "I got myself into jams and I let the one run score instead of bouncing a slider. I was able to get out of the first one with second and third and one out with strikeout, strikeout, so just starting to get more confident in my slider again. It was hurting me earlier in camp and cost me a lot of runs in the first two games. I really focused on that the last two times out, and it's starting to pay off and I'm starting to see it's working."
Straily, 27, could make the club as a long reliever, but there's a handful of pitchers vying for the final spot in the bullpen. He's the only one of the group out of options, which means the Astros would risk losing him on waivers if he didn't make the 25-man roster on Opening Day.
That will be a factor, but the bottom line will be his performance. Straily said his spring numbers through the years generally haven't been on par. Manager A.J. Hinch said Straily's slider is quicker and sharper, in addition to the added zip on the fastball.
"When you're out of options, every team is looking for you as a potential fit as well," Hinch said. "We'd still like him to win the job and be the best guy than simply anoint him the role because he's out of options."
Straily would like to stay with the Astros, and his fate will be known in the coming days.
"The ball's in their court," he said. "I'm just here like everybody else, trying to make the club, and we'll see what happens. I feel good and feel confident and am just getting ready for the year, and obviously hoping it's on the Astros."
Worth noting
• The Astros reassigned left-handed pitcher Edwar Cabrera to Minor League camp following Monday's game, leaving the club with 44 players in big league camp. Cabrera, a non-roster invitee, threw 5 1/3 innings in five games and allowed three hits and one earned run with five walks and six strikeouts.