Keuchel's return to form what Astros need most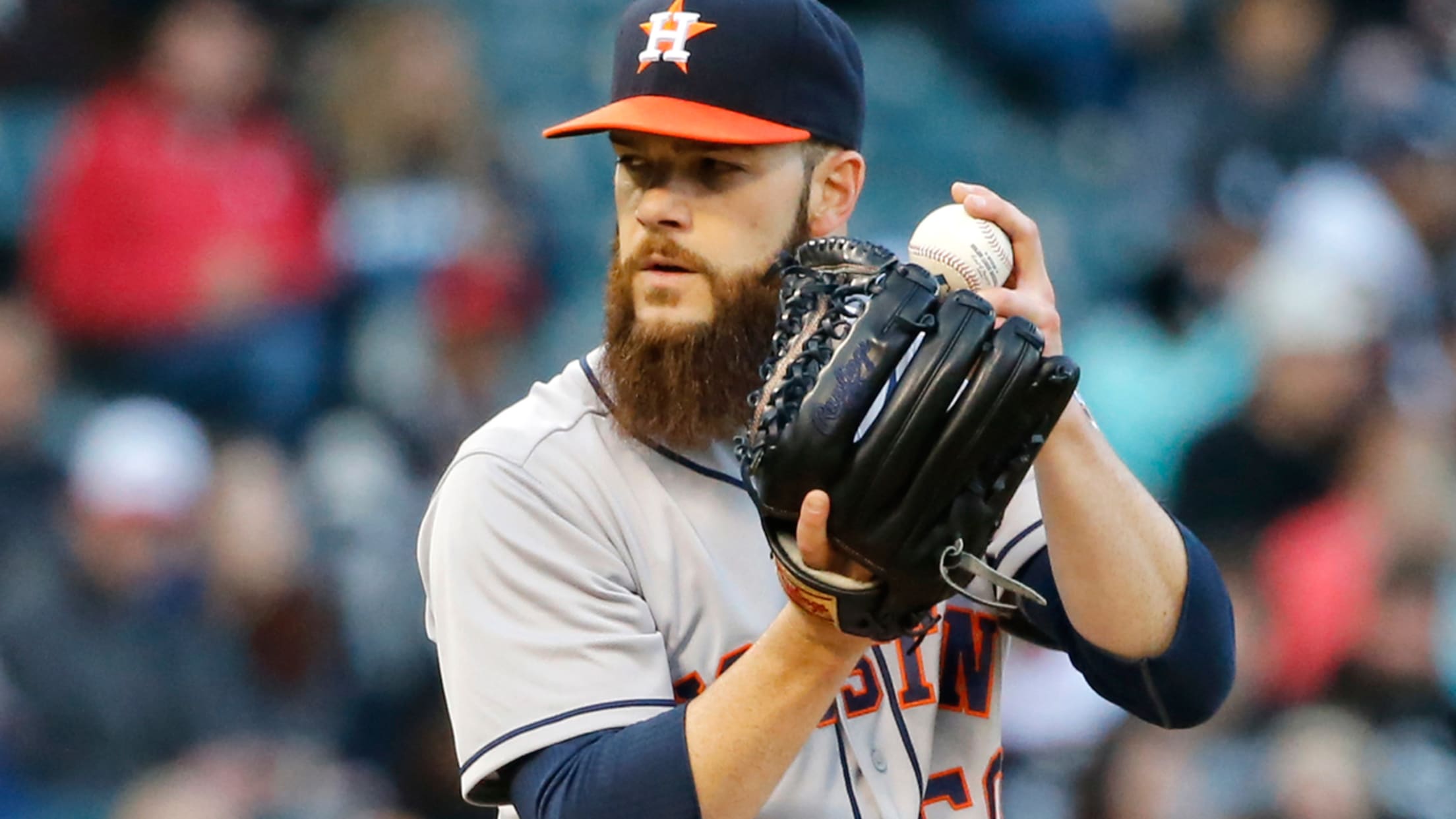 Dallas Keuchel last won a game on April 15. (Charles Rex Arbogast/AP)
CHICAGO -- You only get to play the Carlos Correa card once.The Astros did that when they came to U.S. Cellular Field last June, and it has brought returns for them every day since, the biggest being heightened expectations.But baseball has always been about the quality of the team, not
CHICAGO -- You only get to play the Carlos Correa card once.
The Astros did that when they came to U.S. Cellular Field last June, and it has brought returns for them every day since, the biggest being heightened expectations.
But baseball has always been about the quality of the team, not just its best players, so on Tuesday, the Astros made the kind of changes an ambitious team makes when things aren't going well. They rearranged the furniture.
In a series of moves that included Carlos Gomez landing on the 15-day disabled list, they added prospects Colin Moran and Tony Kemp while also regaining Evan Gattis, who's back from his refresher course in catching. It's a stretch to refer to these as sweeping changes, but they do impact third base, left field, center field and catcher, and that's a lot for any one day.
But for the Astros to bring back the feeling they had when they pushed the Royals to the brink of elimination in the American League Division Series, to improve the value of their property as well as its curb appeal, they'll have to rediscover the rinse-lather-repeat monotony with which they produced one quality start after another last season.
"Pitchers feed off one another all the time,'' Houston manager A.J. Hinch said. "Last season, we had a ton of stretches where you could run a guy out there every five nights and feel really good about it. They felt good about themselves.''
With lefty Dallas Keuchel rolling to an AL Cy Young Award, the Astros were second in the AL with a 3.71 rotation ERA last season, ahead of everyone except the Rays. They opened this three-game series against the White Sox 13th in the AL with a 5.09 rotation ERA, behind everyone except the Twins and Athletics.
That's a huge difference. It goes the longest way toward explaining how a team that won 86 games last year opened this season 16-24, although you wouldn't stop there.
"We've had periods of time where just about every aspect of our game has let us down,'' Hinch said on Tuesday before a 6-5, 11-inning victory. "Some of that has been starting pitching. Some of that has been a blown game in the bullpen. Some of that has been miscommunication in the outfield. We've made our fair share of outs on the bases. We just haven't played that collective brand of baseball that we're capable of, over the course of the season. We could do that tonight.''
Keuchel, who has been missing some velocity and maybe some confidence, was 2-5 with a 5.58 ERA entering Tuesday's game. Including the postseason, a 246-inning workload last year has been a concern, prompting him to reduce his side work recently.
Keuchel's return to form would be huge for Houston, but Hinch doesn't want to put the full weight on anyone.
"We had a run of quality starting pitching options that never went away [last season],'' Hinch said. "Certainly that starts with Dallas Keuchel, but it doesn't end with Dallas Keuchel. Any guy can be your stopper. Any guy can pitch a game that propels you into a hot streak. Everybody looks at your best pitcher or your Opening Day pitcher or, for us, it's the reigning Cy Young winner. I don't think he has the obligation, but he's certainly capable of doing that.''
Keuchel's sinker-slider combination can be deadly when he gets ahead of hitters and spots his pitches. His fastball averaged only 90.4 mph last year, but he has been at 88.6 this year, according to Brooks Baseball. He was in the high 80s Tuesday and couldn't finish off what started as a strong outing.
Keuchel retired the first 11 White Sox hitters before allowing a two-out fourth-inning home run by Jose Abreu. He worked into the seventh inning, but wound up allowing three runs. Keuchel walked three of the last four guys he faced, all without throwing a single strike, but Ken Giles struck out Jimmy Rollins and Abreu.
In the end, there was nothing about Keuchel's start that pushed the needle, one way or another. It merely nudged his ERA downward to 5.43.
The good news for the Astros is that the new arrangement of the room may suit them.
Gattis, in his familiar role as designated hitter, lined a two-run homer into the White Sox bullpen in the 11th inning. It was only his second of the season after he hit 27 last year. Jake Marisnick, who will get a chance to be the regular in center field while Gomez recovers from a bruised rib cage, had a single and a stolen base in the eighth inning. Kemp, who joins early AL MVP Award candidate Jose Altuve to give Houston two of the three 5-foot-6 players in the Major Leagues (Alexi Amarista is the other), scored a run as a pinch-runner.
Moran, a former first-round pick of the Marlins who has hit .299 in the Minor Leagues, will start at third base on Wednesday. Kemp will get a start in left field. Gattis is expected to catch Collin McHugh on Thursday.
This is a different look than the Astros featured when they dropped three of four at Fenway Park over the weekend, and the changes may help. But it's going to be tough, if not impossible, to sustain a recovery without getting the starting rotation pointed in the right direction.
Phil Rogers is a columnist for MLB.com.