Cotton scratched from start with groin strain
Right-hander to be re-evaluated Tuesday, Alcantara starts in his place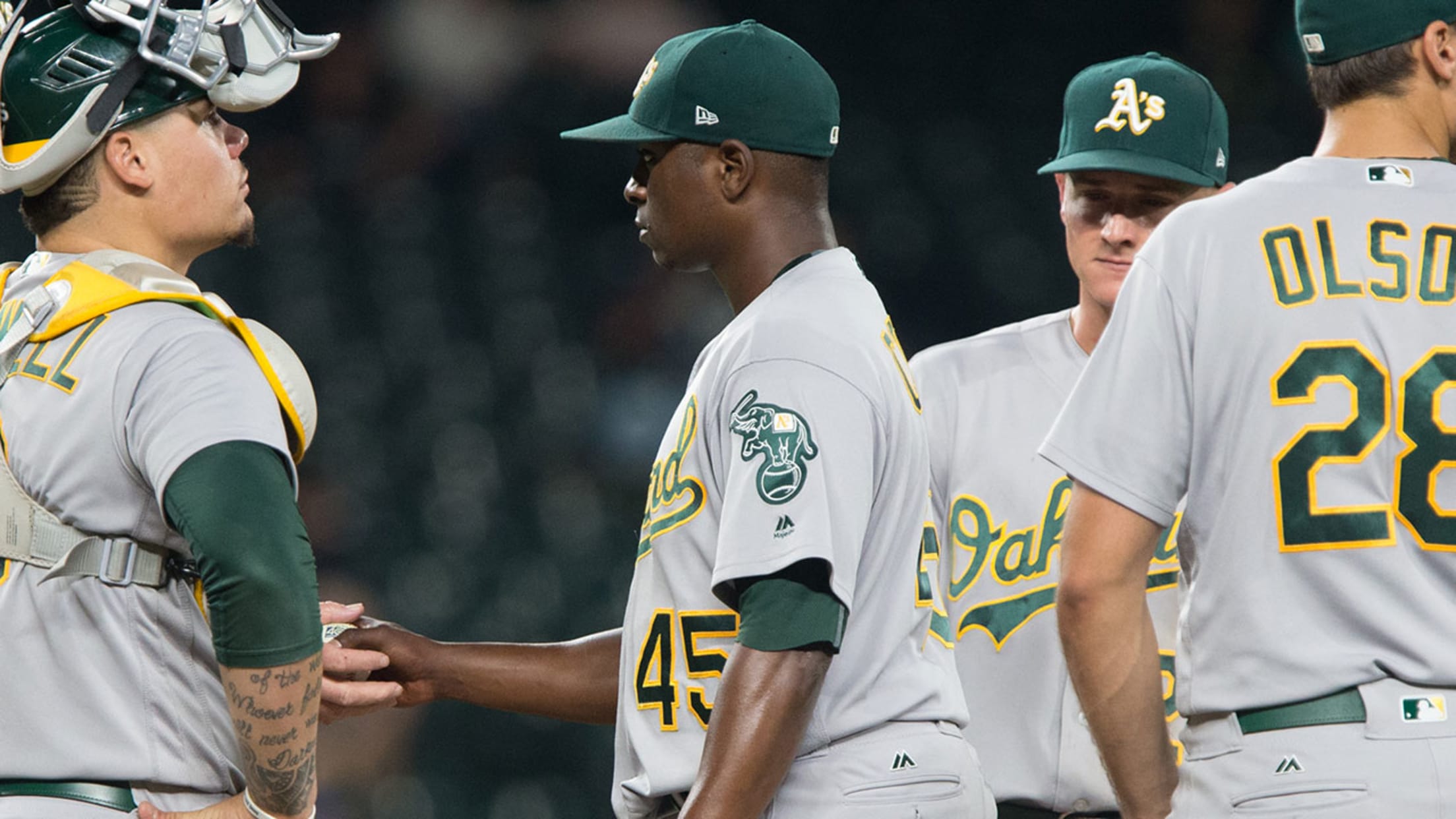 Jharel Cotton warmed up, but couldn't start Monday's opener vs. Detroit. (Getty)
DETROIT -- Athletics right-hander Jharel Cotton (8-10, 5.81) was scratched from his start in Monday's 8-3 win over Detroit at Comerica Park about 10 minutes prior to first pitch. Cotton sustained a right groin strain while warming up and Raul Alcantara started in his place.Manager Bob Melvin said Cotton will be
DETROIT -- Athletics right-hander Jharel Cotton (8-10, 5.81) was scratched from his start in Monday's 8-3 win over Detroit at Comerica Park about 10 minutes prior to first pitch. Cotton sustained a right groin strain while warming up and Raul Alcantara started in his place.
Manager Bob Melvin said Cotton will be re-evaluated Tuesday to find out the severity of the injury.
Cotton was going through his regular pregame routine of throwing long toss on flat ground before moving to the mound in the bullpen when he felt a pull in his groin.
"In the second pitch of my flat ground [session], that's when I felt a slight pull in my groin area," Cotton said. "I tried to see if it was nothing, but it kept grabbing. That's when I told the bullpen coach and the pitching coach, and that's when they called it."
Alcantara (0-1, 9.20) stepped up in a moment's notice and delivered 3 2/3 innings of shutout ball. He said he wasn't nervous about the situation, just focused on doing his job.
"I was just kind of preparing like a reliever, go inning by inning and pitch one inning at a time and see how far I could go," Alcantara said.
Melvin was pleased with the performance of Alcantara, who had not started since April and had not thrown more than 30 pitches in a relief appearance in several months.
"For a guy that hasn't thrown more than 30 pitches in a couple months, to give us what he did, upwards of 60 pitches and come out the way he did, really saved us," Melvin said.
Kyle Beery is a contributor to MLB.com based in Detroit and covered the Athletics on Monday.