A's participate in Community Fund Golf Classic
Gray, Graveman among players at event to support Bay Area charities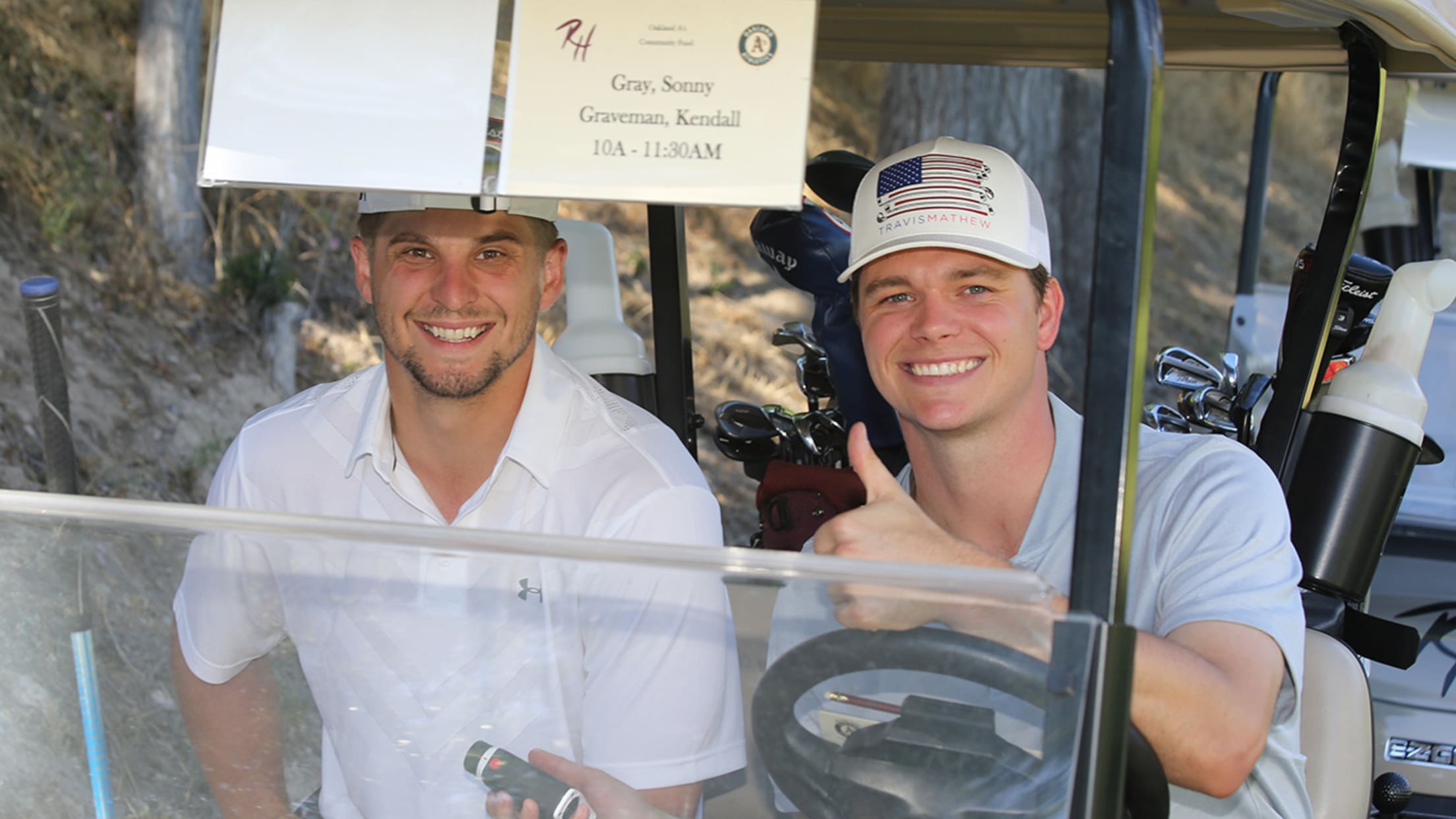 Kendall Graveman and Sonny Gray participated in the Community Fund Golf Classic. (Christine Kroeckel) (Christine Kroeckel)
ALAMO, Calif. -- Several A's players and coaches took part Monday in the team's 34th annual Community Fund Golf Classic, a tournament aimed at raising money to support charitable organizations in the Bay Area.Sonny Gray, Kendall Graveman and Stephen Vogt joined Curt Young and Scott Emerson on the course, and
ALAMO, Calif. -- Several A's players and coaches took part Monday in the team's 34th annual Community Fund Golf Classic, a tournament aimed at raising money to support charitable organizations in the Bay Area.
Sonny Gray, Kendall Graveman and Stephen Vogt joined Curt Young and Scott Emerson on the course, and Marc Rzepczynski, Billy Butler, Rich Hill and Sean Manaea were expected to make appearances throughout the day. They joined members of the A's front office, including general manager David Forst, and former players such as Shooty Babitt and Bert Campaneris.
"We put a lot of emphasis on what we do on the field day to day, but it really pales in comparison to the impact we can have on the community," said Forst, who has participated in the event more than a dozen times in his 17 years with the A's. "When you look at the things we've done with renovating fields in the area, donating to juvenile diabetes and breast cancer research, all those things give you some perspective on how much impact we can have as an organization."
The tournament grouped players and coaches with various A's sponsors and donors and included a $5,000 putting competition, won by Rich Penarelli, who sank a long putt on his first try and quipped, "I just tried to get it there."
Vogt said that his golf game was "very average," adding he was good for "10 to 12 good holes and six terrible ones." But Vogt also acknowledged the importance of raising money for the Community Fund, which allocates money to various charities.
"As Major League baseball players, we have a responsibility to come out and help the community," Vogt said. "It's very easy for us to come out and play golf. But the people who put the tournament together and [work behind the scenes], they're the ones that should be thanked."
The Athletics have some steady golfers in their clubhouse. Vogt said Gray and Graveman were among the best on the team, and Gray said he plays to a seven handicap. Gray and Graveman were grouped together and Gray joked that attendees who parked near the first tee were in danger when Graveman hit, saying, "You might find a golf ball in your back seat."
It was Gray's first time playing in the tournament. He's scheduled to pitch Tuesday against the Brewers and he said he wouldn't hit many shots, but he was grateful to finally take part in the event.
"I like doing this," Gray said. "I'm pitching tomorrow so I'm kind of going to mess around and not play everything, so it will be fun. I'll try to stay out of the sun a little bit."
Mark Chiarelli is a reporter for MLB.com based in Oakland.