Gomber feels he's not pitching to his potential 
Lefty hopes to 'get back to being himself' amid pressure of Spring Training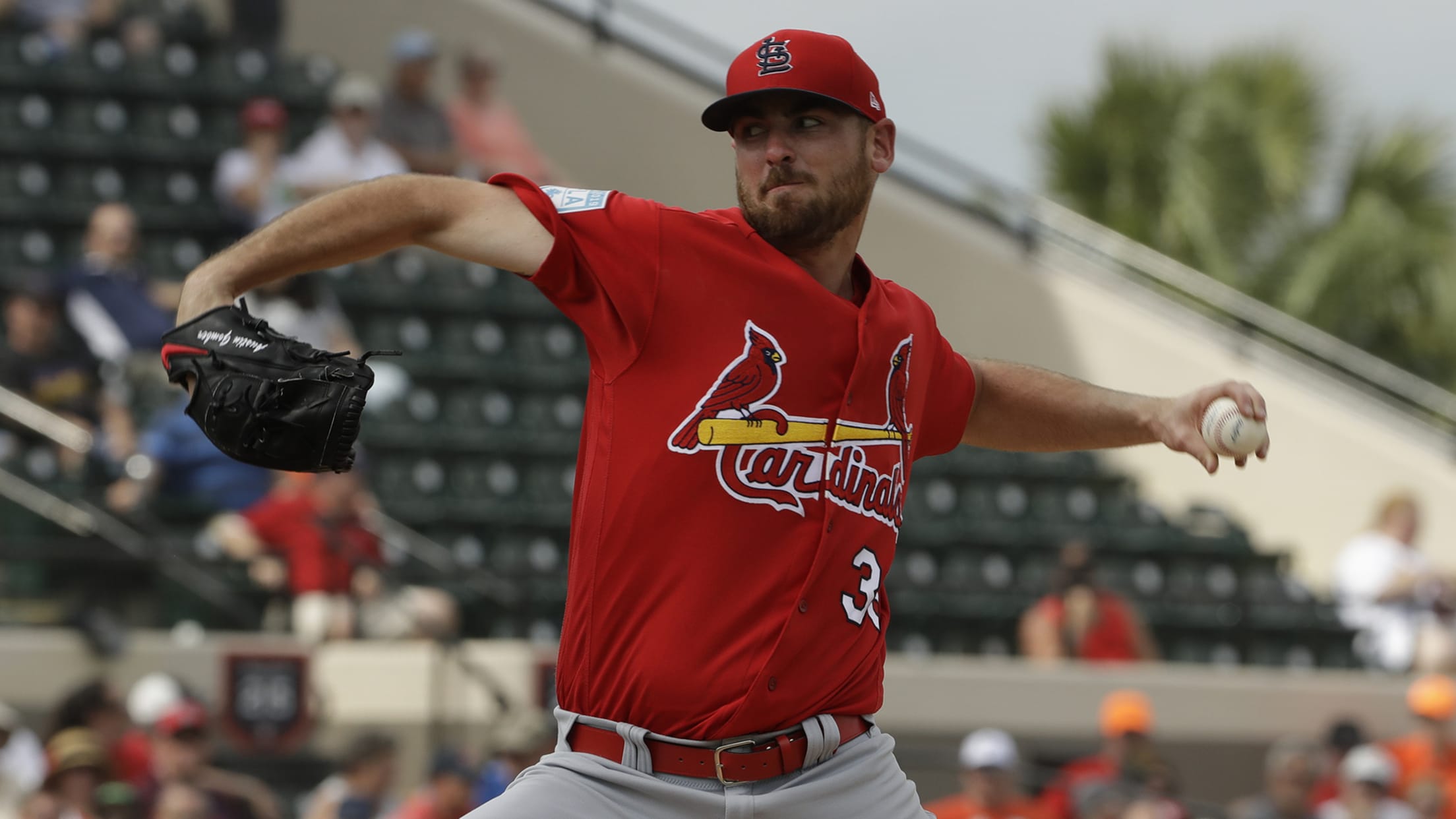 PORT ST. LUCIE, Fla. -- Clocks gained an hour on Sunday. Austin Gomber, though, probably wishes he could turn back time -- to August, preferably -- after laboring through a rough outing in which the left-hander surrendered a pair of home runs and did himself no favors in his quest
PORT ST. LUCIE, Fla. -- Clocks gained an hour on Sunday.
Austin Gomber, though, probably wishes he could turn back time -- to August, preferably -- after laboring through a rough outing in which the left-hander surrendered a pair of home runs and did himself no favors in his quest to crack the Cardinals' Opening Day roster.
Gomber -- a candidate for either the rotation or the bullpen -- could not complete three full innings in his first spring start, while giving up five runs to the Mets in a 9-1 loss.
The long ball has been a trouble spot so far this spring for Gomber, who has now given up five homers in a combined seven innings.
"If I knew the answer, I'd stop giving them up," said Gomber, who allowed seven home runs in 75 innings as a rookie last season for the Cardinals.
Gomber made a mark in August when he recorded five wins, one in relief and the other four as a starter. As a result, the 25-year-old entered Spring Training with a shot to make the staff.
But in three spring outings so far -- two of them in relief -- Gomber has given up eight earned runs on 11 hits and three walks for a 10.29 ERA. On Sunday, after a clean first inning, he gave up four runs in the second, with three coming on Amed Rosario's home run to left.
Jeff McNeil took him deep to lead off the third.
"It's just finding a way ... to trust myself [I'm] good enough to get outs," Gomber said of his arsenal. "I think that's where I am right now. When you see the ball going over the fence every couple of hitters, it's tough to believe it."
Gomber said he might be trying too hard to make a strong impression, one that would earn him a spot on the Cardinals' pitching staff.
"I think coming into camp this year, I probably put a little bit too much pressure on myself to try to make the team," Gomber said. "When you're coming as a young guy, it's kind of a pressure-free environment. This is the first time I've ever come to Spring Training with a chance to make the team. I think I fell into a little bit of that trap."
One poor outing has led to another for Gomber.
As Gomber put it after Sunday's performance, he thinks he was "trying to make up for a bad performance with a great performance. [But] this is the kind of results you get."
"I don't know if it's mental," Gomber said. "Physically I feel fine. I'm just not throwing strikes. Any time I'm ahead in the count -- which has been few and far between -- I feel like I'm getting results I'm used to getting."
Of the 63 pitches Gomber threw Sunday, only 33 were strikes.
Cardinals manager Mike Shildt said Gomber just needs to get back to being the pitcher he was in August.
"I can see that," Shildt said of the pressure Gomber might be feeling. "Hopefully, he can rely on his experience of winning five games in August and knowing what that looks like and knowing he's done it. But you can't try any harder than your ability allows you."
It's uncertain whether Gomber will receive another start before the end of Spring Training. Shildt gave no indication one way or the other.
Gomber said he's just trying to get back to being himself.
"Right now, for me, it's just trying to figure myself out," he said. "I've got to figure out myself, figure out how to get back to being the pitcher I was last year and I've always been in my career."