Two good catchers is a nice problem to have
Notes on walk-off slams and homers, Hunter Renfroe, Franmil Reyes, Kirby Yates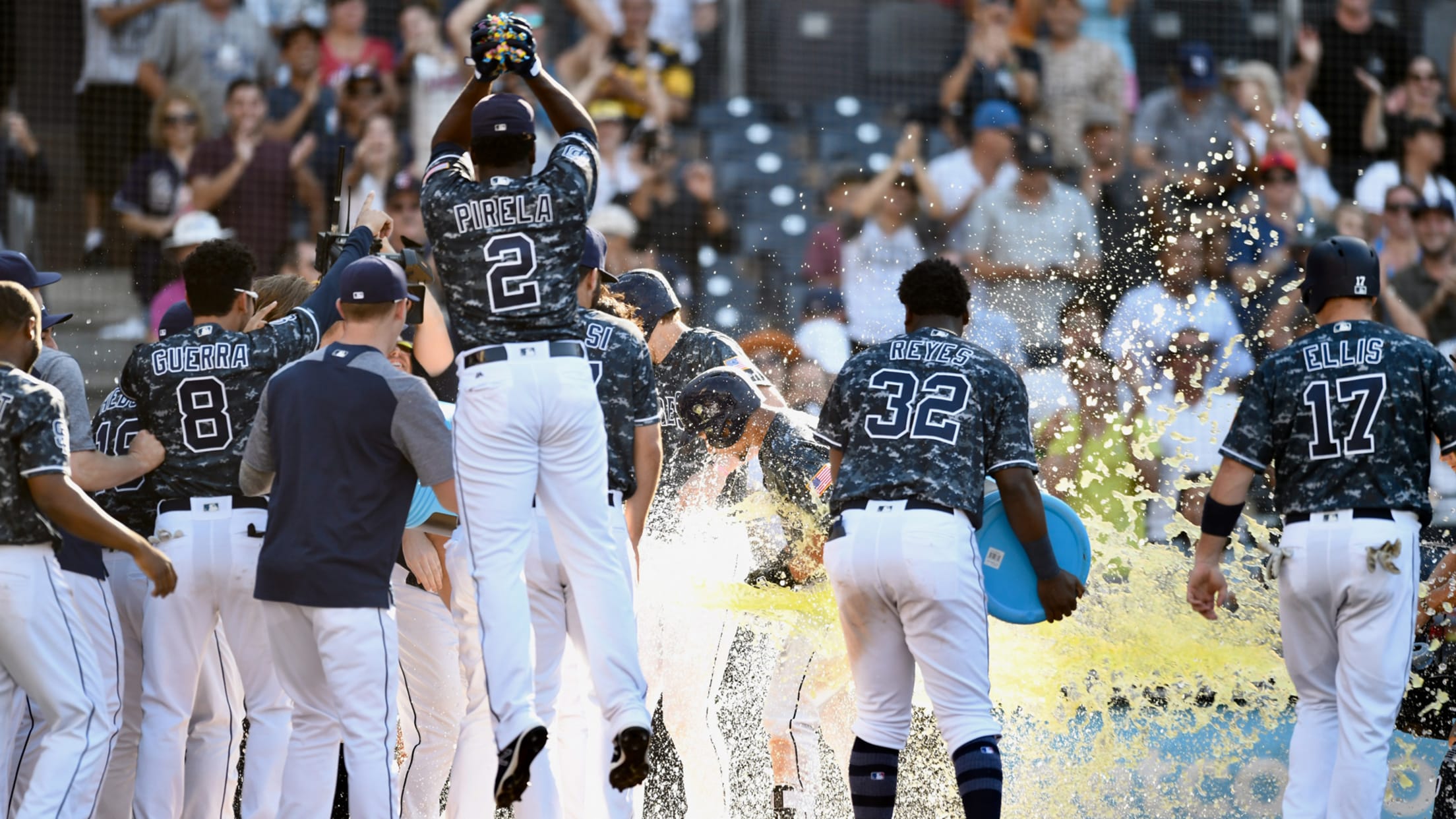 Bill Center, longtime sportswriter for U-T San Diego, is an employee of the Padres.Not since the 1989 season have the Padres been better stocked at catcher than they are today with Austin Hedges and Francisco Mejia.At the end of the 1989 season, the Padres had two young talents at catcher
Bill Center, longtime sportswriter for U-T San Diego, is an employee of the Padres.
Not since the 1989 season have the Padres been better stocked at catcher than they are today with Austin Hedges and Francisco Mejia.
At the end of the 1989 season, the Padres had two young talents at catcher -- Benito Santiago and Sandy Alomar Jr.
Santiago was 23 and already a three-year starter. He was the National League's Rookie of the Year in 1987 when he hit .300 and set the Padres' still-standing record with a 34-game hitting streak. His batting average slipped in 1988 (.248) and 1989 (.236) but he won Gold Glove awards each season.
Alomar was 23 at the end of the 1989 season and had done late-season cameos with the Padres in both 1988 and 1989. His brother Roberto was already a regular with the Padres.
Armed with two future All-Star catchers, Padres general manager Jack McKeon traded Sandy Alomar Jr. to the Cleveland Indians along with third baseman Carlos Baerga and outfielder Chris James for outfielder Joe Carter on Dec. 6, 1989.
Bad trade.
I'm hoping the Padres aren't so quick to move either Hedges or Mejía. I'm hoping A.J. Preller won't be shopping either for the best deal. Now, if someone comes with a deal that is beyond even, that's one thing.
But I like the idea of having two quality catchers, especially when one, Mejía, can play other positions. With the need for the designated hitter in road interleague games, I can forsee each playing more than 100 games.
Besides, catching is the most demanding mental and physical position in the game. You never know what hand injuries might deal the Padres. Having two quality catchers at a position where many teams don't have one is a huge plus as well as an insurance policy that can't be bought.
And while many fans are already drafting dream trades because of Mejia's fast start ... take a look at the starts.
Acquired from Cleveland on July 19 in a trade for relief pitchers Brad Hand and Adam Cimber, the 22-year-old Mejía, who was ranked the Padres' No. 3 prospect, is 7-for-27 (.259) since being promoted from Triple-A El Paso on Sept. 4 with with a double, three homers, eight RBIs and five runs scored in 10 games.
But the 26-year-old Hedges has hit safely in 10 of his last 12 games, going 13-for-43 (.302) with three doubles, two triples, two homers, eight RBIs and five runs scored. His batting average has now reached a season-high .245 and he has 13 homers and 36 RBIs in 81 games.
NOTEBOOK:
• Mejía's walk-off grand slam Sunday was the seventh in Padres' history. The only other rookie to do it was shortstop Everth Cabrera against the Mets on Aug. 9, 2009. Sunday was the Padres' fifth walk-off win of the season with the previous coming on Aug. 30 on a Franmil Reyes homer against Colorado. Mejía's grand slam was the fourth by a Padre this season.
• LF Hunter Renfroe has his nine of his team-leading homers since Aug. 23, which is tied with Christian Yelich for the most in the Major Leagues since that date. Fifteen of Renfroe's homers have come since Aug. 5. Going back to Aug. 23, Renfroe has hit safely in 17 of 21 games since then, going 24-for-85 (.282) with a .635 slugging percentage.
• RF Franmil Reyes was 2-for-3 Sunday with a walk to extend his hitting streak to eight straight games (11-for-28). He has hit safely in 21 of his last 23 games, going 27-for-70 (.386) with two doubles, six home runs, 11 RBIs and 11 runs scored.
• RHP Kirby Yates worked out of a bases-loaded jam Sunday to earn his fifth win on Mejía's grand slam. Yates has a win and three saves over his last four appearances, making him 5-3 on the season with six saves. He has also allowed one run on two hits and a walk with 10 strikeouts over 7 1/3 innings in his last eight appearances to lower his ERA from 2.16 to 2.04.