Dodgers reel in Organization of Year award
Baseball America to celebrate club at Winter Meetings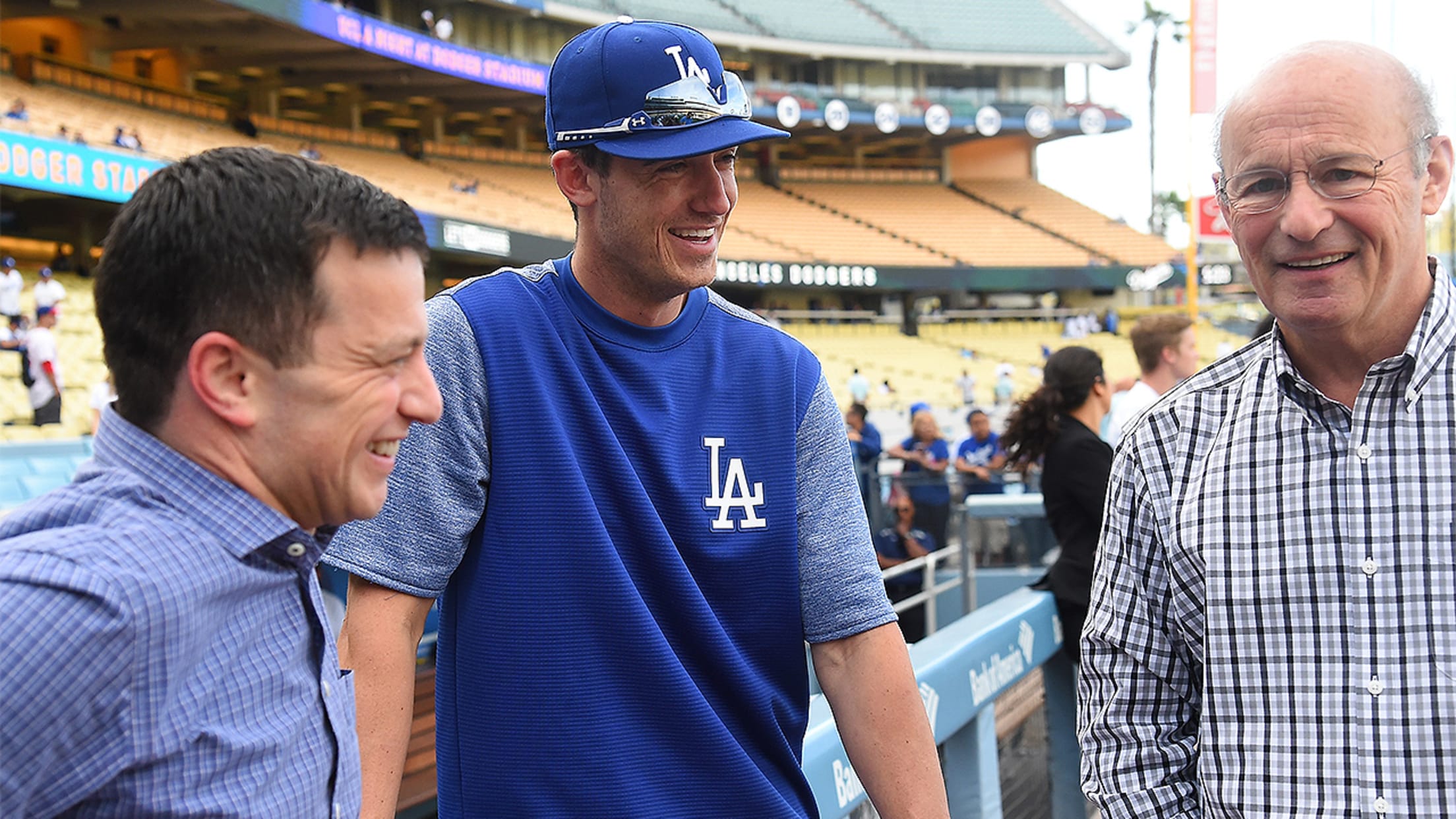 President of baseball operations Andrew Friedman, slugger Cody Bellinger and club CEO Stan Kasten meet before a game this year. (Getty)
LOS ANGELES -- The Dodgers were named the 2017 MLB Organization of the Year by Baseball America on Tuesday and will be honored by the publication at next month's Winter Meetings in Lake Buena Vista, Fla.The Dodgers were chosen after an MLB-best 104-win season, a Los Angeles record, and the
LOS ANGELES -- The Dodgers were named the 2017 MLB Organization of the Year by Baseball America on Tuesday and will be honored by the publication at next month's Winter Meetings in Lake Buena Vista, Fla.
The Dodgers were chosen after an MLB-best 104-win season, a Los Angeles record, and the franchise's first World Series appearance since 1988, despite ultimately losing to the Astros in Game 7.
The award recognizes the approach by president of baseball operations Andrew Friedman, who inherited a talented two-time division winner three years ago, augmented the roster with several key acquisitions and held on to top prospects, like back-to-back Rookie of the Year Award winners Corey Seager and Cody Bellinger.
• Complete 2017 awards coverage
"Obviously the 2014 season was successful on a number of fronts, but as we assessed the roster and looked ahead, we felt strongly that for us to be in a position to maintain it, to sustain the recent success and enhance it, that we would need to infuse talented young players into our core group and do it steadily over time," Friedman said in a news release.
"One observation that we had was looking at the 2014 Red Sox, who had a number of really talented young players that all kind of came up to the Major League roster at the same time, was how volatile that situation can be. So we wanted to try to integrate one to two at a time over the years, to not put as much pressure on our talented young players, but also not be so reliant on so many young players all at once."
Baseball America noted that 16 of the 25 players on the Dodgers' World Series roster were acquired by Friedman's front office. They included Rich Hill, Yu Darvish, Alex Wood, Kenta Maeda, Brandon Morrow, Austin Barnes and Chris Taylor.
Ken Gurnick has covered the Dodgers for MLB.com since 2001.