Bench coach Bell departs for Giants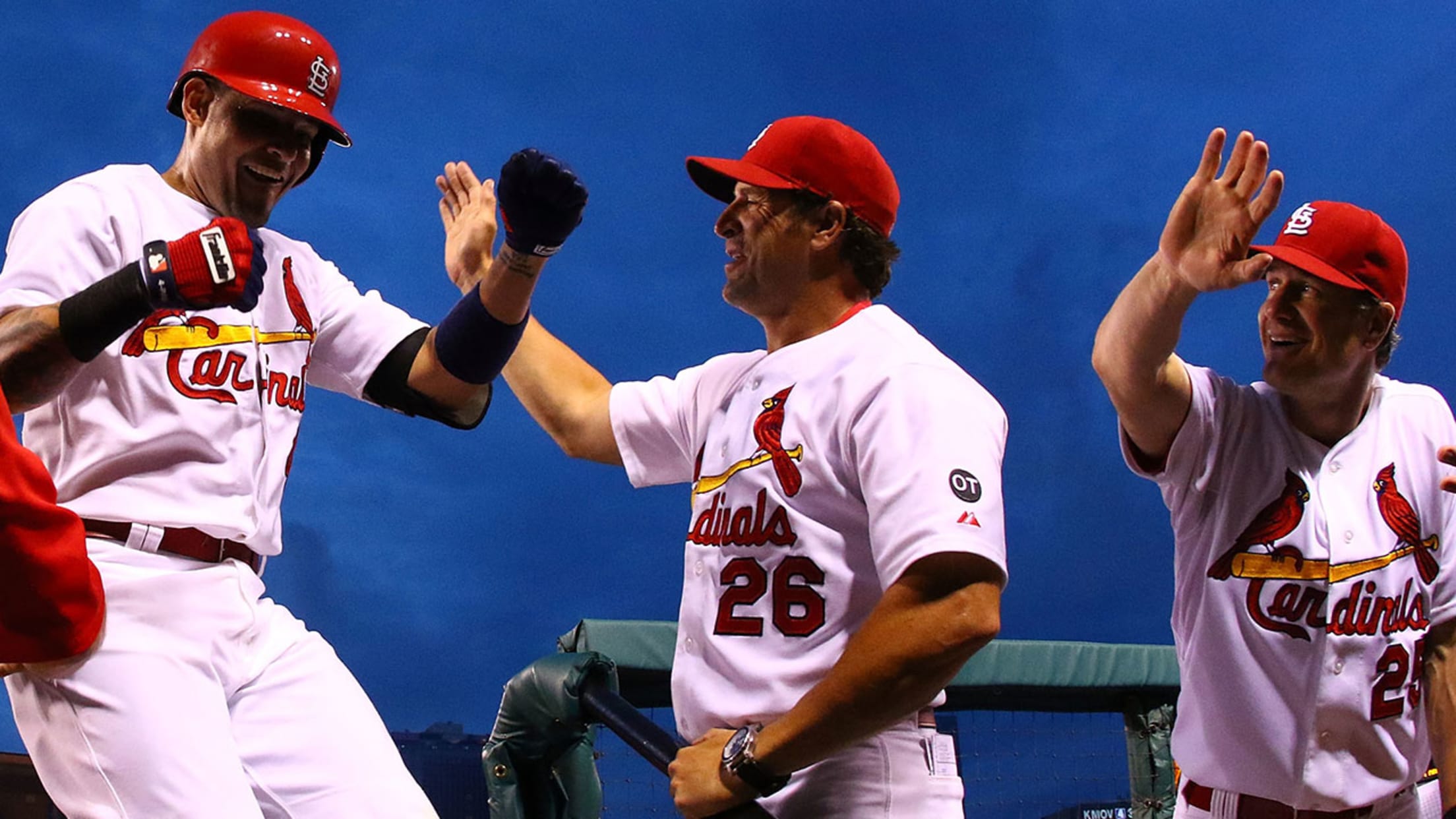 David Bell, far right, was the Cardinals' bench coach the past three seasons. He becomes the fourth member of the coaching staff to exit in 2017. (Dilip Vishwanat/Getty Images)
ST. LOUIS -- The Cardinals, who already have a search underway for a pitching coach and bullpen coach, will now also be looking to hire a new bench coach. After serving as Mike Matheny's bench coach for the past three seasons, David Bell has accepted the position of vice president
ST. LOUIS -- The Cardinals, who already have a search underway for a pitching coach and bullpen coach, will now also be looking to hire a new bench coach. After serving as Mike Matheny's bench coach for the past three seasons, David Bell has accepted the position of vice president of player development for the San Francisco Giants.
Bell joined Matheny's staff as an assistant hitting coach in 2014 and then moved into the bench coach role the following season. Bell, 45, came to St. Louis after spending one year as the Cubs' third-base coach. He began his coaching career in the Reds' minor league system.
As bench coach, Bell became a trusted voice in Matheny's ear and was also heavily involved in the structure and planning of Spring Training workouts.
Bell's 12-year playing career included one season with the Giants. He appeared in a career-high 154 games for San Francisco in 2002 and hit .304/.418/.429 during the Giants' run to the World Series. That season he received the Willie McCovey Award, which is given annually to a Giants' "most inspirational player."
The move out west will allow Bell to be closer to family.
"We are happy for him and thank him for his time here," president of baseball operations John Mozeliak said. "This is an exciting opportunity for him. We will try to address all our openings as quickly as possible."
The Cardinals had invited Bell back to serve as their bench coach in 2018. The next bench coach hired will be Matheny's third since becoming the club's manager in '12. Mike Aldrete, now a member of the A's coaching staff, held the position during the first three years of Matheny's tenure.
Bell becomes the fourth member of the big-league coaching staff to depart in 2017. Third-base coach Chris Maloney was relieved of his duties midseason. A day after the season ended, pitching coach Derek Lilliquist and bullpen coach Blaise Ilsley were informed that their contracts would not be renewed.
The Cardinals' search to replace Lilliquist and Ilsley began earlier this month, and interviews are ongoing. The organization is considering internal and external candidates for both positions. According to one source, Mozeliak was scheduled to meet with former Rays pitching coach Jim Hickey in Florida this week.
Tampa Bay parted ways with Hickey earlier this month, ending Hickey's 11-year run as the Rays' pitching coach. Hickey had previously served as pitching coach for the Astros.
Mozeliak has said that the club is specifically interested in hiring a pitching coach willing to utilize advanced metrics and data compiled by the baseball operations staff. In describing the ideal candidate, Mozeliak said it would be someone who can "understand modern strategy, modern analytics and how we can leverage that to optimize our staff."