Wood comes undone as Reds' 'pen struggles
Right-hander allows four to reach base, recording no outs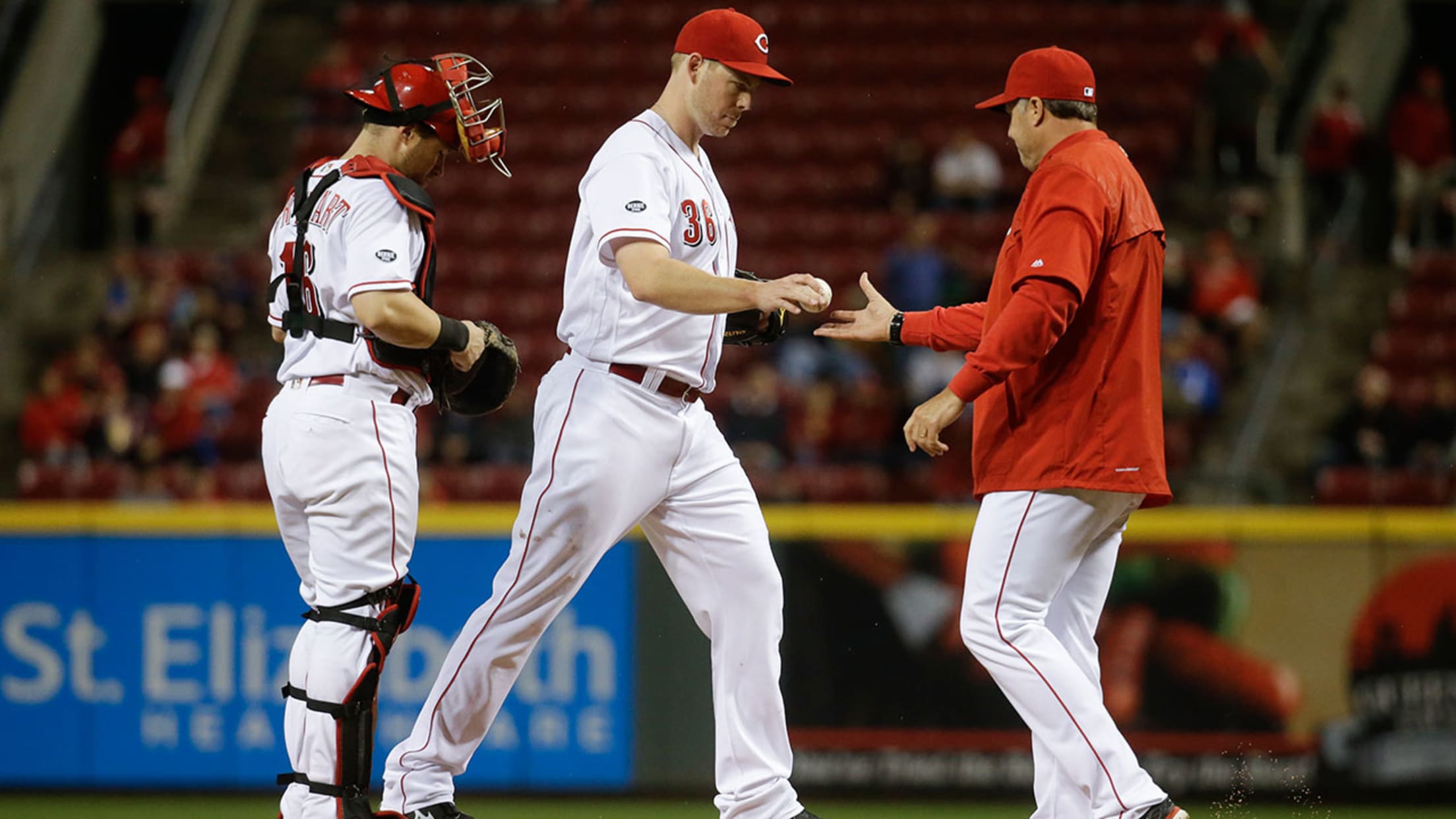 Reds reliever Blake Wood faces four Mariners batters, allowing all of them to reach base during Friday night's 8-3 loss. (AP)
CINCINNATI -- As irritated as Reds fans have become about the state of the team's bullpen, it doesn't compare to manager Bryan Price's level of frustration. No matter what combination of relievers Price uses, it backfires, just as it did in Friday's 8-3 loss to the Mariners."We had to get
CINCINNATI -- As irritated as Reds fans have become about the state of the team's bullpen, it doesn't compare to manager Bryan Price's level of frustration. No matter what combination of relievers Price uses, it backfires, just as it did in Friday's 8-3 loss to the Mariners.
"We had to get nine outs and just found it was very, very challenging to get there," Price said. "Well, it was impossible. We didn't get there today."
Dan Straily threw six innings -- the rotation's first start of that length since May 11 -- of one-run baseball, exiting the game with a 3-1 lead. But four relievers combined to give up seven earned runs for the bullpen's Major League-leading 14th loss.
"I keep saying it and I get sick of hearing myself talk about these types of games," Price said. "It's the same game. ... I don't want to hear how hard people are working. I want to see some results or I want to see some change, one of the two."
About 24 hours earlier, Price sang the praises of Blake Wood. The reliever, who stood out with a nice month of May to that point, threw 10 pitches in a loss vs. the Indians during a perfect ninth inning.
Taking over for Straily, Wood faced four Mariners and retired none of them while allowing two singles and two walks.
"That's what is completely baffling," Wood said. "I can go from a night like last night where you feel like you're in complete control and dominate those guys to a night like tonight, which was probably the worst outing I've ever had -- at least in the big leagues for sure. It's unbelievably frustrating. I'm sure Bryan is shaking his head kind of like I am, just wondering how it can go from what I featured last night to tonight."
Wood, who came in with a 1.74 ERA in 10 appearances for the month, saw his overall ERA jump from 3.10 to 4.87 in one night.
Tony Cingrani relieved Wood and hit his first batter, Robinson Cano, and forced home the tying run. Two more runs followed through a single by Dae-Ho Lee, before JC Ramirez allowed a run in the eighth inning and the Mariners hit two homers in the ninth off Jumbo Diaz.
"It's too much work to try to find the magic potion to finish a game through nine innings. There's no magic potion," Price said. "We have to pitch better, or we've got to find better."
Despite Straily's effort, Reds relievers are among the most used in baseball with 155 2/3 innings. With 22 appearances each, Wood and Cingrani are tied for second-most games in the Majors. Caleb Cotham is tied for fourth at 20.
Wood pitched on zero days rest for the seventh time and has worked nine times with one game off. On Wednesday, the right-hander threw 37 pitches. Cingrani did not pitch Thursday but threw 33 pitches on Tuesday and 26 on Wednesday.
It's become a vicious cycle, as the Reds' bullpen owns a 6.76 ERA, 36 homers allowed, 91 walks -- all highest in baseball.
"I don't think anybody down there would use it as a reason for why we haven't performed the way we think we're capable of," Wood said. "Whenever you're called upon to pitch, you've got to find a way to get it done. Tonight, I just didn't get the job done."