Blue Jays instructor Raines gets HOF nod
Clemens, McGriff, Kent see votes increase in 2017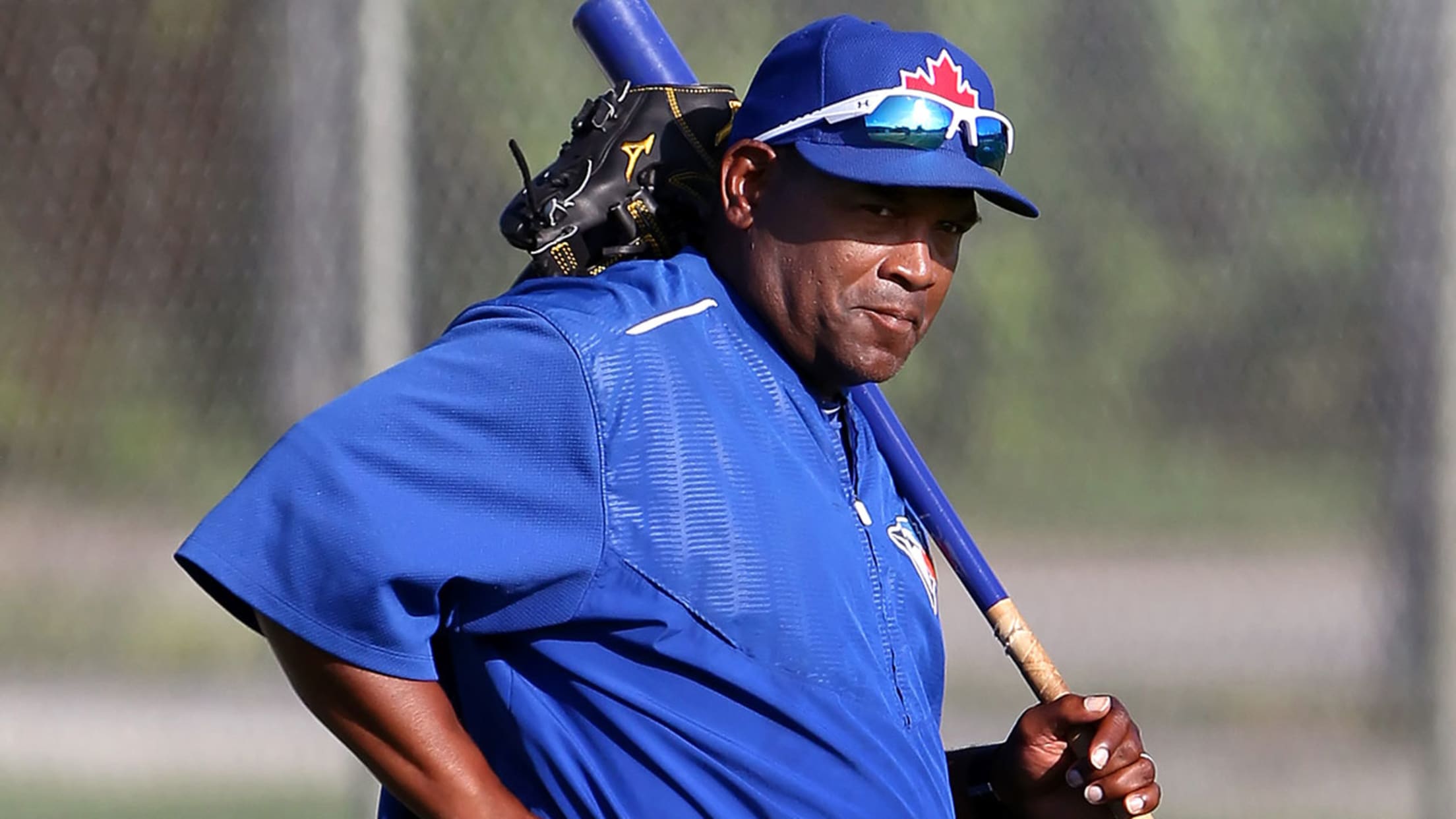 Blue Jays Minor League instructor Tim Raines spent the first 13 years of his MLB career in Canada with the Expos. (AP)
TORONTO -- Blue Jays Minor League instructor and longtime Expos outfielder Tim Raines is heading to the Baseball Hall of Fame.Raines received 86 percent of the vote in his 10th and final year of eligibility for induction into Cooperstown. Former Blue Jays Roger Clemens (54.1), Fred McGriff (21.7) and Jeff
TORONTO -- Blue Jays Minor League instructor and longtime Expos outfielder Tim Raines is heading to the Baseball Hall of Fame.
Raines received 86 percent of the vote in his 10th and final year of eligibility for induction into Cooperstown. Former Blue Jays Roger Clemens (54.1), Fred McGriff (21.7) and Jeff Kent (16.7) did not hit the 75-percent requirement to gain entry.
• Complete Hall of Fame coverage
Joining Raines in the Class of 2017 are former Astros slugger Jeff Bagwell and Rangers catcher Ivan Rodriguez. It marked the fourth consecutive year that the eligible voters from the Baseball Writers' Association of America voted at least two players into the Hall in the same year.
:: 2017 Hall of Fame election results ::
"I was pretty happy about what happened last year, that was the most positive thinking that I had over the years," Raines said on MLB Network when asked about his long wait. "I knew that I was in striking distance. There was a big jump from 55 to almost 70. The momentum would take me into this year, I felt like I had a legitimate chance.
"This was probably the first year that I lost sleep, when you know it's your last year, I knew I was 23 votes away, I was hoping that all the guys who voted for me last year would continue to vote for me and I could get the extra votes ... I'm a happy man. ... I'm not even thinking about what happened the last nine years."
Bagwell, Raines and Rodriguez will be honoured during the Hall's Induction Weekend from July 28-31 alongside Commissioner Emeritus Bud Selig and former executive John Schuerholz, who were elected in December by the Today's Game Era Committee. Joining that group are the late Bill King, the Ford C. Frick Award winner for broadcasting, and Claire Smith, the J.G. Taylor Spink Award winner for writing.
Raines has spent the last several years as Toronto's roving outfielder and baserunning coordinator. He works with the big league club during Spring Training and has spent a lot of time with the Blue Jays' up-and-coming prospects at various levels of the Minors. Of course, it's Raines' playing career that's being honoured, and that's also something Canadian baseball fans are very familiar with.
"On behalf of the entire Toronto Blue Jays organization, it gives me great pleasure to congratulate Tim Raines on his election today into the National Baseball Hall of Fame," Blue Jays president Mark Shapiro said in a statement.
"This is a justly deserved recognition for an outstanding career. As one of the greatest leadoff hitters to ever play the game we are proud to have Tim teaching our young Blue Jays the finer points of our great game. Within our organization he is widely recognized for his passion and love of the game and his dedication to developing our players."
Raines spent the first 13 years of his 23-year career in Montreal. He is the only player in big league history with at least 100 triples, 150 home runs and 600 stolen bases. Raines is also the only player to reach at least 70 stolen bases in six consecutive seasons and firmly supplanted himself as one of the game's best leadoff men in history.
The 57-year-old's vote total had been increasing each year, but this was his final shot at gaining entry through voting by the BBWAA. Raines' bid for the Hall of Fame has received quite a bit of attention north of the border and even prompted a member of parliament to urge voters to support Raines during the House of Commons in November.
"When I heard about that, it blew my mind, because I didn't think it would get that far," Raines said. "I'm sure it probably didn't have anything to do with the voting this year, but being a part of Montreal for 13 years and seeing the support that Montreal fans and the country of [Canada] have given me, is nothing but unbelievable. To know now that I am in the Hall of Fame, there's going to be a lot of proud people in Canada."
Clemens, McGriff and Kent did not receive enough votes to gain entry into the Hall, but they did receive enough to remain on the ballot for at least another year. Clemens saw his vote total rise from 45.2 percent to 54.1, McGriff went from 20.9 to 21.7 and Kent went from 16.6 to 16.7. Matt Stairs did not receive the required five percent of the vote to remain on the ballot for another year.
"I was very happy today to hear that Tim Raines was elected to the Hall of Fame," Blue Jays Hall of Famer Roberto Alomar said. "For many years I respected his game from across the diamond but now, with us both working for the Blue Jays, I am fortunate to know the man as well. Congratulations to Tim and the other inductees today and welcome to the club!"