Rave reviews: Blue Jays excited about infield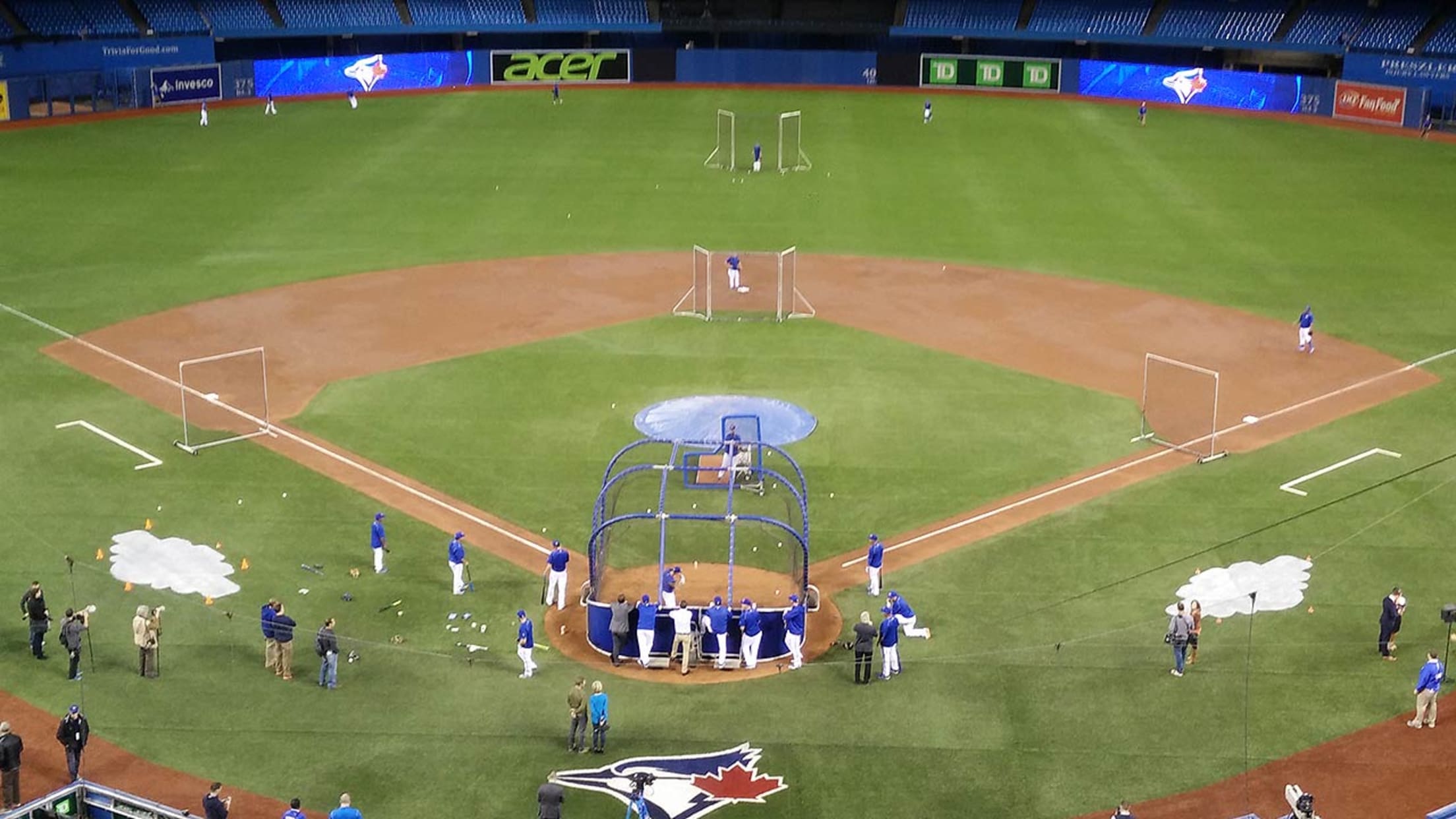 The Blue Jays get familiar with their new infield during Thursday's off-day workout. (Alykhan Ravjiani Photo)
TORONTO -- Thursday's team workout provided Blue Jays players their first opportunity to test out the newly installed dirt infield ahead of their home opener Friday against the Red Sox.The infield, which is a combination of clay, sand and silt, was installed during the offseason and required excavating parts of
TORONTO -- Thursday's team workout provided Blue Jays players their first opportunity to test out the newly installed dirt infield ahead of their home opener Friday against the Red Sox.
The infield, which is a combination of clay, sand and silt, was installed during the offseason and required excavating parts of the cement floor. A major stepping-stone in the process was the Canadian Football League's Toronto Argonauts moving to BMO Field for the 2016 season.
Removing football from the equation allowed the Blue Jays to install the dirt infield on a permanent basis for the season.
"Just an incredible job by the grounds crew and conversion crew here; it's exciting to see," president Mark Shapiro told the media on Thursday.
"It looks like baseball. I'm more excited to see some ground balls hit on it and see our guys make it out there and see how it plays, but it looks incredible."
Not only does the infield provide an increased measure of aesthetics, the hope is that it will also help reduce the bumps and bruises that come with the rigors of the season and provide a more natural bounce that is customary among outdoor stadiums.
"Normally we play on dirt, so it's something we're used to," first baseman Justin Smoak said. "It's always been different coming back here, because you're on turf, so we've always had to make that adjustment. So now this should be easier, but we'll see how it goes."
The old infield was a regular topic of discussion last season, with balls hit on the turf slowing down. Blue Jays manager John Gibbons expects that to change after this latest installment, with a fine-tuning period tailored in between.
"It's definitely going to be a faster game," Gibbons said. "There's going to be more balls rolling through that didn't roll through last year, so that'll be an adjustment."
The Blue Jays will have ample opportunity to break in their new infield, with Friday marking the first game of a six-game homestand.