Broken thumb cancels Sparkman's 'pen hopes
Blue Jays' Rule 5 Draft pick won't be ready for Opening Day due to injury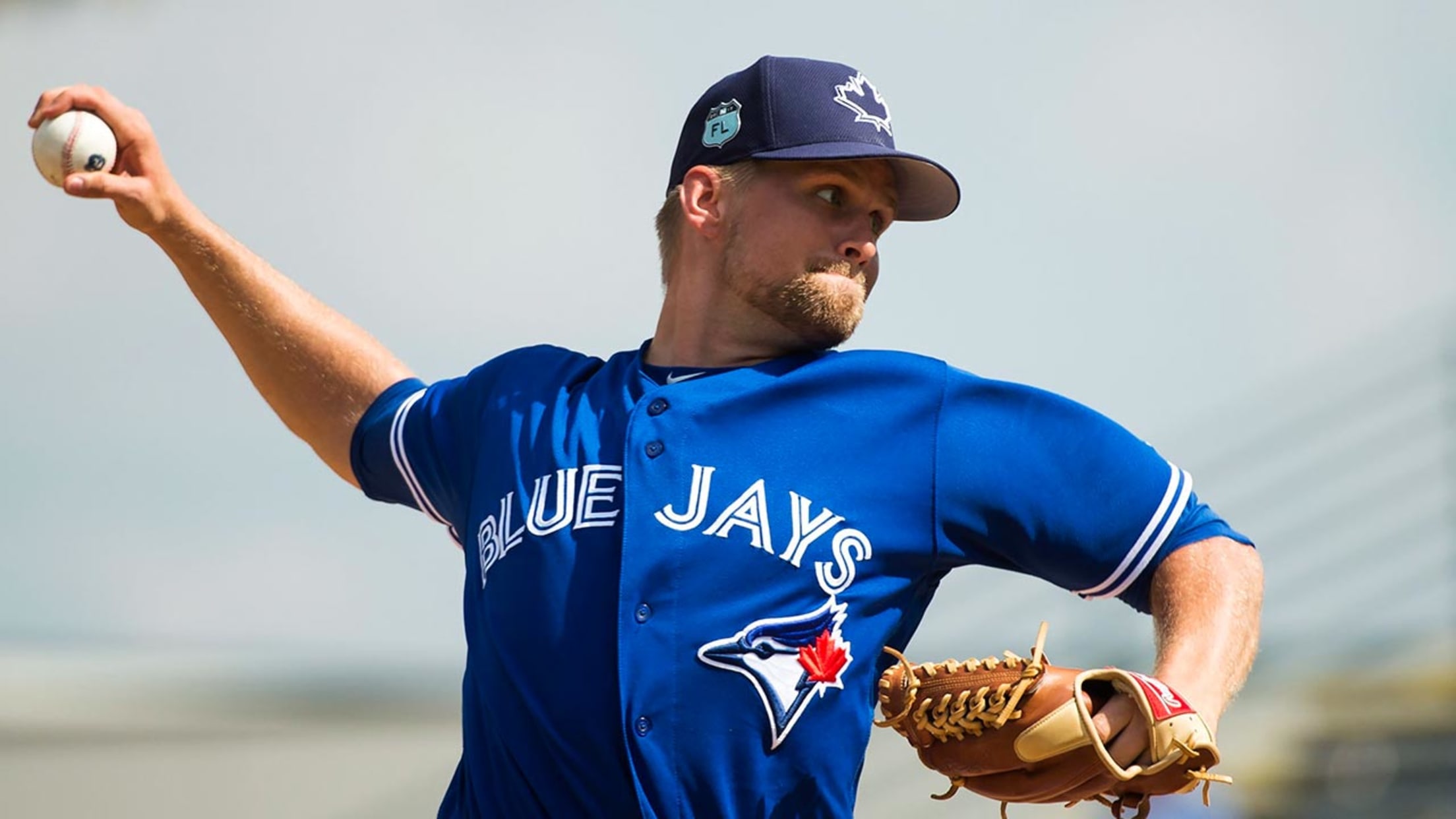 Glenn Sparkman broke his right thumb on Thursday morning. (Nathan Denette/The Canadian Press) (Nathan Denette/The Canadian Press)
Blue Jays right-hander Glenn Sparkman is out of the running for a spot in the club's bullpen after he broke his right thumb during pitchers' fielding practice on Thursday morning.Sparkman was scheduled to undergo further tests on Thursday afternoon before a timetable for his return could be established. The 24-year-old
Blue Jays right-hander Glenn Sparkman is out of the running for a spot in the club's bullpen after he broke his right thumb during pitchers' fielding practice on Thursday morning.
Sparkman was scheduled to undergo further tests on Thursday afternoon before a timetable for his return could be established. The 24-year-old was competing for one of two spots in Toronto's 'pen alongside a large group of candidates, including Mat Latos, Mike Bolsinger, Bo Schultz, Chris Smith, Aaron Loup and several others.
The injury is undeniably a personal blow to Sparkman, but there is some potential upside for the organization. Sparkman was recently taken in the Rule 5 Draft and per those rules, he had to make the 25-man roster or be offered back to the Royals for $50,000. Exceptions are made for players on the disabled list, and at the very least, this buys Toronto more time to determine his future in the organization.
Sparkman was considered a bit of a dark-horse candidate for the bullpen. The vast majority of his Minor League experience came as a starting pitcher, but the club was intrigued about how his mid-90s velocity would play in shorter stints. Sparkman was going to get a long look this spring and he'll eventually get that chance to audition, but he won't be ready for Opening Day.
Travis' knee still an issue
Manager John Gibbons said he's hopeful that Devon Travis will be ready for Opening Day, but the bone bruise in Travis' right knee continues to be an issue.
Travis has yet to play in a game this spring. He had offseason surgery to remove a small flap of cartilage from the same knee.
"He's moving around, he's doing his drills," Gibbons said. "I mean, there's still some limitations on him, but I see progress. I can't tell you when he will get into a game."
Travis hit .300 with 11 home runs and 50 RBIs last season. He struggled to stay in the lineup during the postseason due to knee problems.
Gibbons said if Travis can get back to full health, he has high hopes for the 26-year-old.
"He's the kind of player that if he can string some seasons together where he plays every day, he can be one of the better players in the league," Gibbons said. "He can hit, I think he's better defensively than when we first got him. But he can hit for power and drive in some runs. He's just got to stay on the field."
Donaldson continues to improve
Third baseman Josh Donaldson fielded ground balls Wednesday as he continues to recover from a right calf strain he sustained Feb. 17.
Donaldson took live batting practice on Tuesday and hit in the batting cages Wednesday.
"He's starting to move around naturally," Gibbons said. "When he'll play, I couldn't tell you."