Atkins addresses injuries, struggling Stroman
Blue Jays GM participates in Jays Care Golf Classic during off-day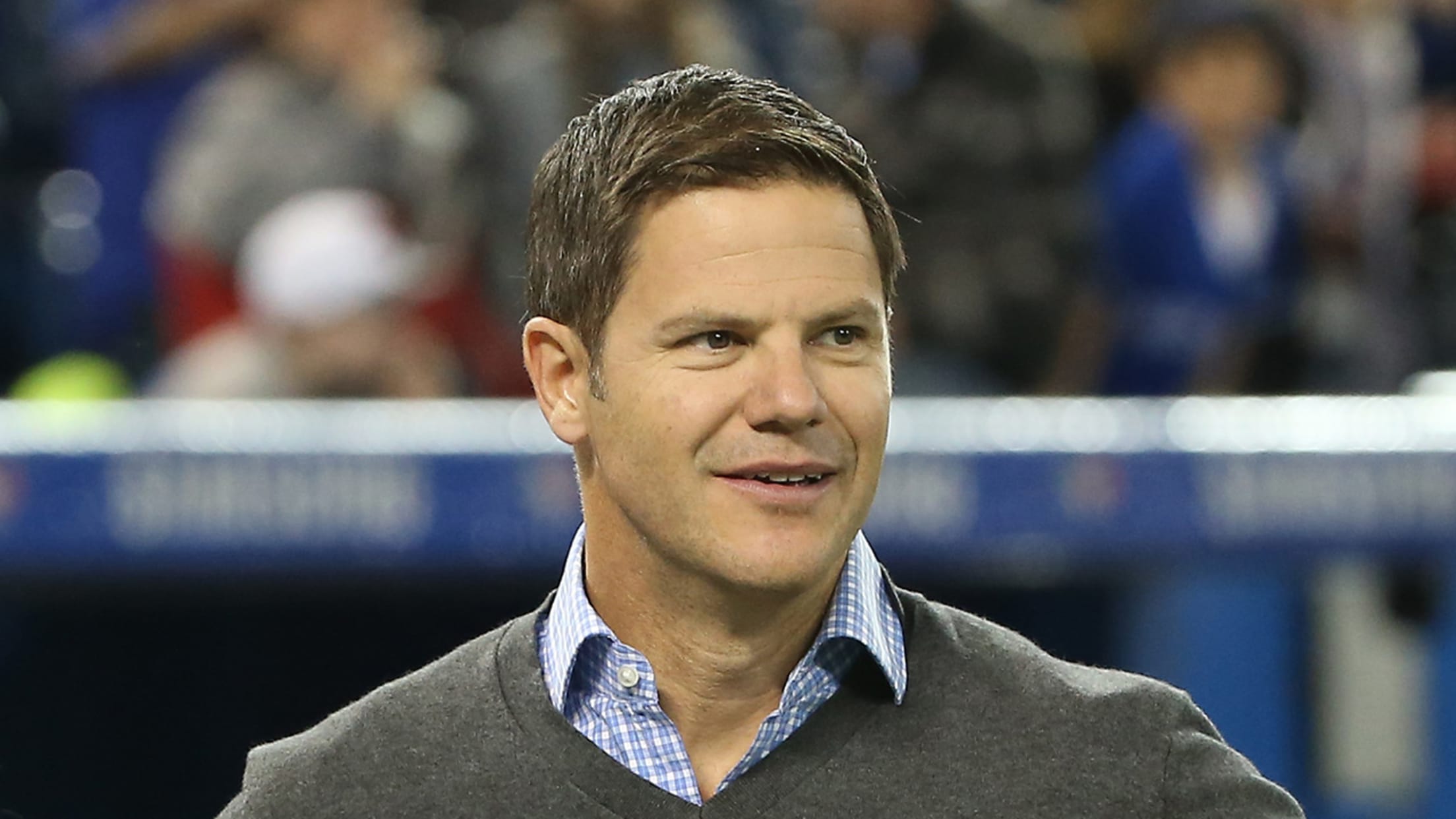 GM Ross Atkins spoke about the team at the Jays Care Golf Classic. (Tom Szczerbowski/Getty) (Tom Szczerbowski/Getty)
TORONTO -- Blue Jays general manager Ross Atkins participated in the annual Jays Care Golf Classic at RattleSnake Point Golf Club on Monday and spoke on a number of topics regarding the team's season.After a stretch of 17 games in as many days, Monday was the Blue Jays' first of
TORONTO -- Blue Jays general manager Ross Atkins participated in the annual Jays Care Golf Classic at RattleSnake Point Golf Club on Monday and spoke on a number of topics regarding the team's season.
After a stretch of 17 games in as many days, Monday was the Blue Jays' first of two off-days this week before they embark on a stretch of 19 games in 20 days leading up to the All-Star break -- the unofficial end of the first half of the season.
Atkins spoke about the club's areas of need and where Toronto will look to upgrade. The first-year GM provided updates on the status of a couple of injured Blue Jays, while also addressing the recent struggles of starter Marcus Stroman (1-2, 7.89 ERA in June), the eventual transition of Aaron Sanchez (7-1, 3.35 ERA) to the bullpen and Atkins' own personal experience with the Jays Care Foundation.
The Blue Jays have won 17 of their past 25 games heading into Tuesday's two-game series against the D-backs, and they sit a half-game back of the second American League Wild Card spot.
MLB.com: What is the importance of days like today and an event like the Jays Care Golf Classic?
Atkins: It's huge. I think often times we can lose sight of the fact that this is a very competitive industry. Guys every day are waking up with not much sleep or anxiety over wins and losses, over individual performances, and the more you step back and realize that we're playing a game for a living and are ultimately in the entertainment business, anything we can do to make the community better and be more involved in it is definitely a good initiative.
• Learn more about the Jays Care Foundation
It's also a good reminder that there are much more important things in life than baseball. Having said that, I've been on the phone all morning thinking of how we're going to get our team better, about how we're going to make sure we get over the hump and put ourselves in the best position to have a great rest of the season.
MLB.com: What have you learned about the Jays Care Foundation since you've come to Toronto?
Atkins: I think it's probably elite in Major League Baseball for sure. Having been around one other organization, but hearing about multiple others, I think what people aspire to do in professional sports is actually occurring here in Toronto, and Jays Care is a phenomenal example of what it means to involve yourself as a professional baseball team in the community.
MLB.com: As teams head toward the Trade Deadline, what area will the Blue Jays look to improve?
Atkins: I think the reality of it is that we have a very good team which has slightly underperformed and that has started to play a lot better in recent weeks. I think once we get fully healthy and Jose Bautista [15-day DL, left big toe] comes back, [Troy Tulowitzki's] now back in the fold, Brett Cecil [15-day DL, torn lat muscle], maybe Franklin Morales [60-day DL, left shoulder fatigue] is healthy as well, I can't imagine making better acquisitions than those.
Having said that, I don't expect us to stay 100 percent healthy, so we'll have to stay agile and as we've said all along, pitching will be the area that we look to improve.
MLB.com: What is the latest on Bautista and Cecil?
Atkins: I think we'll know more with Jose later today, maybe tomorrow, but we'll get as much information as we can to make sure that he puts his best foot forward. Really, it's more about making sure that we put him in the best situation not only for today, but for his career.
Brett Cecil's thrown in live baseball action already. He's going to be seeing action with the [Class A Advanced] Dunedin team here soon. He's been there, he's done it. I think if he's back to full health, I can't imagine making a better midseason acquisition than adding him to our bullpen.
MLB.com: Is there any concern about the recent struggles of Stroman?
Atkins: We've been trying to do everything we can to help him. He's actually made the adjustments we've asked him to make as a staff and we're looking for every opportunity to maximize his athleticism and his feel to pitch, and he has given it every effort. We're hopeful that he's seeing some really hot lineups and things will correct a bit, but I don't doubt him and his desire and effort to improve. I don't think anyone does.
MLB.com: What are some of those adjustments you asked Marcus to make?
Atkins: Really, it's just looking at ways to adjust his usage. His stuff is very similar, so we've looked at different ways that he could be more innovative with his pitch usage and how he's attacking hitters. I feel like we failed him in that we haven't been able to find that right niche for him, because the stuff is there, the athleticism is there, the competitiveness is there and I think it will correct.
MLB.com: What is the latest on Sanchez going to the bullpen?
Atkins: I think often times in the industry, people will follow norms that obviously can be informative, but we have to make sure we individualize it and are working off the information that Aaron and the league and offenses that are playing against him are giving us. So, how he's feeling, how he's performing objectively and subjectively; not necessarily the results, but in terms of release point, in terms of velocity and spin rate. As we see those things potentially changing, then we'll start to consider what the best thing is for him. This is an easy one for the most part, because he has a chance to really be a game-changing starter for the rest of his career and we wouldn't want to impact that in a negative way.