Inbox: Who are Blue Jays' sleeper prospects?
Beat reporter Gregor Chisholm answers fans' questions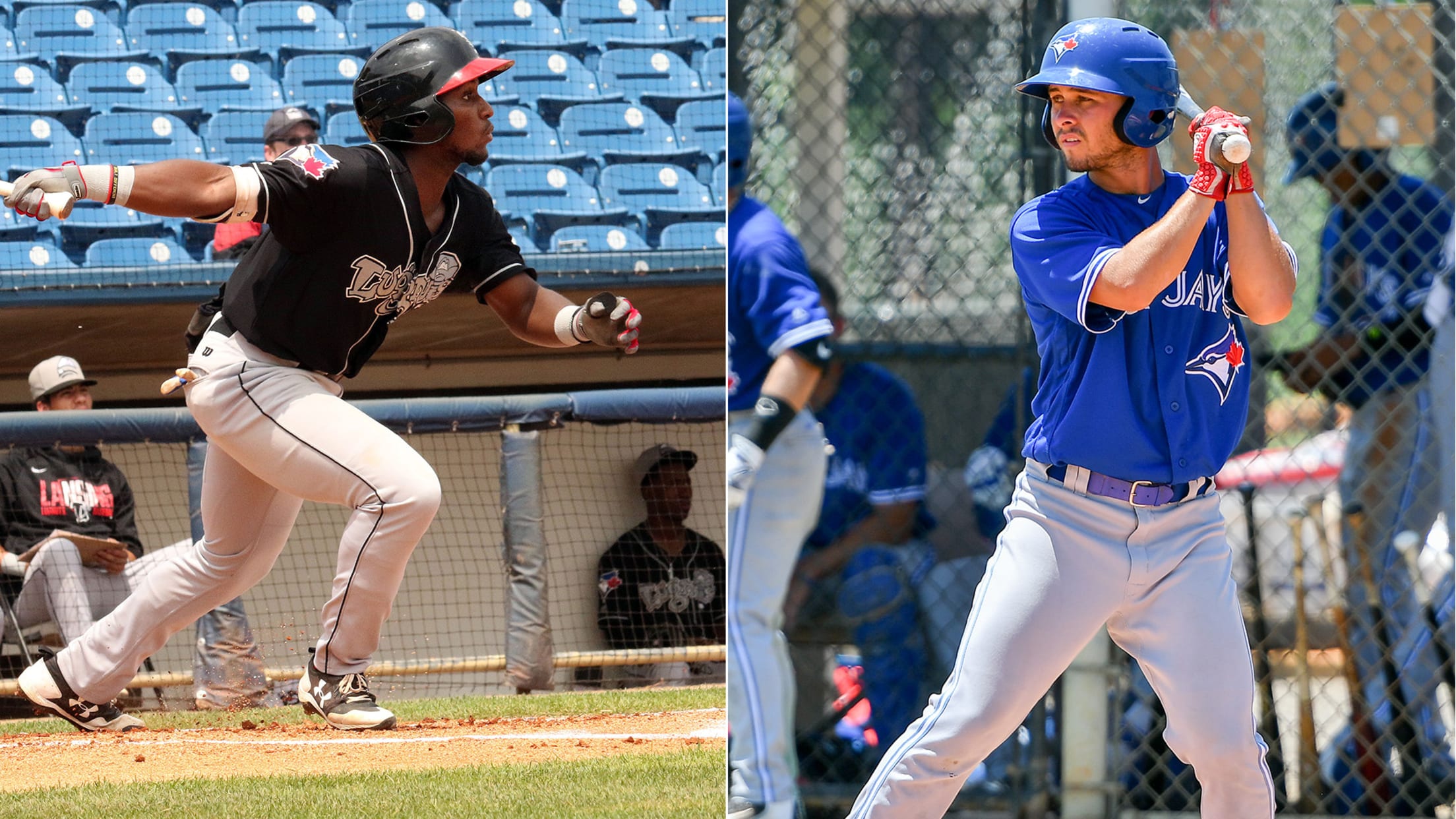 Hardcore Jays fans like myself are well aware of the best prospects in the pipeline, like Vladimir Guerrero Jr., Bo Bichette, Cavan Biggio and Nate Pearson, but who might be the breakout candidates from among the rest of the pack? -- David G., Toronto, @accfantoTwo outfielders not ranked in MLB
Hardcore Jays fans like myself are well aware of the best prospects in the pipeline, like Vladimir Guerrero Jr., Bo Bichette, Cavan Biggio and Nate Pearson, but who might be the breakout candidates from among the rest of the pack?
-- David G., Toronto, @accfanto
Two outfielders not ranked in MLB Pipeline's list of the Blue Jays' Top 30 Prospects come to mind: Cal Stevenson and Chavez Young.
Stevenson was taken in the 10th round of last year's MLB Draft and made quite the debut by hitting .369/.511/.523 across 59 games in Rookie ball. Stevenson will get his first full-season assignment this year, and if his on-base percentage remains strong, he should move into the Top 30 by this time next year. Young already has a season at Class A Lansing under his belt, and he should advance to Dunedin, where a breakout season would have a similar result on his ranking.
:: Submit a question to the Blue Jays Inbox ::
Pipeline's No. 11-ranked Hector Perez has received more attention, but internally the expectations might be even higher. While a lot of talk has centered on Perez becoming a reliever, the Blue Jays think he can make it as a starter. If there's a weakness in Toronto's system, it's on the mound, and Perez is the type of prospect the Blue Jays need to pan out if they're going to complement a group of high-ceiling position players. Long-term, Eric Pardinho is my pick to headline this next wave of prospects.
We all say that Vlad Jr.'s bat is ready for the big leagues, but what about his defense? If he starts playing and having issues on defense, will that impact his offensive production like we saw with Teoscar Hernández?
-- Dominic P., Chambly, Quebec
It feels almost natural to pick apart a young player's game. Focus on his strengths, point out his weaknesses. People do it all the time. Guerrero is so good offensively, his glove is one of the only things that can be criticized, and sometimes that means it gets pointed out a bit too much.
Everything I've seen from Guerrero suggests he'll be fine at third. Is he going to win a Gold Glove there at some point? I highly doubt it, but his hands and range should be passable as he transitions to the big league level. As Guerrero continues to grow, he may eventually need to transition to first base, but third should remain his home for the foreseeable future. If it becomes a problem later on, Toronto will adjust.
If the Blue Jays trade Justin Smoak, who will be the new first basemen? Rowdy Tellez? How will Joe Biagini do this season, and what do you think will happen if he doesn't live up to expectations?
-- Brooke N., @BrookeNaismith_
If the Blue Jays trade Smoak, Tellez would become the starter. Whether the No. 29 prospect would be taking over on a short- or long-term basis depends entirely on how he performs this season. Tellez finished 2018 strong as a September callup, but it's worth noting that prior to that, he was limited to a .765 OPS in the Minors, so he doesn't have any guarantees.
It's safe to say Biagini's days as a starter are over. Toronto spent parts of the past two seasons experimenting with Biagini in the rotation, and the move didn't pan out. The 28-year-old will have to win a job this spring, but there's a good chance he will open the year in the 'pen. Biagini does have options remaining, so being sent to Triple-A Buffalo is another possibility if the struggles continue.
Can you expand on your thoughts on the shortstop situation? Do you really think Freddy Galvis is the likely starter with Lourdes Gurriel Jr. serving as a super-sub? It is hard to imagine they wouldn't give Gurriel at least half of a season to see if he can cut it, since he has the most upside.
-- Terry C., @tcain47
Gurriel is going to be an everyday player, and when it's all said and done, more than half his games will probably come at shortstop, but I do expect the Blue Jays to move him all over the field. I think you'd be hard-pressed to call either Galvis or Gurriel the starter at shortstop, because even though that's where the bulk of Gurriel's workload might happen, he's also going to start some games at third, second and possibly even a corner-outfield spot.
Typically teams want to find a permanent position for their young players. It helps them settle in and it keeps the focus on long-term growth. The Blue Jays have a different situation here, because by most accounts Bichette is the shortstop of the future. Add in Kevin Smith, and Toronto probably doesn't have much of a need for Gurriel at shortstop beyond this year. That's why it won't hurt to see how he plays at other positions, and having Galvis on the roster allows the Blue Jays to do that.
Isn't there some logic in the Jays pursuing Bryce Harper and front-loading a contract offer while they have the payroll flexibility the next couple of years? Part and parcel to that, couldn't Guerrero use some protection at the plate?
-- Seth P., Las Vegas
There would be logic in just about any team adding Harper, and the Blue Jays are no exception. Toronto's payroll has been north of $160 million during each of the past two seasons, and the early projection for 2019 has the club a lot closer to $110 million. At first glance there should be a lot of financial flexibility, but that doesn't mean any of this is even remotely realistic.
The Blue Jays, while vague on the specifics, are on record as saying payroll is going down. The club is currently in the process of rebuilding and, frankly, isn't in the market for players who are in Harper's class. The improvement will have to come internally from a new young core of players before those type of significant investments will be considered again.
I can't help but think Marwin Gonzalez is the perfect free-agent fit for Toronto as a rebuilding squad. His versatility and ability to fill holes through struggles would have to be a great asset. Thoughts?
-- Steve D., St. John's, Newfoundland
You're not the only one. Early in the offseason, a lot of critics pegged the Blue Jays as being a potential landing spot for Gonzalez. Since then, there hasn't really been anything linking Gonzalez to the only team north of the border.
The thing about Gonzalez is that his versatility wouldn't mean as much to the Blue Jays as it would to other teams. Toronto already has Brandon Drury, and possibly even Gurriel, without a set position. With a glut of infielders on this roster, it would limit the benefit of Gonzalez playing second, third and even short. If the price tag becomes affordable, perhaps this might change, but it's hard envision these two sides lining up.