Estrada grinds out five frames, despite balky back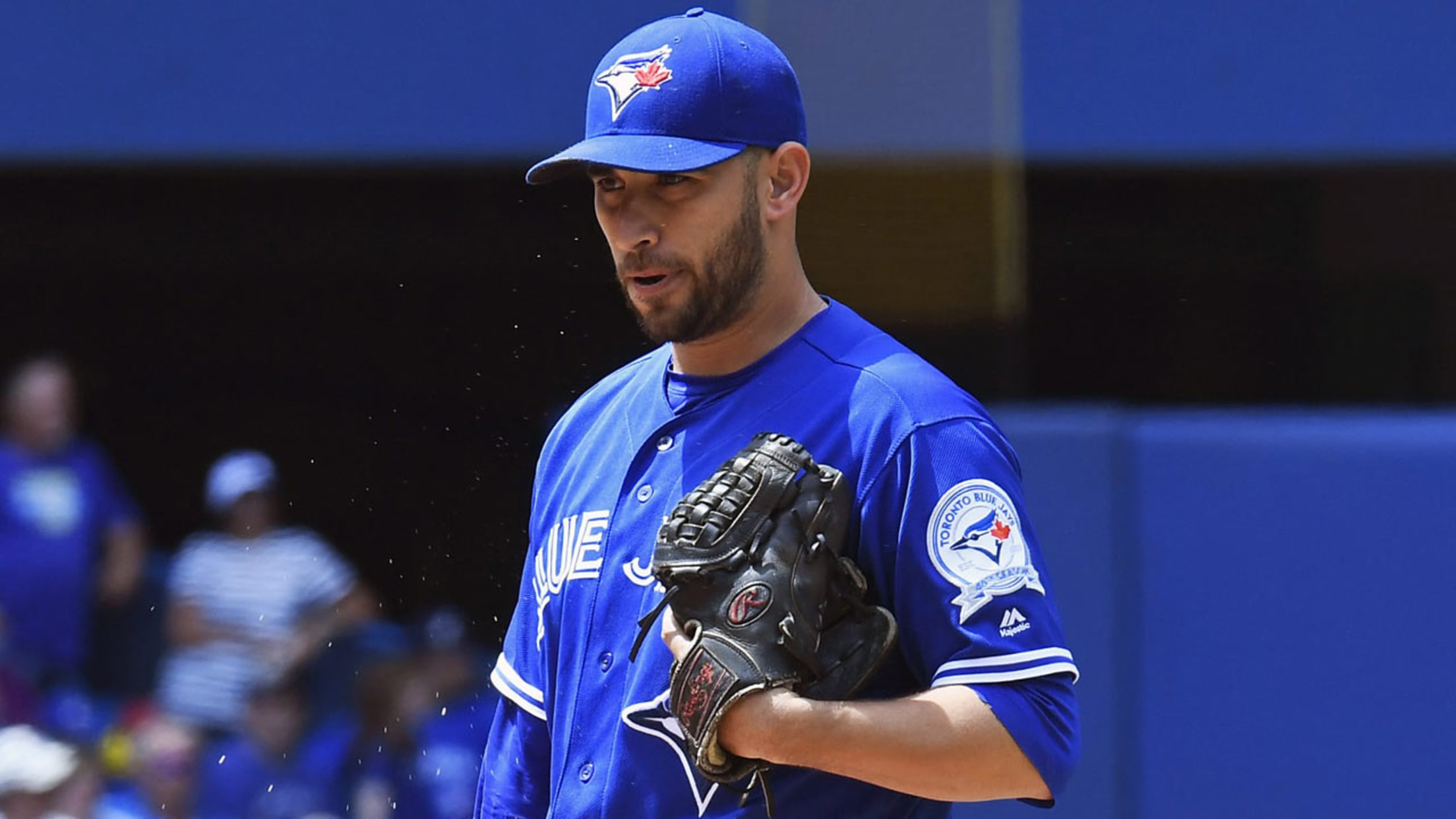 Marco Estrada gutted his way through five innings in Toronto's 9-6 win over Cleveland on Saturday. (AP)
TORONTO -- Marco Estrada gave the Blue Jays everything he had on Saturday afternoon. But he might not be able to keep doing that for much longer.Estrada has been dealing with a sore back for the last several weeks, and it became a pretty big issue against the Indians. His
TORONTO -- Marco Estrada gave the Blue Jays everything he had on Saturday afternoon. But he might not be able to keep doing that for much longer.
Estrada has been dealing with a sore back for the last several weeks, and it became a pretty big issue against the Indians. His velocity was down -- at times, he could barely bend over to pick up the baseball. But somehow, some way, Estrada still tossed five innings of three-run ball in Toronto's 9-6 victory.
Toronto desperately needed a decent outing from Estrada, after the club went through its entire bullpen in a 19-inning loss to Cleveland on Friday. If the situation had been different, it's possible Estrada never would have gone to the mound. But he somehow found a way to gut it out.
"I don't think it's a secret anymore," Estrada admitted after the game, when asked about his back. "I tried to hold it back as much as I could, but obviously I didn't feel very good today. It affected me, and I think my first pitch was at 82 mph.
"It was tough. It was a grind today, I was struggling. But I know the boys needed some innings, especially after the 19-inning game yesterday. I gave it all I had today. I know it wasn't much, but at least I got five innings and we pulled [out] the win."
Estrada said it's possible he'll need to undergo an MRI in the coming days to determine the exact nature of his injury. He believes it's the same issue that caused him problems during Spring Training, which can be traced to the sacroiliac joint at the bottom of his spine.
The 32-year-old described the issue as a sharp, stabbing pain in his lower back. There was no hiding the symptoms vs. Cleveland, as he walked around slowly and very upright. He had difficulty covering first base and frequently tried to stretch his back. But he never seemed to be able to get loose.
After his last start, Estrada admitted he was dealing with back problems. But the veteran was confident it would get better before his matchup with Cleveland. Unfortunately for Estrada and the Blue Jays, he was wrong.
"For some reason it did," Estrada said, when asked if his back pain got worse. "I don't know what I did between those starts, something aggravated it. It didn't feel great today.
"I think it will get better, I'll probably have an MRI or something done. I'm not really sure what's going to happen. I don't think it's anything too serious. [It's] something I had to deal with today, and hopefully it's completely gone by the next [start]."
The big question the Blue Jays must now answer is, what happens next? Right-hander Drew Hutchison was originally scheduled to be sent to the Minors after Saturday's game, but he will instead stick around until the club gets word on Estrada's status.
Estrada has just one scheduled outing before the All-Star break, which would happen on Thursday vs. Detroit. If he's unable to go, the wise move would be to skip his outing, let him rest through the break and come back strong in the second half.
"I'm not sure, it's something we're going to have to talk about," Estrada said, when asked if he would make his next start. "I don't know if I can do this again. If it hurts as much as it did today, I'm probably going to have to watch the next game. I'm hoping to make it, but we'll see."