'Pen fortified as Blue Jays recall Tepera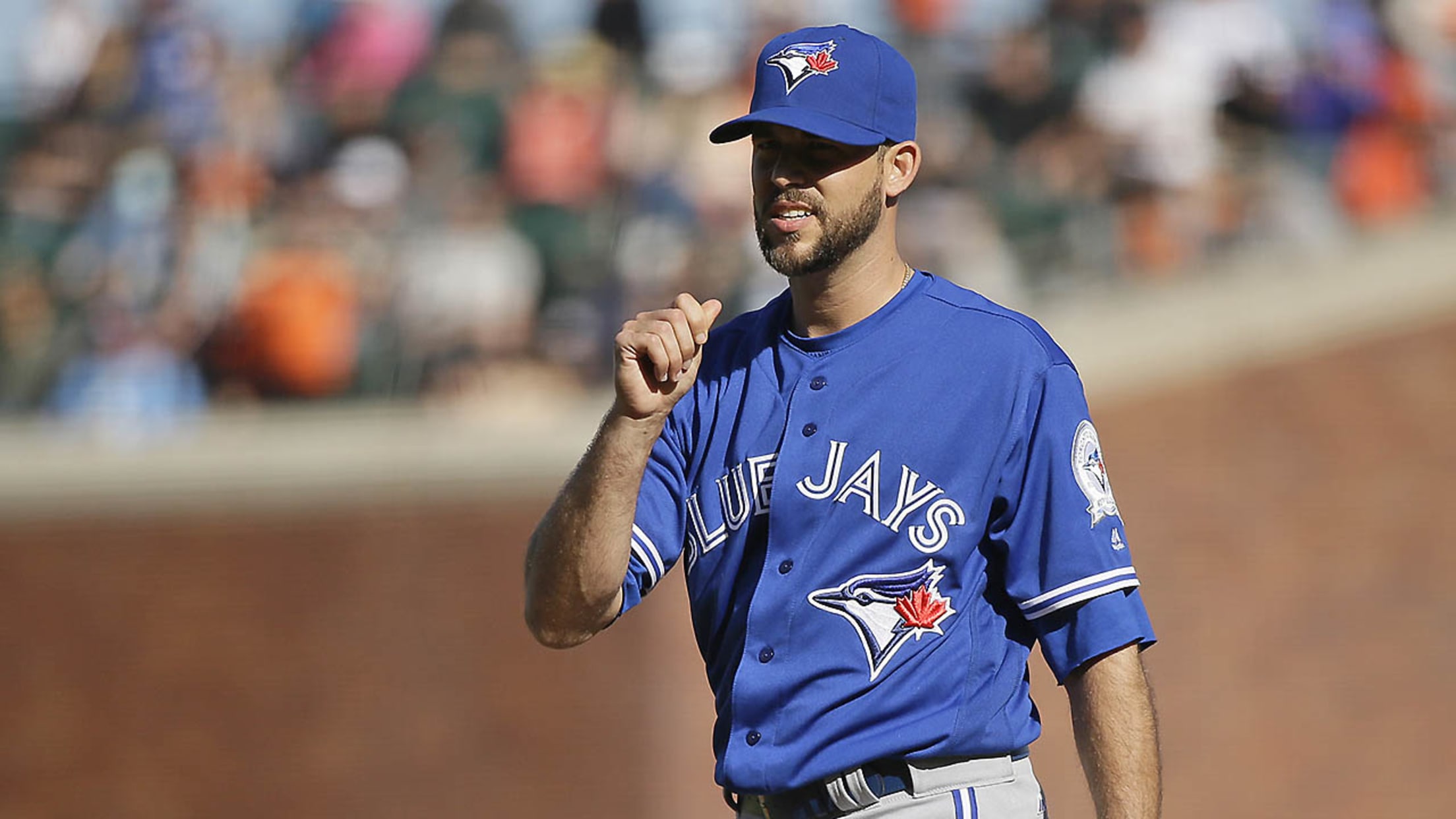 Ryan Tepera appeared in three games for the Blue Jays this season, with an 11.57 ERA in 2 1/3 innings. (AP) (Eric Risberg/AP)
TORONTO -- The Blue Jays recalled right-hander Ryan Tepera from Triple-A Buffalo on Monday afternoon and will temporarily carry eight relievers in their overworked bullpen, which was pushed to the limit during the weekend series against the Red Sox.Infielder/outfielder Jimmy Paredes was designated for assignment to make room for Tepera
TORONTO -- The Blue Jays recalled right-hander Ryan Tepera from Triple-A Buffalo on Monday afternoon and will temporarily carry eight relievers in their overworked bullpen, which was pushed to the limit during the weekend series against the Red Sox.
Infielder/outfielder Jimmy Paredes was designated for assignment to make room for Tepera on the 25-man roster. Paredes appeared in seven games and had four hits in 15 at-bats. He was primarily used as a pinch-hitter.
The 28-year-old Tepera made three appearances for the Blue Jays prior to his arrival on Monday night, allowing three runs on five hits and three walks over 2 1/3 innings in two stints with the club.
"[Tepera] hasn't performed with the kind of stuff that he has, but he's still feeling his way around a little bit," manager John Gibbons said. "We saw him really good early on last year, and then he hit a bit of a wall.
"He's been up and down a couple of times this year, but he has a better arm than most guys you're going to see in the league. I think right now it's a confidence thing, and a little success would do wonders for him."
Toronto relievers tossed 11 2/3 innings during the three-game series vs. Boston. Gavin Floyd, Jesse Chavez, Joe Biagini and closer Roberto Osuna were among those not expected to be available for the series opener vs. New York on Monday night.
The lack of available arms forced the club into making a roster move. In another scenario, infielder Ryan Goins likely would have been a candidate to be optioned to the Minors, but with Troy Tulowitzki on the 15-day disabled list, the club needed a backup to Darwin Barney at shortstop.
That meant the odd man out was Paredes. Defense is not considered Paredes' forte, but he did provide a solid bat off the bench, and he could enter a game late to pinch-hit for such players as Goins, Barney and Josh Thole.
"The thinking was, you need another guy who can play shortstop," Gibbons said of the roster move. "[Paredes] wasn't playing a lot. Maybe he gets through [waivers], maybe he doesn't."
Worth noting
• Second baseman Devon Travis was held out of the lineup on Monday night so he could receive some rest. He appeared in five consecutive games after being activated from the 15-day DL last week in New York.
"We wanted to give Travis a day today," Gibbons said. "He's coming back from the injury, so that was kind of in the works."
• Gibbons informed Goins earlier this week that the Blue Jays intend on using Barney quite regularly while Tulowitzki is on the DL. Goins began the season as the starting second baseman but eventually began losing time to Barney.
Barney entered play on Monday night hitting .321 with a .353 on-base percentage in 81 at-bats. By comparison, Goins was hitting just .151 with a .198 OBP. Travis has since claimed the starting job at second, but there is time to be had at shortstop, and most of the time, it will go to Barney.
"I told him, 'Hey, Barney has been swinging it. I'm going to ride him. Just stay ready and try to be productive when you get in there,'" Gibbons said. "He knows it, he understands that. Until he starts hitting, he can still impact a game with his glove, too."