Blue Jays set to hit road for Winter Tour
Sanchez, Estrada, Travis and Pillar are confirmed participants for annual event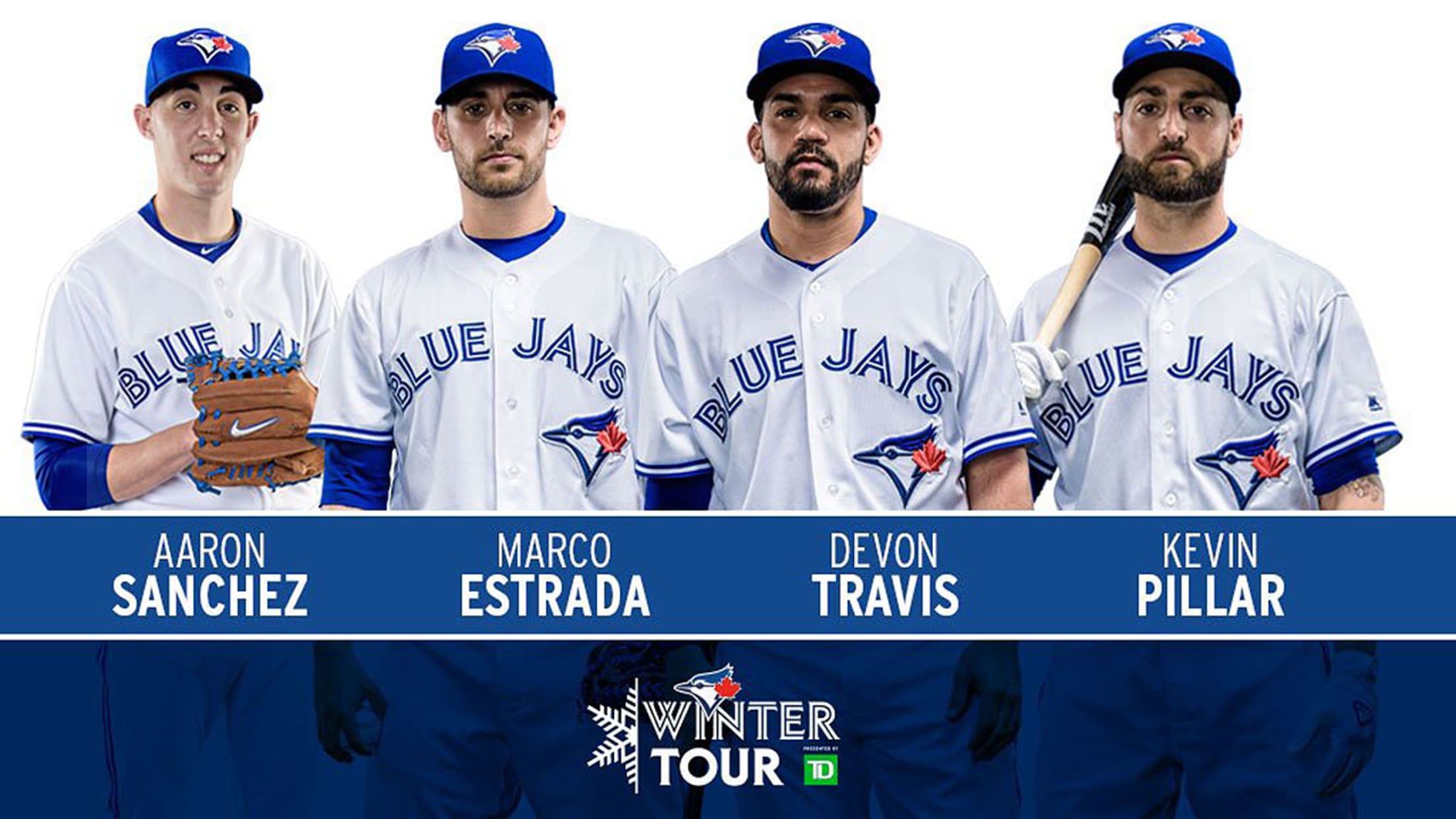 TORONTO -- The Blue Jays will be hitting the road later this month for the seventh annual Winter Tour, and this year's stops will include Edmonton, Regina and Toronto.Kevin Pillar, Devon Travis, Aaron Sanchez and Marco Estrada are among the confirmed participants for the western portion of the tour. The
TORONTO -- The Blue Jays will be hitting the road later this month for the seventh annual Winter Tour, and this year's stops will include Edmonton, Regina and Toronto.
Kevin Pillar, Devon Travis, Aaron Sanchez and Marco Estrada are among the confirmed participants for the western portion of the tour. The Blue Jays are expected to announce details of the Toronto segment in the coming days.
• Winter Tour info
The Winter Tour is the brainchild of former Blue Jays president Paul Beeston. It was based on the old caravan-style tour that Toronto did across the country during the 1980s, and each year, the team covers a different part of Canada.
"We have the best fans in the league," Pillar said. "No matter which ballpark we're in, you can always see and hear Blue Jays fans. They're everywhere. I love coming back for Winter Tour and meeting all of our fans who support us across Canada. We look forward to it every year."
The Winter Tour will officially begin in Regina, Saskatchewan, on Jan. 12. Members of the organization will spend two days in the city before traveling to Edmonton for another two-day stay from Jan. 13-14. After that, the club will return home from Jan. 20-22 to wrap up the annual event.
In Regina, the Blue Jays will host a Jays Care Foundation Challenger Baseball clinic with players from North Regina Little League on Jan. 12. The following day, Estrada, Pillar, Travis and Sanchez will be joined by Toronto's mascot ACE to visit with students and staff from the Albert Community School.
The Edmonton stop will include a visit to Stollery Children's Hospital and an appearance at the Calgary Flames and Edmonton Oilers hockey game. The Blue Jays have also scheduled a fan autograph session at Rogers Place for Jan. 13, but this will be a ticketed event. The ability to purchase tickets is determined by a random lottery that will open at 10 a.m. ET on Thursday and will close at 9:59 a.m. ET on Friday.
Each autograph session ticket is $10, and all proceeds will be donated to Jays Care Foundation. Winners of the lottery will be informed Friday via email and will then have until the following day to purchase their tickets. Additional information can be found at bluejays.com/wintertour.
In the Toronto leg of the tour, members from the organization will visit the Boys & Girls Club and Sunnybrook Veterans Centre on Jan. 20. They will also attend the Ottawa Senators and Toronto Maple Leafs hockey game on Jan. 21, and there will be an autograph session at Rogers Centre earlier that day, with details on ticketing to be announced on Monday.
The Winter Tour began in 2011 and has visited more than 20 Canadian cities over the past seven years. Some of the stops have included Fredericton, Halifax, St. John's, Ottawa, Montreal, Saskatoon, Winnipeg, Calgary, Edmonton and Vancouver.