No 'power shortages' from top prospect Conine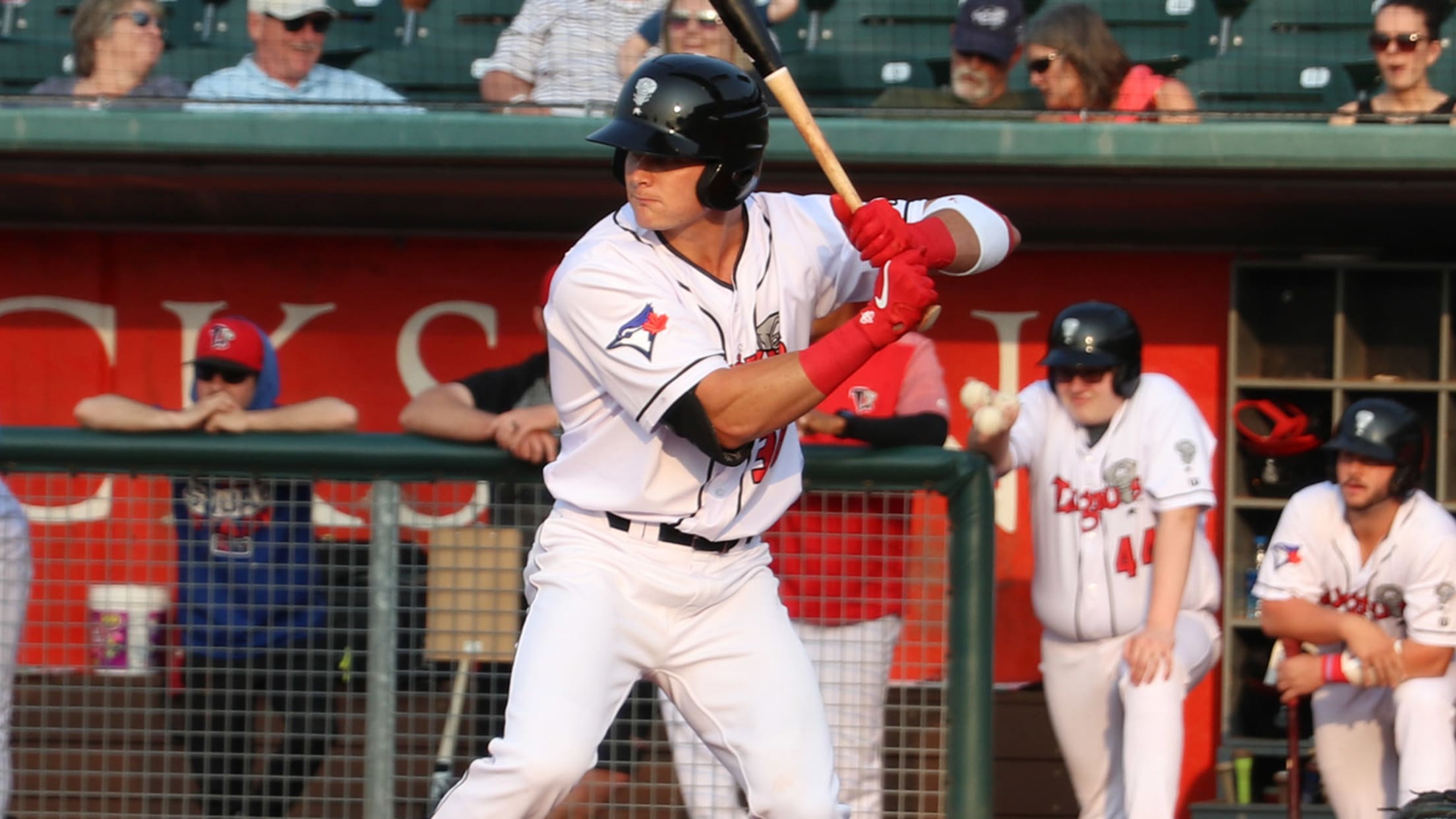 TORONTO -- Griffin Conine has been doing damage for the Lansing Lugnuts this season. But that's not all the Blue Jays' No. 15 prospect has done. While Conine's power has been on display in the Class A Midwest League, with 10 home runs, two triples, eight doubles and a .692
TORONTO -- Griffin Conine has been doing damage for the Lansing Lugnuts this season.
But that's not all the Blue Jays' No. 15 prospect has done. While Conine's power has been on display in the Class A Midwest League, with 10 home runs, two triples, eight doubles and a .692 slugging percentage in 32 games, he's dipped even further into his toolbox with the Lugnuts, also holding a .342 average and a .423 on-base percentage in his 120 at-bats.
"It's a [credit to] definitely working a lot in the offseason and also in extended spring training, working on making my swing shorter," Conine said. "It had gotten too long. I want to be the power guy, and a lot of times that makes me want to swing bigger, have a bigger swing, longer swing, and I was realizing I was really late on a lot of fastballs and pitches that I thought I should be hitting.
"I was working really hard to keep everything as short as possible and being able to put more balls in play the way I wanted to."
Moving toward a more compact swing was a little worrisome at first for the 2018 second-rounder, who thought it might take away from his power, but instead he learned the reverse to be true.
"In my head, I thought I had to have this big swing if I wanted to be able to hit balls far and then hard, and actually its kind of the opposite," Conine said. "The bigger the swing gets, the less I'm able to control the barrel and it falls off the end or I end up getting jammed.
"Being short allows me to consistently hit the ball where I want to on the bat, and the exit velo's been a lot better, and I still get the good carry that I want, so there haven't been any power shortages."
The shorter swing is one thing the young Conine would have loved for his father Jeff to pass down after a 17-year career that included two All-Star appearances and a pair of World Series championships, despite the differences between the two players.
"You see Vlad [Guerrero Jr.] and his dad, and they have such similar approaches and both have very similar swings," Conine said. "[My dad and I] are almost polar opposites. He always had a really short swing, never had to worry about trying to shorten up because that was how he always was, and he's a righty obviously, more of a contact hitter than I am.
"The biggest separator is the approach and what I want to do with the ball and wanting to pull it for power, whereas he sprayed to the entire field. At the same time, that's something I want to get better at, that's why I like watching how he hit back in the day, trying to take some things from his books."
Another attribute the 6-foot-1, 200-pound outfielder hopes that he has gleaned from his father is his work ethic, after being taught by Jeff that hard work can take you anywhere you want to go.
"He was a guy who pitched in college, he had one college at-bat, and he was drafted as a hitter," Conine said. "The work he put in got him to where he ended up. He was never the last one to the field and always wanting to learn and to get better.
"I'm realizing that it's a super long process to get all the way to the Major Leagues, and just being able to learn something every day from my at-bats or my defense, something I can take home and look at in the mirror and say that I got better at that today, I learned that today, even if you have a bad day, taking that and realizing you don't want to make the same mistake again. That's something he talked to me a lot about and instilled in me."
There have certainly been times within the last year that have made it harder for the young player to look himself in the mirror. When Conine received a 50-game suspension after testing positive for a banned stimulant during last season, it was facing the people who care about him the most that made him grow up the fastest.
"It wasn't easy," he said. "I made a lot of tough phone calls. I had to grow up a little bit. I think that definitely aged me. I came in a little immature into pro ball, even having gone to college. Having to go through that definitely made me a better person and a better player for sure."
During the suspension, Conine worked out at extended spring training in Dunedin, Fla., where although he hated his time away from the game, he used it to get better and become the player he's shown himself to be on the field with the Lugnuts.
"Definitely coming back I had a much greater appreciation for just being able to play in front of people," Conine said. "You spend a lot of time in extended spring training, which is a pretty dark place, but at the same time it allowed me to get my swing to where it is today.
"That's a huge reason as to why I'm having success the way I am. The biggest thing was just coming back and being really happy to be able to play again."